Controllers
Renishaw's range of UCC universal CMM controllers are at the heart of any Renishaw CMM retrofit, providing precise control of the motion of the machine, interfacing to all Renishaw sensors, and communications with the metrology software.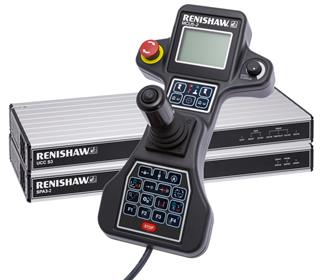 Renishaw's UCC flexible controllers provide advanced touch-trigger and scanning algorithms, which allow fast, accurate, adaptive part measurement.
The UCC is a critical component of Renishaw's revolutionary 5-axis scanning technology, using synchronised motion of machine and head axes to minimise the dynamic errors of CMM motion at ultra-high scanning speeds
Combined with a Renishaw servo power amplifier Renishaw's UCC universal CMM controller enables precise motion control of up to five axes of simultaneous motion on machines of all sizes and also supports rotary tables. It also provides a single-box interface to all Renishaw sensors and can gather surface data at up to 4,000 points per second.
Universal control

Sophisticated machine error mapping is provided in an open format, allowing users to perform their own recalibration, whilst temperature compensation is also available. Crucially, the controllers also comply with the I++ DME protocol, giving users the freedom to use any metrology software that features an I++ DME client.
Full support for all Renishaw sensors
I++ DME compliant
Future proof - future Renishaw sensors will be designed to integrate with UCC controllers
Smooth, fast and accurate blending of CMM motion control
The UCC range can operate in touch-trigger probing or full scanning mode offering integrated control of all Renishaw standard touch-trigger and scanning probe systems, plus stylus changing.
Future proof your CMM
Future hardware and software upgrades can be carried out easily, with function enhancements available by email or telephone support. Software enhancements are simply applied, as the control software is loaded at boot up.
All new probes and heads will be available with a controller interface option that will also include any appropriate calibration or set-up software.
UCC retrofit
Renishaw has formed a technical partnership with some of the industry's leading software companies and retrofitters to provide powerful CMM retrofit solutions using Renishaw's UCC controllers.
Unlock the hidden potential of your CMMs
Read a white paper outlining the opportunities to enhance the measurement capability and performance of existing CMMs through retrofitting of state-of-the-art software, controller and sensor technologies.