Aerospace and high value manufacturing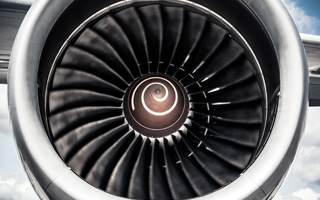 With the help of Renishaw's probe and software, Honeywell can be sure that the machining process will run as expected…we can nip any defects in the bud by detecting them in advance.
Honeywell Aerospace (Mexico)
Example end-to-end manufacturing process of a bladed disk
Renishaw technology can be applied throughout the manufacturing process of a complex aerospace part.
Renishaw solutions help aerospace manufacturers perform repeatable, traceable and efficient work to the finest tolerances, so that every component meets its design intent.

RFP fringe probe for the REVO® 5-axis multi-sensor system for CMMs
The new RFP fringe probe is designed for the inspection of freeform surfaces and complex geometry, rapidly delivering patches of surface data with a high point density.
Unlike other non-contact structured light systems, the RFP probe does not require reference markers to stitch together data from different areas, as this is done automatically by the REVO system.

Measure six degrees of freedom in any orientation from a single set-up
XM-60 is a laser measurement system capable of measuring errors in six degrees of freedom along a linear axis, simultaneously from a single set-up. It provides a powerful diagnostic tool to measure all geometric errors in the axis from a single capture.
3D surface capture with SPRINT™ technology
With the unique 3D sensor technology within the OSP60 probe module, probing systems with SPRINT™ technology provide exceptional, high-speed, high-accuracy, probing to CNC machine tools. Measure complex freeform surfaces such as blades or bladed disks using the Productivity+™ Freeform Surface and Blade Toolkits.
Metal additive manufactured parts for aircraft assembly
Metal additive manufactured parts are used in the aerospace industry for functional parts including engine turbine blades, fuel systems and guide vanes. The topological optimisation of parts can improve functionality and reduce weight.
Frazer-Nash has used additive manufacturing to produce a fastener for use during aircraft assembly for its customer, Kwikbolt. This can be made quicker and at a lower cost when compared to traditional subtractive machining methods.