Additive impact part #2 - how additive manufacturing could disrupt your market
Summary
Metal 3D printing has the potential to shake up the way that we design and make products, creating opportunities for valuable innovations and whole new business models. In this second feature article of two, Marc Saunders explores the nature of the changes that additive manufacturing (AM) could bring to product markets, and the steps that companies can take to lead this disruption.
In the first feature article, Additive impact part #1, Marc Saunders introduces a staircase model of AM adoption, and explains how the production and lifetime benefits of AM increase as you move up through the levels. These benefits build up as you employ more and more of the unique characteristics of AM.
About the author
Marc Saunders, Director of AM Applications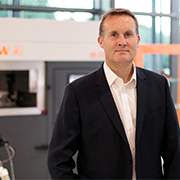 Marc Saunders has over 25 years' experience in high tech manufacturing. In previous positions at Renishaw, he played a key role in developing the company award-winning RAMTIC automated machining platform, and has also delivered turnkey metrology solutions to customers in the aerospace sector.
Marc manages Renishaw's global network of Additive Manufacturing Solutions Centres, enabling customers who are considering deploying AM as a production process to gain hands-on experience with the technology before committing to a new facility.