Haas Wireless Intuitive Probing System (WIPS)
Reduce setup time using the Haas Wireless Intuitive Probing System
The Haas Wireless Intuitive Probing System (WIPS) guides the operator through the job set-up process with easy-to-use templates. WIPS has the ability to define work offset coordinates, set tool length offsets, and perform in-process inspection within the program.
The WIPS consists of:
OMP40-2 optical transmission probe
For workpiece inspection and job set-up on small to medium machining centres and small multi‑tasking machines.
Flexible probing solution
Reliable modulated optical transmission
Outstanding performance for less scrap and higher profits
OTS 3D touch-trigger tool setter
For tool measuring and broken tool detection on small to medium machining centres.
Rapid measurement of tool length and diameter
Cable-free for unrestricted machine movement
Direction-adjustable infrared optical module
OMI-2H
The OMI-2H is a combined optical receiver and machine interface that is designed to be mounted within the machine's working envelope.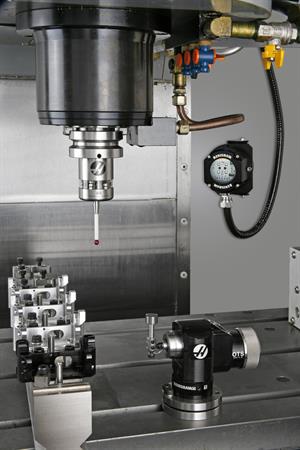 For more information on any of these products, please see the guides below.
Installation and quick start guides