LaserXL™
CARTO release 3.0 has superseded LaserXL™ supporting linear, angle, straightness and rotary measurements for XL-80 and XM-60.
Dual axis laser measurements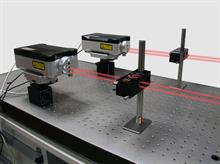 By using two XL-80 systems together with special software (included in LaserXL™ software at no extra cost), dual axis measurement data can be captured and displayed on screen at the same time. (This requires an additional free USB port or a USB hub.)
This software has been specifically designed for use on 'Spar Mill' and large dual beam type CMMs, where one axis is controlled by two drives and/or feedback systems.
Software release note
Software release note: LaserXL Version 20.02.02

Important information concerning installation and use of LaserXL version 20.02.02. It is recommended to read this before downloading or installing software. Supersedes LaserXL Version 20.02.01.

[28kB]