LaserXL™ data capture for XL-80
Software to capture XL-80 laser system data for linear axes.
LaserXL™ software includes modules for linear, angular, rotary axis, flatness, straightness and squareness measurements as well as a dynamic measurement capability.
Existing users can download the latest version of LaserXL™ software below.
As well as the comprehensive reporting in the Renishaw analysis option, other report options conform to international machine performance checking standards, such as ISO, ASME, VDI, JIS and GB.
The dynamic measurement facility allows the collection of data at rates of 10 Hz to 50 kHz (at 12 preset values) for subsequent review (for live dynamic data review see QuickViewXL™).
This can significantly improve a machine's positioning accuracy. Compensation packages are available to interface with many of today's machine controllers.
Dual axis laser measurements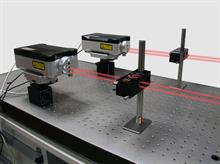 By using two XL-80 systems together with special software (included in LaserXL™ software at no extra cost), dual axis measurement data can be captured and displayed on screen at the same time. (This requires an additional free USB port or a USB hub.)
This software has been specifically designed for use on 'Spar Mill' and large dual beam type CMMs, where one axis is controlled by two drives and/or feedback systems.
Software download
Software download: LaserXL v20.02.02 (upgrade only)

Revised version of LaserXL software. Supersedes v20.02.01. This download will only install if an existing LaserXL installation is present. Before downloading this software, please ensure you have read and understood the relevant Software Release Note. Please note download requires user registration.

[12.6MB]

Software release note: LaserXL Version 20.02.02

Important information concerning installation and use of LaserXL version 20.02.02. It is recommended to read this before downloading or installing software. Supersedes LaserXL Version 20.02.01.

[28kB]

Software release note: LaserXL Version 20.02.01

Important information concerning installation and use of LaserXL version 20.02.01. It is recommended to read this before downloading or installing software. Supersedes LaserXL Version 20.01.XX.

[28kB]