Our strategy
Renishaw fundamentally believes that success comes from patented and innovative products and processes, high-quality manufacturing, and the ability to provide local customer support in all its markets around the globe.
Eight strategic priorities drive our business model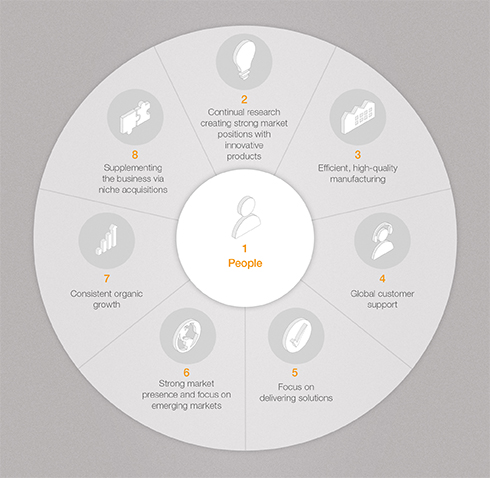 Find out more about our business model.
Continual research creating strong market positions with innovative products

Renishaw is well known for its sector-leading investment in R&D and engineering. "Apply innovation" is a way of life for Renishaw employees, not just a strap-line. We have continued to protect our core businesses with exciting new patented technology and process developments, whilst also diversifying into new product and market areas.
Progress
See pages 34 to 35 of the 2017 Annual Report.
Efficient high-quality manufacturing

Renishaw is a highly vertically integrated organisation with significant in-house manufacturing capabilities. With high-quality manufacturing plants located in the UK, Ireland, India, Germany, USA and France, we are able to deliver robust and reliable products tested to our exacting standards. Our efficiencies, through in-house automation and the use of our own latest product developments, enable us to be competitive with the highest volume processes.
Progress
See pages 32 to 33 of the 2017 Annual Report.
Strong market presence and focus on emerging markets

Renishaw has always been a global group with a strong local presence. By ensuring we target emerging markets, we are able to develop strong working partnerships with newly developing businesses. These loyal relationships build quickly as our customers realise that all our customers are important to us.
Progress
See pages 30 to 31 of the 2017 Annual Report.
Supplementing the business via niche acquisitions

We actively undertake acquisitions as a means to expand our product portfolio, quicken geographic market penetration and gain access to new patents, technologies and customers.
Progress
We continue to integrate acquired businesses and evaluate acquisition opportunities. We work closely with HiETA Technologies Limited, a UK company in which we have an investment that specialises in the design and delivery of additive manufacturing products such as heat exchangers for a range of applications – a complementary business for our additive manufacturing products line. We are also strengthening our acquisitions process and have considered various potential opportunities during the year.
Consistent organic growth

Whilst Renishaw does invest for the long-term, it also closely manages costs at all levels and ensures that it does not undertake undue risks. It is through this approach that Renishaw has been able to deliver such a long-term track record of profitable growth.
Progress
Renishaw has further invested in the Group's long-term business growth which this year focused on our continued recruitment and training of skilled people, our global marketing and distribution infrastructure, enhancing our ability to demonstrate our products and their applications, the infrastructure to support our additive manufacturing business, and our manufacturing capabilities. Our Spanish subsidiary and two of our American subsidiaries have relocated to larger premises and a further office has been established in California. This has allowed for the recruitment of extra sales and technical support staff. In November 2016 our first North American Additive Manufacturing Solutions Centre (AMSC) in Canada was formally opened. Ongoing investments in manufacturing capacity and processes have given us an agile capability and increasing awareness of the benefits to be gained by adopting Industry 4.0 and Smart Factory philosophies to meet the demands of a record order book and quickly respond to short lead times.
Focus on delivering solutions

Renishaw's business has transitioned over recent years from primarily being a supplier of products to capital equipment manufacturers, to becoming much more focused on delivering a full solution directly to the end-user. Our experience in our core product lines, which has highlighted that our global customers need assistance in solving their problems, is being carried across into our newer offerings.
Progress
See pages 28 to 29 of the 2017 Annual Report.
Global customer support

Renishaw is founded on the belief that excellent customer support delivers success. Our customers are often global, with an order being placed in one country, the product shipped to another and the eventual end-user often located on a different continent. By having "local" global support through our wholly-owned subsidiary network, we are able to assure customers that whatever their needs, we are able to support and assist them, resulting in a positive return on their investment.
Progress
Our worldwide service offering is growing so we can support our customers throughout the product lifecycle. With the growth of our training facilities, technical support personnel, test and solution centres we can offer personal local support to the customer.
People

Our people are central to the success of its business. Our innovative, hard-working and loyal employees make Renishaw the business success that it is. A significant number of our people have worked in the Group for two or three decades, creating a large collaborative team with a wealth of specialised engineering expertise. Renishaw has actively focused on the ongoing recruitment and training of many bright and enthusiastic young graduates, apprentices and experienced professionals to further develop talent. We continue to protect the future skillset of the organisation through training and promoting people from within, where possible.
Progress
See pages 56 to 58 of the 2017 Annual Report.