Preferred probe for manual machines
Hard-wired probe system for manual machines and CNC milling centres.

Alternatives
JCP
The JCP1, available with metric and imperial shanks, uses electrical conductivity to sense contact with a metallic workpiece. An LED is illuminated when the stylus touches the surface.
The JC30C variant provides a cable connection to digital readout counters with touch sensor inputs.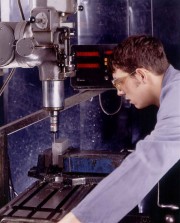 Downloads
Pocket guide: Probes for CNC machine tools

An easy to use pocket guide introducing Renishaw's range of probing solutions for CNC machine tools. Process control solutions.

Technical specifications: Probing systems for CNC machine tools

The type of probing system that you need will depend on your machine tool and the nature of the probing application. This document focuses on the main applications for probing on machine tools. It contains an introduction to the use of probing for each application, plus guidance on the selection of the most appropriate system and technical information about each probe.