RA816 Biological Analyser
An easy to use and compact benchtop Raman imaging system that redefines
tissue and biofluid analysis.
Designed exclusively for the biological community, the system rapidly obtains detailed information on the distribution and amount of biochemical species within biological samples including tissue biopsies, tissue sections and biofluids.
The RA816 Biological Analyser enables you to identify and assess biochemical changes associated with disease formation and progression. There is little to no sample preparation, and no contrast agents or tags are needed.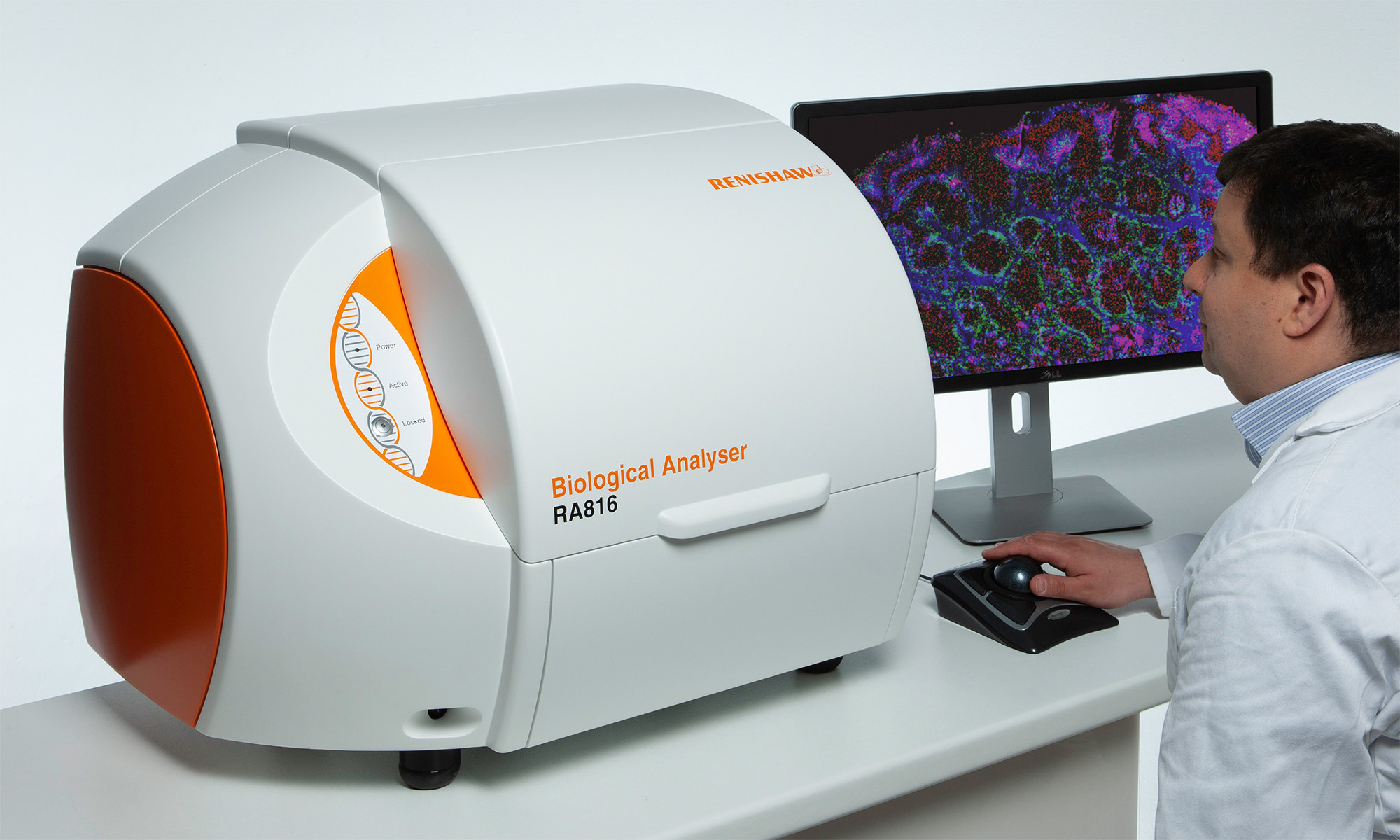 Features

The RA816 Biological Analyser provides a practical solution for analysing biological samples. It is compact and transportable with optimised microscopic technology designed for biological and clinical sites.
Easy to use hardware and software
No need for stains or labels
Minimal to no sample preparation
Obtain full range of biochemical information (no need for prior knowledge of specific molecular targets)
For more detailed information, download the RA816 product note.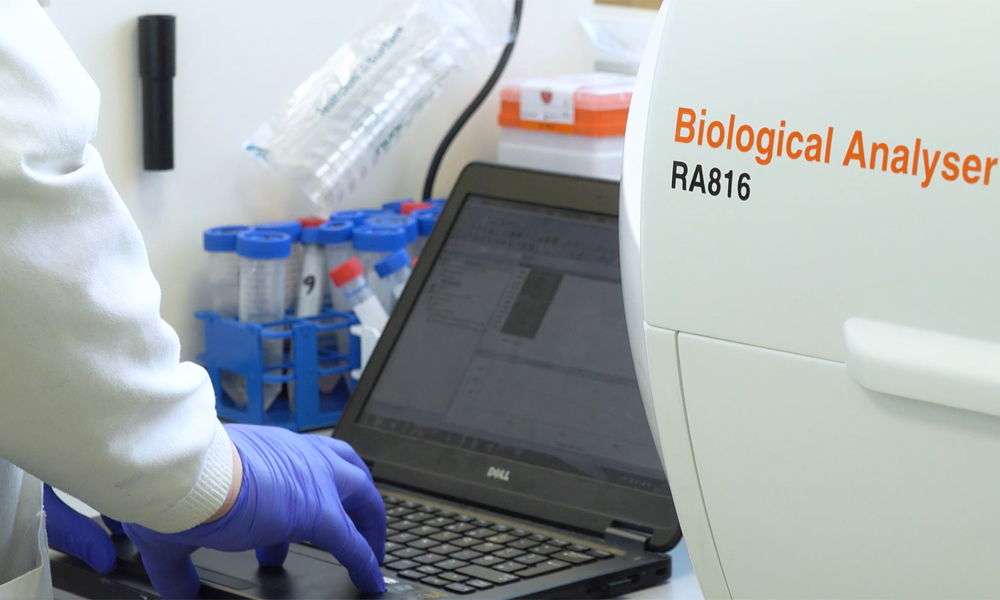 Powerful software
The RA816 Biological Analyser is entirely computer-controlled. Its software manages every step of the measurement process using pre-defined experiment setups. The unique macro image provides a comprehensive overview of all subsequent work and enables easy sample navigation and visualisation.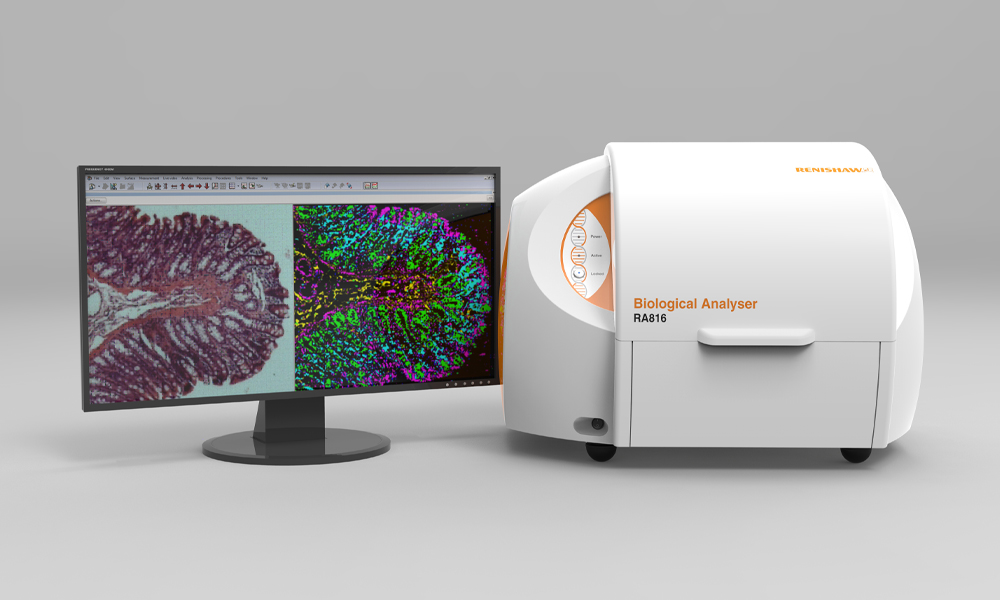 High performance
Stable and repeatable analysis with integrated performance qualification and alignment. It features LiveTrack™ technology which enables you to track sample surface and retain focus on challenging samples and Streamline™ technology for high speed data collection and image generation.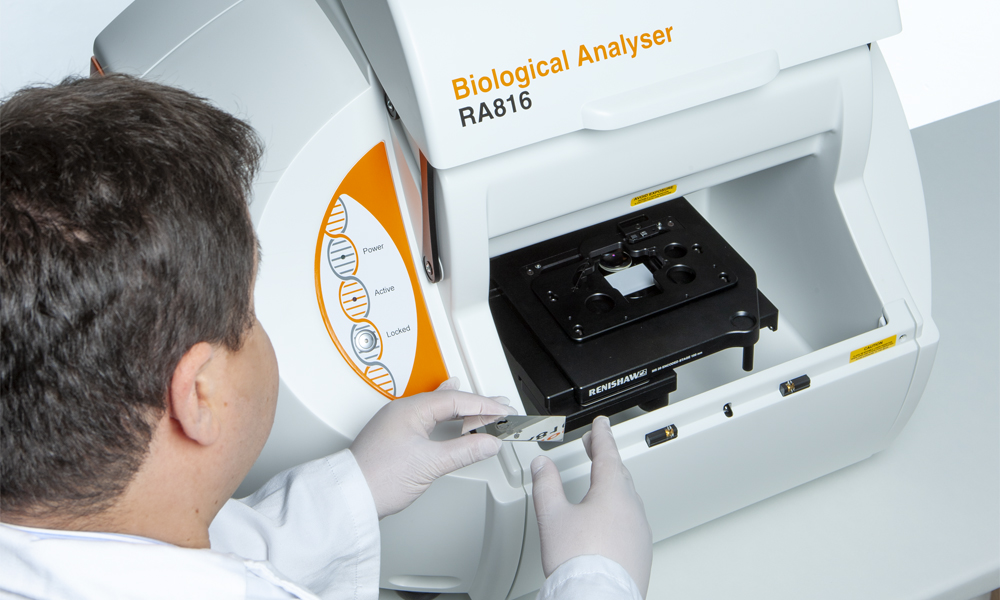 Easy to use
The RA816 Biological Analyser is ideal for the clinical research environment and can acquire data unattended. Its queuing capability enables you to configure measurements and leave the instrument to run them; you can analyse multiple samples on a slide without the need for user intervention.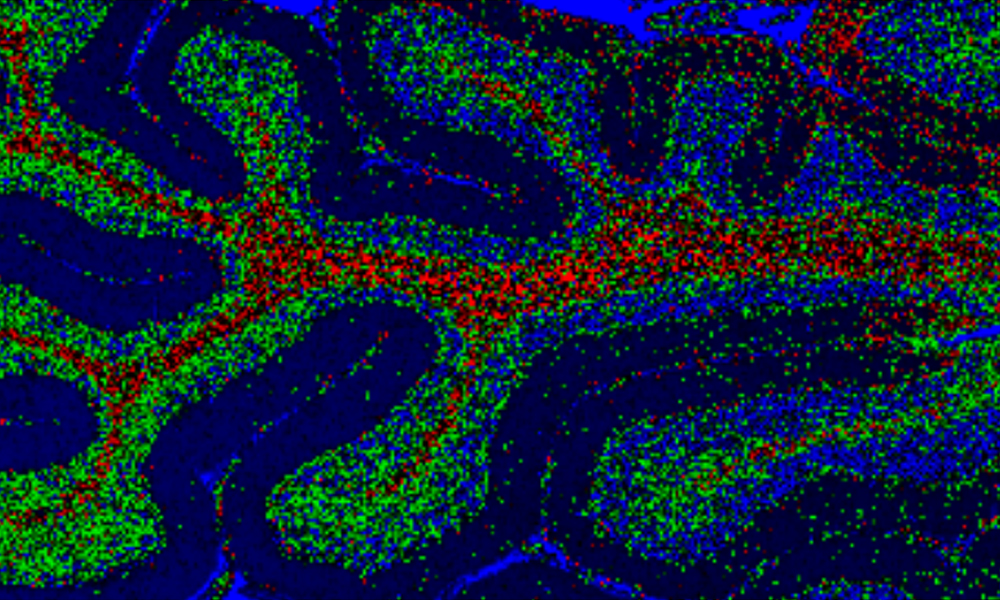 Classification of brain glioma tumours
In a study conducted with the University of Oxford Neuropathology Department in the UK, we demonstrated discrimination between diseased and healthy brain tissue using the RA816 Biological Analyser. We were able to differentiate diseased and healthy tissues without the need for disease marker discovery and targeting.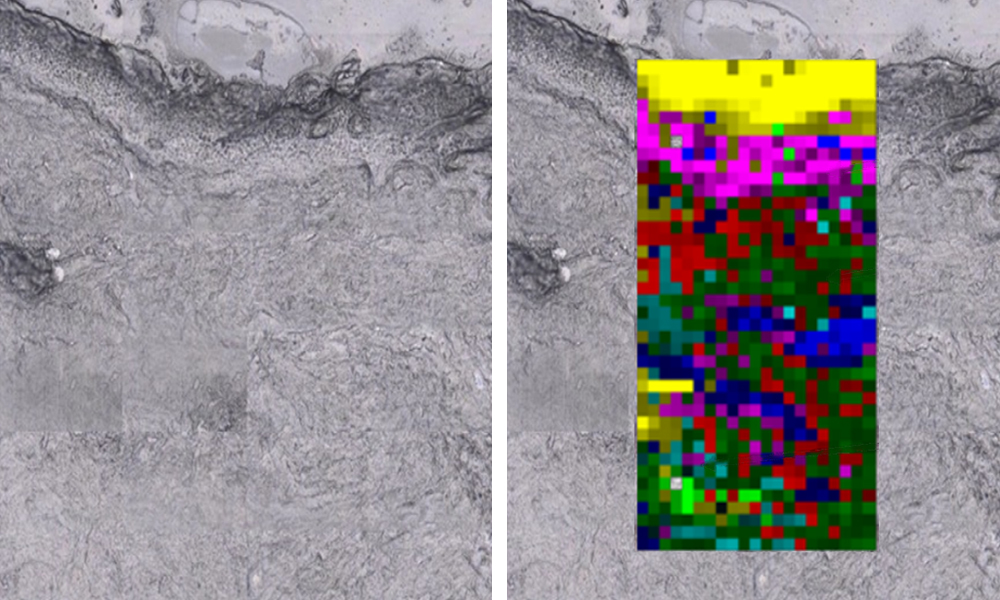 Monitoring transdermal drug delivery
In a study, conducted with Miss Rubinder Basson from University of Manchester, Division of Musculoskeletal and Dermatological Sciences, the system used Empty modelling™ to demonstrate the presence and penetration depth of a compound in different skin tissue layers following application of a topical formulation.
Medical research using
Raman Spectroscopy
The Renishaw Biological Analyser brings together the chemical analysis power of Raman spectroscopy (a light scattering technique) and advanced optical and spectroscopic imaging technologies in a simple, robust system. It produces outstanding results, quickly and easily. Watch the video to find out more.
Want to find out more?
Your local representative will be happy to help with your enquiry.
You can contact them by completing a form or sending an email.

Get our latest updates
Stay up-to-date with our latest news, webinars, application notes and product launches delivered directly to your inbox.

Downloads: RA816 Biological Analyser
Parameter
Value
Laser wavelength
785 nm
Integral Renishaw high power near infrared diode laser, 300 mW at 785 nm, air cooled, with integral plasma filter. Laser power: > 150 mW at sample. Innovative StreamLine technology enables higher laser power use without sample damage
Spectral range
100 cm-1 to 3250 cm-1
Performed in two separate scan ranges Range 1: 100 cm-1 to 2000 cm-1; Range 2: 1950 cm-1 to 3250 cm-1
Spectral dispersion
2 cm-1 pixel-1
Data collection speed
Over 1500 spectra/s
Minimum Raman image pixel size
1 µm
Spatial resolution 1 µm per pixel
Objective
8.2 mm working distance 0.55 NA 50× long working distance objective
Additional macro-view colour video camera
Field of view
Macro 21 mm × 16 mm
Micro 330 µm × 250 µm
Maximum tiled image size
Macro 134 mm × 76 mm
High magnification 112 mm × 81 mm
White light modes
White light transmission and reflection capability
Focusing
Macro – Manual or pre-defined
Micro – Automatic (LiveTrack) or manual
Real time automated LiveTrack dynamic focusing for both Raman data acquisition and white light video viewing modes
System calibration and transferability
Self-calibration and auto-align using built in neon and silicon references
Automatic PQ data collection – (polystyrene)
Optional post measurement check (PMC) for inter-measurement validation
Maximum sample size
~ (110 mm × 90 mm × 25 mm) – fits 96 well plate
Power, voltage
100 – 240 VAC ± 10%, 50/60 Hz, 100 W maximum
Dimensions
720 mm (W) × 502 mm (H) × 535 mm (D)
Mass (not including computer)
54 kg
Laser class
Class 1 laser product complies with IEC60825-1. CE marked