SCP600
The SCP600 stylus change port mounts to the MRS for increased flexibility when using multiple probe changing options.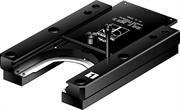 The SCP600 is part of a flexible modular rack system that enables the user to define the number of stylus changing ports required and the size and spacing of the overall rack system. The individual SCP600s are fitted to the MRS rail (available in 400 mm, 600 mm or 1000 mm) at appropriate and easily adjustable spacing to suit the stylus arrangement required for the application.
Extended warranty
For peace of mind a 3-year warranty is available for your new CMM products during the first 3 months from purchase. Contact your vendor.