SP600
Renishaw's SP600 family of analogue scanning probes offers high-performance inspection, digitising and profile scanning capability for a wide range of CMMs.
There are three, highly versatile, SP600 scanning probe systems. Each system includes the probe itself, a PC interface card and a stylus module changing rack.
SP600

Length: 89 mm
Weight: 172 g
Mounting: Adaptors to suit clutch, shank adaptor or CMM shank
SP600M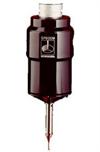 Length: 107.5 mm
Weight: 216 g
Mounting: Renishaw autojoint: PH10M PLUS, PH10MQ PLUS or PH6M
SP600Q

Length: 98 mm
Weight: 299 g
Mounting: Direct in-quill mount to CMM
Features and benefits
High speed scanning up to 300 mm/s, fast point measurement and high frequency response
Low probing forces give maximum application flexibility
Extremely robust design will withstand moderate collisions
Low cost of ownership with an excellent product life, exceeding 50,000 hours in operation
Low mass, high structural stiffness and friction free viscous damping give excellent dynamic performance characteristics
Suitable interface

AC1 or AC2 analogue converter PC card (optional)

Probe attributes

3-axis measurement (X, Y, Z) linear and parallel motion in all axes

Measurement range

±1 mm (±0.04 in) (X, Y, Z)

Overtravel range

X, Y and –Z protected by a kinematic joint

Resolution

0.1 µm (0.000004 in) with optional AC2 interface card

0.5 µm (0.00002 in) with optional AC1 interface card

Spring rate

1.2 N/mm nominal (X, Y and Z)

Damping

20% (X, Y, Z) typical at 23 °C

Operating temperature

10 °C (50 °F) to 40 °C (104 °F)

Power supply

+12 V to -12 V, 5 V (±10%)

Outputs (X,Y,Z)

Analogue proportional voltage output scaling: 4 V to 8.5 V/mm

Stylus range
SCP600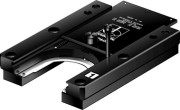 The SCP600 is part of a flexible modular rack system that enables the user to define the number of stylus changing ports required and the size and spacing of the overall rack system. The individual SCP600s are fitted to the MRS rail (available in 400 mm, 600 mm or 1000 mm) at appropriate and easily adjustable spacing to suit the stylus arrangement required for the application.
SCR600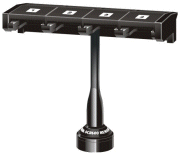 The SCR600 is a passive stylus change rack and so it requires no electrical connections. A mechanism in the base provides overtravel protection in the probe entry direction. The rack can house up to four stylus modules and any number of racks can be used in a system.
AC1 PC card
The AC1 PC card is a 12-bit interface card that is simple to install and connects directly to the standard probe cable. It performs all probe management functions and communicates status information to the host PC. The AC1 has been superseded by the AC2.
AC2 PC card
The AC2 PC card interface supersedes the 12-bit AC1 card. It has additional capability of 16-bit resolution, Delta-Tau bus compatibility, and full PICS operation.
Extended warranty
For peace of mind a 3-year warranty is available for your new CMM products during the first 3 months from purchase. Contact your vendor.
Technical article
Product information
You may also be interested in...
You are currently looking at the SP600 scanning system. You may also be interested in the REVO 5-axis scanning system…