TONiC™ encoder series
The TONiC™ series is a compact, non-contact incremental encoder system that offers speeds up to 10 m/s and, when combined with the Ti interface, resolutions down to 1 nm for both linear and rotary applications. Advanced filtering optics within the readhead give TONiC very low jitter, resulting in excellent positional stability and smoother velocity control. This makes TONiC the ideal encoder for applications where movement must be tightly controlled.
The TONiC encoder also features exceptional signal stability with low Sub-Divisional Error (SDE) to help realise superior motion control performance. TONiC features an integrated set-up LED for intuitive and efficient installation.
Additionally, the TONiC™ encoder series offers a variety of external interfaces that can be configured to meet the speed and resolution requirements of the application. With late-stage integration and configuration of the external interface, one versatile TONiC readhead offers many options for end user customisation.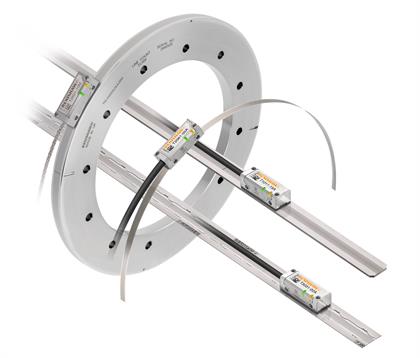 Very low jitter for stable machine positioning
The TONiC™ encoder series features Renishaw's market-proven filtering optics and advanced signal processing. Auto Gain Control (AGC) and Auto Offset Control (AOC) technologies reduce analogue signal noise and digital jitter within the readhead. TONiC encoders deliver exceptionally low signal output jitter of <±0.5 nm RMS and low Sub-Divisional Error (SDE) of <±30 nm, enabling systems to hold position better and generate less heat in linear motor applications.
Fine resolution down to 1 nm

When combined with the optional Ti interface, the TONiC™ encoder series offers ultra-fine resolution down to 1 nm. This capability makes TONiC the ideal choice for applications requiring precise velocity and positional control, especially in low speed applications.
Ultra-High Vacuum and Functional Safety variants

The TONiC™ encoder offers a single solution for various applications, with the same exceptional metrology capability offered by TONiC UHV, for Ultra-High Vacuum applications, and TONiC FS, for systems requiring Functional Safety certification to SiL2 and PLd.
Find your TONiC scale option
Linear

| | | | | | |
| --- | --- | --- | --- | --- | --- |
| Scale type | Scale name | Accuracy | Scale pitch | Thermal expansion coefficient at 20 °C | Supplied length |
| Stainless steel tape with track option | | ±5 µm/m | 20 µm | 10.1 ±0.2 µm/m/°C | Up to 10 m (> 10 m on request) |
| Narrow stainless steel tape scale | | ±5 µm/m | 20 µm | Matched to substrate material when scale ends are fixed with end clamps | Up to 20 m (> 20 m on request) |
| ZeroMet spar | | ±1 µm for up to 1 m, then ±1 µm/m | 20 µm | 0.75 ±0.35 µm/m/°C | Up to 1.5 m |
| Stainless steel spar | | ±1.5 µm up to 1 m, ±2.25 µm up to 2 m, ±3 µm up to 3 m, ±4 µm up to 5 m | 20 µm | 10.1 ±0.2 µm/m/°C | Up to 5 m |
Partial arc
| | | | | | |
| --- | --- | --- | --- | --- | --- |
| Scale type | Scale name | Accuracy | Scale pitch | Coefficient of thermal expansion at 20 °C | Supplied length |
| Narrow stainless steel partial arc tape | | ±5 µm/m | 20 µm | 10.1 ±0.2 μm/m/°C | Up to 20 m (> 20 m on request) |
Rotary

Scale type

Scale name

Accuracy (depending on ring diameter)

Scale pitch

Thermal expansion coefficient at 20 °C

Ring diameter

Stainless steel ring







Graduation accuracy: ±3.97 to ±0.38 arc seconds

20 µm

15.5 ±0.5 µm/m/°C

52 to 550 mm

Ultra-high accuracy stainless steel ring


REXM20/REXT20

Installed accuracy:

(≥ 100 mm diameter) ±1 arc second
(75 mm diameter) ±1.5 arc seconds
(≤ 57 mm diameter) ±2 arc seconds

20 µm
15.5 ±0.5 µm/m/°C
52 to 417 mm
Linear

| | | | | | |
| --- | --- | --- | --- | --- | --- |
| Scale type | Scale name | Accuracy | Scale pitch | Thermal expansion coefficient at 20 °C | Supplied length |
| Stainless steel tape with track option | | ±5 µm/m | 20 µm | 10.1 ±0.2 µm/m/°C | Up to 10 m (> 10 m on request) |
| Narrow stainless steel tape scale | | ±5 µm/m | 20 µm | Matched to substrate material when scale ends are fixed with end clamps | Up to 20 m (> 20 m on request) |
| ZeroMet spar | | ±1 µm for up to 1 m, then ±1 µm/m | 20 µm | 0.75 ±0.35 µm/m/°C | Up to 1.5 m |
| Stainless steel spar | | ±1.5 µm up to 1 m, ±2.25 µm up to 2 m, ±3 µm up to 3 m, ±4 µm up to 5 m | 20 µm | 10.1 ±0.2 µm/m/°C | Up to 5 m |
Rotary

Scale type

Scale name

Accuracy (depending on ring diameter)

Scale pitch

Thermal expansion coefficient at 20 °C

Ring diameter

Stainless steel ring







Graduation accuracy: ±3.97 to ±0.38 arc seconds

20 µm

15.5 ±0.5 µm/m/°C

52 to 550 mm

Ultra-high accuracy stainless steel ring


Installed accuracy:

(≥ 100 mm diameter) ±1 arc second
(75 mm diameter) ±1.5 arc seconds
(≤ 57 mm diameter) ±2 arc seconds

20 µm
15.5 ±0.5 µm/m/°C
52 to 417 mm
Linear

| | | | | | |
| --- | --- | --- | --- | --- | --- |
| Scale type | Scale name | Accuracy | Scale pitch | Thermal expansion coefficient at 20 °C | Supplied length |
| Stainless steel tape with track option | | ±5 µm/m | 20 µm | 10.1 ±0.2 µm/m/°C | Up to 10 m (> 10 m on request) |
| ZeroMet spar | | ±1 µm for up to 1 m, then ±1 µm/m | 20 µm | 0.75 ±0.35 µm/m/°C | Up to 1.5 m |
| Stainless steel spar | | ±1.5 µm up to 1 m, ±2.25 µm up to 2 m, ±3 µm up to 3 m, ±4 µm up to 5 m | 20 µm | 10.1 ±0.2 µm/m/°C | Up to 5 m |
Rotary

| | | | | | |
| --- | --- | --- | --- | --- | --- |
| Scale type | Scale name | Accuracy (depending on ring diameter) | Scale pitch | Thermal expansion coefficient at 20 °C | Ring diameter |
| Stainless steel ring | | Graduation accuracy: ±3.97 to ±0.38 arc seconds | 20 µm | 15.5 ±0.5 µm/m/°C | 52 to 550 mm |