TONiC™ UHV incremental encoder system with RTLC20 linear scale
Features
Readhead size: 35 x 13.5 x 10 mm
Resolutions to 1 nm
Speed up to 10 m/s
Analogue or digital outputs
Ultra-low Sub-Divisional Error (SDE): typically < ±30 nm
Customer-selectable optical IN-TRAC™ reference mark
Benefits
Ultra-High Vacuum (UHV)
Tape scale convenience and unrivalled ruggedness
Carrrier-type scale system for quick, easy installation and replacement of scale
Super-compact encoder with dynamic signal conditioning for improved motion control
Diagnostic kit

What is TONiC UHV?
TONiC UHV brings Renishaw's compact, non-contact encoder system to Ultra-High Vacuum applications offering customers improved motion control.
TONiC offers speeds up to 10 m/s and, combined with the Ti interface, resolutions down to 1 nm for both linear and rotary applications. TONiC systems are quick and simple to install with wide set-up tolerances and calibration at the push of a button. TONiC's dynamic signal processing gives improved signal stability with ultra-low Sub-Divisional Error of typically < ±30 nm to help realise superior motion control performance.
What is RTLC20 scale?
RTLC20 is a low profile stainless steel tape scale featuring a 20 µm pitch and IN-TRAC customer selectable reference mark. It is accurate to ±5 µm/m and in lengths up to 10 metres (> 10 metres on request). Two mounting options are available, both allow independent thermal expansion and tape scale convenience.
RTLC20 can be used with the revolutionary FASTRACK™ scale carrier system. This system allows a track to be laid quickly and easily with no need for fixing holes. A sacrificial spacer is removed and the tape scale is then fed into the track.
RTLC20-S is laid onto the substrate with self-adhesive backing tape. The self-adhesive is formulated in such a way that it allows for independent scale expansion to that of the substrate.
To complete the installation, both types of scale are clamped at one point to provide a datum position.
Why choose this encoder system?
Ultra-High Vacuum (UHV)
TONiC UHV readheads take standard TONiC outstanding performance and deliver it in a readhead that has been designed and constructed using UHV compatible materials and processes making it suitable for UHV conditions down to 10 -10 Torr.
The range of TONiC UHV encoders and accessories are constructed from vacuum-compatible materials and adhesives to give low outgassing rates and proven clean residual gas analysis (RGA) making them suitable for many applications including wafer handling / testing, scientific instruments, spectroscopy, vacuum inspection equipment and many more.
Easily removable scale
RTLC20/FASTRACK is ideal for applications that need the machine to be broken down for transportation or require the scale to be installed/removed for transit. The scale can be pulled out of the guide rails and quickly replaced, even when access is limited, thus reducing machine downtime.
Exceptional metrology
The TONiC encoder features Renishaw's market-proven filtering optics and advanced signal processing. Auto Gain Control (AGC) and Auto Offset Control (AOC) technologies reduce analogue signal noise and digital jitter within the readhead.
TONiC encoders deliver exceptionally low signal output jitter of <±0.5 nm RMS and low Sub-Divisional Error (SDE) of <±30 nm, enabling systems to hold position better and generate less heat in linear motor applications. Low jitter also enables smoother velocity control in high-precision applications operating at low speeds.
Flexible configuration
The TONiC series offers a variety of external interfaces that can be configured to meet the speed and resolution requirements of the application. With late-stage integration and configuration of the external interface, one versatile TONiC readhead offers many options for end user customisation.
TONiC interface options enable digital, analogue, or dual output of both digital and analogue signals. The TD (dual resolution) interface offers selectable dual-resolution output, and a DPI interface is also available for wide-format printing applications. The flexibility of TONiC encoder configuration allows OEMs to benefit from superior motion control and high throughput in a wide range of applications.
TD (dual resolution) interface
Selectable dual-resolutions quadrature output.
Ideal for applications that require high speed movement combined with finer precision motion.
DOP (dual output) interface
Provides simultaneous digital quadrature and 1 Vpp signals.
Designed for applications requiring one or more operations to be synchronised with a motion axis.
Optional diagnostic kit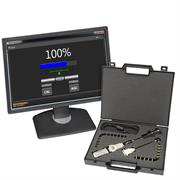 TONiC diagnostic software can be used to optimise the installation of TONiC encoders and provide a quick and comprehensive system calibration. The software must be used in conjunction with the TONiC diagnostic hardware which can be purchased from Renishaw using part number A-9411-0011. The hardware is connected to the PC via the USB cable (provided in the kit) or in-line with the customers' electronics.
Find out all about the TONiC diagnostic kit.
Measuring standard

FASTRACK RTLC20: stainless steel tape scale with carrier system

RTLC20-S: stainless steel tape scale with self-adhesive backing tape, for mounting directly to a substrate without FASTRACK guide rails

Readhead size (LxWxH)

35 mm x 13.5 mm x 10 mm

Scale pitch

20 μm

Coefficient of thermal expansion at 20 °C

10.1 ±0.2 μm/m/°C

Accuracy grade at 20 °C

±5 μm/m

Reference mark

IN-TRAC reference marks directly embedded into RTLC20 / RTLC20-S

Selector magnet used to identify chosen reference mark

Limit switches

Dual or single limits (select at time of order)

Scale length

FASTRACK: 100 mm to 25 m

RTLC20/RTLC20-S: up to 10 m

(> 10 m on request)

Maximum speed

Analogue

Digital

(See data sheet for details)

Up to 10 m/s at -3 dB

Up to 10 m/s

Sub-Divisional Error (SDE)

Typically < ±30 nm

Dynamic signal control

Real time signal conditioning including Auto Gain Control (AGC) and Auto Offset Control (AOC) for optimised performance during operation

Incremental signals

Analogue

Digital




1 Vpp (20 μm period)

Resolutions from 5 μm to 1 nm

Electrical connection

0.5 m, 1 m, 1.5 m, 3 m, 5 m and 10 m cable lengths with mini connector (connects direct to TONiC interface)

Power supply

5 V ±10%, < 100 mA (analogue system), < 200 mA (digital systems) (unterminated)

Readhead power consumption
< 100 mA

Vibration (operating)

100 m/s2 max @ 55 Hz to 2 000 Hz

Shock (non-operating)

1 000 m/s2, 6 ms, ½ sine

Operating temperature (system)

0 °C to +70 °C

Bake-out temperature (non-operating)

120 °C (Readhead and scale only)

Sealing

Readhead: IP20

Interface: IP20

Cable construction

Tinned copper braided single screen, FEP core insulation
Refer to data sheets for full details.