VIONiC™ incremental encoder system with RESM20 rotary (angle) ring
Features
Digital output direct from the readhead
Readhead size: 35 x 13.5 x 10 mm
Resolutions to 2.5 nm*
Speed up to 4 400 rpm
Ultra-low Sub-Divisional Error (SDE): typically < ±15 nm* (see tech. spec.)
Optical IN‑TRAC™ reference mark
Benefits
No separate interface required
Advanced Diagnostic Tool for easy fault finding, challenging installations and servicing
Low profile ring with large internal diameter for easy integration
High dirt immunity

What is VIONiC?
The VIONiC readhead combines Renishaw's market proven filtering optics and advanced interpolation into one digital incremental encoder with ultra-high accuracy.
The VIONiC encoder system offers a wide variety of speed and resolution configurations, and an expansive range of linear or rotary scale options. This makes it one of the most versatile encoder for high precision feedback. Designed with intuitive auto-calibration mode, VIONiC readheads are also easy to install.
What is new?
*The VIONiC encoder system is now available in resolutions down to 2.5 nm with enhanced SDE across the product range.
What is RESM20 ring?
RESM20 is a one-piece stainless steel ring with 20 µm pitch incremental graduations marked directly on the periphery, featuring the IN-TRAC™ optical reference marks. Two versions are available in a wide range of sizes (Ø52 mm to Ø550 mm): 'A' section rings, which offer an impressive installed accuracy and feature a taper mount system which reduces the need for highly toleranced machined parts and eliminates eccentricity; 'B' section thin rings, which have low inertia and mass, are also available. Both 'A' and 'B' section rings have a large internal diameter for flexible integration. The non-contact format eliminates backlash, shaft wind-up (torsion) and other mechanical hysteresis errors that are inherent in traditional enclosed encoders.
Why choose this encoder system ?
All purpose digital encoder system
VIONiC is the encoder of choice because it combines high speed interpolation with impressive metrology performance making it suitable for even the most demanding applications. A wide range of encoder configurations are available so that the user can optimise the speed and resolution of their system depending on their motion control requirements. Furthermore the VIONiC readhead works with both linear and rotary scales across a range of accuracies. The VIONiC encoder is quick and easy to calibrate, meaning it is suitable for volume production.
Easy fault finding and servicing
The Advanced Diagnostic Tool is available for comprehensive encoder feedback . This can be used for challenging installlations and fault finding. It provides:
Remote calibration functions
Signal optimisation over axis length
Readhead pitch indication
Limit and reference mark indicators
DRO and lissajous outputs.
High dirt immunity
High tolerance to dirt, scratches and greasy fingerprints and speeds of 12 m/s mean that VIONiC is ideal for more challenging applications. Furthermore, the non-contact RESM20 operates without friction or wear ensuring excellent reliability.
DSi (Dual Signal interface)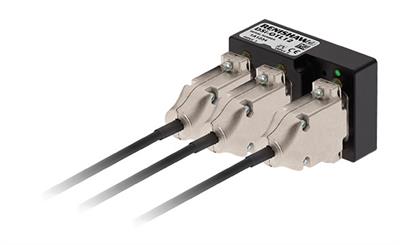 Renishaw's DSi combines the incremental signals from two VIONiC readheads on a RESM ring (REST ring for partial rotation applications) to compensate for the effect of bearing wander and eliminates odd error harmonics, including eccentricity, to give total installed accuracy of typically ±2.0 arc seconds.
Optional Advanced Diagnostic Tool ADTi-100
The VIONiC encoder system is compatible with the Advanced Diagnostic Tool ADTi-100 and ADT View software. They provide comprehensive real-time encoder data feedback to aid more challenging installations and diagnostics. The intuitive software interface can be used for:
Remote calibration

Signal optimisation over the entire axis length

Readhead pitch indication

Limit and reference mark indication

Digital readout of encoder position (relative to the scale)

Monitoring the velocity against time graph

Exporting and saving data
Measuring standard

RESM20: one-piece low profile stainless steel ring. Standard 'A' section with tapered internal diameter or low inertia 'B' section rings available

Also available for partial rotation applications as REST20

Readhead size (LxHxW)

35 mm x 13.5 mm x 10 mm

Scale pitch

20 μm

Coefficient of thermal expansion at 20 °C
15.5 ±0.5 μm/m/°C

Ring outer diameter

52 mm to 550 mm. For larger custom sizes, contact Renishaw

Line count

8 192 to 86 400 (depending on ring size)

Reference mark

RESM20: single IN-TRAC reference mark ring

REST20: two reference mark ring for partial rotation applications

Accuracy*

Graduation accuracy

System accuracy




±3.97 to ±0.38 arc seconds (depending on ring diameter)

±4.20 to ±0.40 arc seconds (depending on ring diameter)

Maximum speed

4 400 rpm (for 52 mm diameter ring)

(See data sheet for details)


Sub-Divisional Error (SDE)

Ring diameters ≤ 135 mm, typically < ±20 nm

Ring diameters > 135 mm, typically < ±15 nm**

Dynamic signal control

Real time signal conditioning including Auto Gain Control (AGC), Auto Balance Control (ABC) and Auto Offset Control (AOC) for optimised performance across a range of operating conditions

Incremental signals




5 μm to 2.5 nm resolution

(See data sheet for details of angular resolutions)

Electrical connection

0.2 m, 0.5 m, 1 m, 1.5 m, 2 m and 3 m cable lengths with D-type connectors (9 and 15 pin), circular in-line connector (12 pin) or 14-way JST connector

Power supply

5 V -5%/+10%, typically < 200 mA fully terminated

Vibration (operating)

100 m/s2 max @ 55 Hz to 2 000 Hz

Shock (non-operating)

500 m/s2, 11 ms, ½ sine, 3 axes

Operating temperature (system)

0 °C to +70 °C

Sealing

IP40
* System accuracy is graduation error plus SDE. Graduation accuracy is the maximum difference between the angle measured by a single readhead and the true rotation of the encoder as graduated. Application disturbances such as eccentricity are not included.
** < ±10 nm SDE can be achieved with optimised set-up. Please contact your local Renishaw representative for more details.
Refer to data sheets for full details.