Visit the UK launch of Renishaw's ATOM™ miniature encoder at Drives and Controls 2014
March 2014
Renishaw, the global engineering company, will be presenting a range of world-leading position encoders for precision motion control at Drives and Controls 2014 from 8 - 10 April in the National Exhibition Centre (NEC), Birmingham, UK.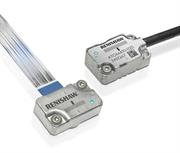 Visitors to Hall 3A, stand D356, will see the newly launched ATOM miniature encoder system: an innovative optical linear and rotary (angle) incremental encoder system that uniquely combines miniaturisation with unrivalled metrology performance. This is the first miniature encoder system to use Renishaw's proven filtering optics with Auto Gain Control (AGC) and Auto Offset Control (AOC) for exceptional dirt immunity and the highest signal stability.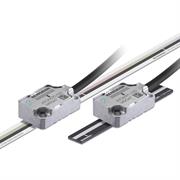 The ATOM readhead provides class-leading accuracy with low Sub-Divisional Error (SDE), low jitter, excellent signal stability and long-term reliability. It also includes a set-up LED to allow quick and easy installation and an auto-calibration routine to enable faster optimisation. ATOM offers speeds of up to 20 m/s (29 000 RPM on a 17 mm disc) and resolutions to 1 nm (0.004 arc second on a 108 mm disc). Customers can choose from a range of high-accuracy linear glass spars to 130 mm in length, stainless steel tape to 10 m and rotary glass disc scales from 17 mm to 108 mm in diameter.
The ultra-compact ATOM readhead is supplied in hi-flex cable and Flexible-Printed Circuit (FPC) output variants with both 20 µm and 40 µm scale options. The side-exit FPC version reduces the overall package size and allows integration with PCBs. ATOM is ideally suited to a variety of space-critical motion control, inspection and metrology applications; talk to stand representatives for more information.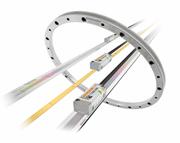 Renishaw's ATOM is joined by the compact TONiC™ encoder system designed for high performance applications. TONiC is UHV compatible and available with a range of linear and rotary incremental scales including FASTRACK™,a revolutionary track-mounted linear encoder scale system. TONiC also features an optional Dual Output (DOP) interface that simultaneously outputs analogue and digital signals.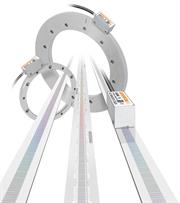 Visitors to the stand at Drives and Controls 2014 will also see the RESOLUTE™ true-absolute linear and rotary (angle) encoder system, now available with Siemens DRIVE-CLiQ® for connection to direct measurement systems with SINUMERIK and SINAMICS drive components. RESOLUTE is the world's most advanced single-track absolute optical encoder system and excels in applications ranging from high-speed lathe C-axes and rotary tables, to direct-drive rotary (DDR) torque motors that demand the highest levels of precision and motion control integrity.
RESOLUTE's advanced design allows wide set-up tolerances, superior long-term reliability, instant operation after power-up without reference return, high-speed performance, low Sub-Divisional Error (SDE) and low noise (jitter). RESOLUTE supports a variety of serial communication protocols for easy connection to a wide range of industry-standard controllers, drives, DROs and PC counter cards.
Drive-CLiQ is a registered trademark of Siemens
All images and text copyright Renishaw
Register for news updates
Register for regular news updates from Renishaw