MCU W legacy hand controller
Based on the MCU5 joystick design, the MCU W uses lithium ion battery technology and wireless Bluetooth® connectivity
Maximum operating range 25 m line-of-sight from docking cradle. Docking cradle can be up to 30 m from controller
Battery life typically 10 hours between charges
Supplied with spare battery and automatic charger
Compatible with the range of Renishaw CMM controllers
Controls motion of CMM axes
Indexes the motorised head and rotary table
Operates as a computer mouse
Has a system menu for navigating the operating software
Handheld or table mounted operation
Large LCD for status information and for interacting with metrology programs
The MCU W is functionally identical to the MCU5 except for the additional STOP button on the membrane keypad. When this button is pressed, the CMM and motorised head is brought rapidly to a halt but the servos are kept running. This button is only functional when the controller is in automatic mode, i.e. running a DCC program.
The yellow STOP button removes power from the CMM axes, stops motion of motorised heads and locks the heads in their current position.
The E-STOP switch is hardwired to the UCC controller. When this switch is operated, all power to both the CMM axes and motorised head is removed.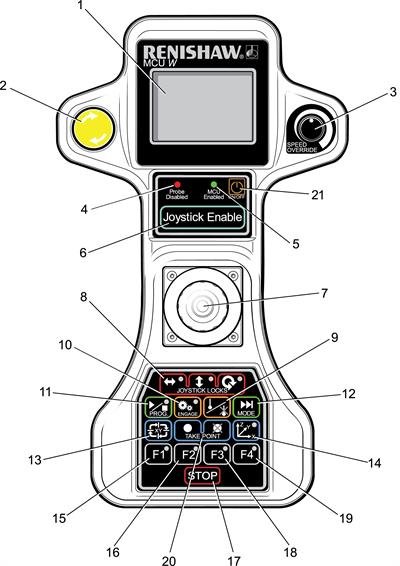 ---
| | |
| --- | --- |
| Key | Description |
| 1 | LCD screen |
| 2 | STOP switch |
| 3 | Speed override |
| 4 | Probe disabled LED |
| 5 | MCU enabled LED |
| 6 | Joystick enable |
| 7 | 3-axis joystick with push buttons |
| 8 | Joystick locks (3 separate buttons) |
| 9 | Probe disabled (see '4') |
| 10 | Engage servos |
| 11 | Start / stop program |
| 12 | Mode change |
| 13 | Joystick orientation |
| 14 | Axis systems select |
| 15 | F1 function |
| 16 | F2 function |
| 17 | Stop |
| 18 | F3 function |
| 19 | F4 function |
| 20 | Take point / cancel point |
| 21 | On / off |
---