Our markets
Our customers rely on our products and processes to help them solve complex engineering and scientific challenges. They help make everything from smartphones to solar panels, jet engines to dental implants.

Like every global business, demand for our products is affected by a range of global economic trends:
rising energy costs businesses want products that help them both maximise production and lower costs;
global competitiveness and greater efficiency customers are looking for cost-effective products that improve manufacturing efficiency and reduce scrap/rework;
global pandemic, skill shortages and rising labour costs customers are increasingly interested in automation, robotics and easy-to-use technology to help them manage these challenges;
near-shoring and reshoring global politics, trade tensions and supply chain concerns are pushing up investment in new localised manufacturing facilities. In markets with high labour costs, these issues are also driving interest in automation and robotics; and
Net Zero commitments/sustainable manufacturing more customers are setting sustainability targets and looking for products that maximise efficiency, while reducing emissions and waste. This is also driving interest in digital tools and data to create more sustainable smart' factories.
Here, we outline our principal markets and the specific issues driving demand for our products.
Aerospace and defence

We were born out of the aerospace business. The industry has changed a lot since then, but the twin drivers of efficiency and safety remain key. Customers are looking
for greater fuel efficiency, lighter components and ways to reduce costs. Research into more sustainable aviation is also growing.
More recently, geopolitical tensions, including the war in Ukraine, are prompting increases in defence spending, as well as shortages in titanium, a significant proportion of which aircraft manufacturers source from Russia.
Despite the ongoing impact of COVID-19, we expect longterm growth in the civil aviation market, particularly in shorthaul aircraft in Asia. The current geopolitical environment is likely to trigger higher global defence spending.
Our products are used throughout the aerospace and defence sector. Aircraft are highly complex structures with exacting safety standards. Key assemblies, from engines to wings to control systems and landing gear, rely on process control and post-process inspection using our products. This enables manufacturers to undertake repeatable, traceable and efficient work to the finest tolerances.
Automotive

Although investment in internal combustion engine (ICE) vehicles is reducing, research and production of hybrid and electric vehicles is rising. Like the ICE industry, customers in this relatively new sector rely on precision parts and automated processes throughout the supply chain to help them achieve ever more demanding performance targets. These customers are also looking for products that help drive down their manufacturing costs.
Meanwhile, vehicle design life cycles are falling, driving demand for more flexible manufacturing processes and precision measurement tools.
Many key components in domestic and commercial ICE vehicles are subject to process control that relies on our products.
We expect demand in this market to fall over time as more governments introduce bans on ICEs. However, we see multiple opportunities to counteract that decline with higher value products as the hybrid and electric vehicle (EV) market grows. These are used throughout EV manufacture, including inspecting electric motors using our REVO and gauging systems, and Raman spectroscopy is used for battery research to increase vehicle range.
Electronics

The fast-paced consumer electronics market demands flexible manufacturing systems that can adapt to shorter life cycles, yet still deliver high-quality, high-volume components.
We are also seeing growing need for more complex integrated circuits and changes in the types of materials used. For example, smartphone manufacturers are switching from metal, to glass and ceramic, to improve 5G signal reception.

Rising labour costs are pushing up demand for automation, and supply chains are adapting rapidly to cope with emerging demand in new markets. This is also a response to supply uncertainty – particularly in semiconductors – caused by the COVID-19 pandemic and trade sanctions.
Consumer electronics is one of our largest sectors. Our encoders can be found inside equipment at all stages of semiconductor chip manufacturing – a highly demanding sector that relies on speed, precision and reliability.
Despite short-term uncertainty, we expect long-term growth for our encoder products with the introduction of new generations of electronic devices, localisation of semiconductor production, and the relentless increase in digitalisation. For example, in March 2022 Intel announced it would invest €80bn in Europe over the next decade.
Healthcare

As global life expectancy rises, we are expecting pharmaceutical customers to need more, highly efficient products to help develop new treatments for neurological
diseases and other age-related health issues. We therefore see opportunities for our drug delivery system which is being used in trials to develop drug therapies for neurological conditions, including Parkinson's disease.
In industrialised nations, rising obesity rates are pushing up demand for orthopaedic procedures. This provides opportunities for our Additive Manufacturing business, as AM produces lightweight, custom implants.
Meanwhile, the medical profession is looking for faster, more precise surgical therapies to reduce waiting times. Demand is also growing for more economical, patientspecific treatments, as well as medical robots and precision tool positioning to reduce human error. Our neurosurgical robot and planning software for brain surgery, which assist surgeons with precision tool positioning and implant
placement, can benefit from this.
Our Spectroscopy products are also being used within the healthcare sector, including studies into early cancer detection. Our dedicated pharmaceutical analyser is also being used to formulate drugs more efficiently by speeding up the analysis of tablet composition and structure.
Heavy industry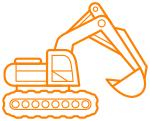 Customers are looking to increase agricultural yield to help feed a growing global population. They also want tools that will help them reduce their environmental footprint. Both are driving investment and demand for new machinery and 'smart' farming technologies, such as geo-mapping and automation.
Meanwhile, the construction industry is investing more in sustainable infrastructure to address its environmental impact. Equipment manufacturers are looking for increased automation to counteract skills shortages.
Many key components that end up in high-end agricultural equipment rely on process control using Renishaw's products.
We also make products that are used in high-value construction components, such as chassis in heavy earthmoving equipment, and that help design more reliable power plants with lower emissions. Our Raman spectroscopy systems support the identification of materials in geological samples.
Power generation and resource extraction

Whether fossil fuels, nuclear or renewable, the energy sector relies on key components, such as power transmission systems, generators and pumps, to efficiently deliver the power the world needs.
In wind and solar, customers are increasingly looking to maximise machinery efficiency, and are spending more on energy storage research, especially for electric vehicles. Our Spectroscopy business is well-placed to benefit from this, and our products are already being used for battery research.
Oil and gas equipment, meanwhile, must be manufactured to stringent safety standards, requiring accurate, costeffective and traceable processes. The sector is also looking to improve the efficiency of large diesel engines typically used for transport and other production processes, which requires greater component accuracy.
Renishaw's products are used to control the production of many key components in this sector. The manufacture of large components for wind turbines, including blades and bearings, all require the use of our Industrial Metrology products, including probes on machine tools. Our optical encoders are also being used to control solar panel manufacture.
Precision manufacturing

Customers who make products that are used across a range of industries, such as robotics, laser-based manufacturing systems and steam energy systems, alongside the subcontracted manufacturers that support them, are faced with common challenges.
These include the increased demand for innovative new products with more complex parts, a shortage of skilled operators, tighter part tolerances to meet performance, aesthetics and safety requirements, and shorter product lifecycles.
This is one of our largest markets. Our Manufacturing technologies products are used throughout a host of production processes, including machinery calibration
during build, process control and component measurement.
Demand for our Additive Manufacturing products is also rising as more customers are finding ways to use the technology to improve machinery performance.
We are also helping our customers to implement smart manufacturing and automation into their current operations using our technologies.