Our markets
Our customers rely on our products and processes to help them solve complex engineering and scientific challenges. They help make everything from smartphones to solar panels, jet engines to dental implants.

Like every global business, demand for our products is affected by a range of global economic trends:
rising energy and material costs this increases the need for higher performing products and efficient manufacturing processes;
global competitiveness and greater efficiency manufacturers want products to improve efficiency, reliability and reduce scrap. We are also seeing a continued trend of measurement moving closer to the shop floor. There is increased demand for more direct process control and results from measurements to be fed back from automated processes;
skill shortages and rising labour costs customers are increasingly interested in automation, intelligent manufacturing, robotics and easier-to-use technology to help manage these challenges;
upgraded semi-conductor manufacturing a rapid advance in semiconductor production equipment is required to support new computing and communications technologies;
relocation of manufacturing world politics, trade relations and some supply chain concerns are driving self-sufficiency in critical technologies (e.g. semiconductors) as companies seek to secure their supply chains. This is driving investment around the world towards more localised manufacturing;and
sustainable manufacturing and Net Zero commitments customers are setting sustainability targets and looking for products that maximise efficiency and automation, while reducing emissions and waste.
Here, we outline our principal markets and the specific issues driving demand for our products.
Aerospace and defence

Our heritage lies in the aerospace business and, 50 years later, efficiency and safety remain this industry's key drivers. Our customers are looking for greater fuel efficiency, lighter components and ways to reduce costs. The fall in demand during the COVID-19 pandemic has eased, and there are significant order backlogs and strong global demand for fuel-efficient, narrow-body, single-aisle aircraft.
We have seen increased defence spending due to geopolitical tensions, including the Russia-Ukraine conflict.
Our products are used throughout the aerospace and defence sector. The manufacture and assembly of engines, wings, control systems and landing gear rely on process control and post-process inspection using our products. Our systems enable manufacturers to carry out repeatable, traceable and efficient processes to the tightest tolerances.
Automotive

There are multiple applications for our products in this sector as manufacturers rely on precision parts and automated processes to help them achieve performance targets. Automotive customers are also looking for products to help reduce manufacturing costs and manage the rapid evolution of component design.
The use of electronics, sensors and displays is rising in both the electric vehicle (EV) and internal combustion engine (ICE) markets. While we expect demand in the ICE market to fall over time, as governments adapt policy to meet sustainability targets, manufacturers continue to upgrade their existing ICE production to improve engine efficiency.
Our products are used throughout EV manufacture and offer our customers significant benefits in productivity and quality. For example, our REVO and Equator products are used to inspect EV motors, and our position measurement devices are used in highly-automated EV battery assembly.
During this period of rapid market change, component designs are evolving quickly and vehicle design life cycles are decreasing. This is driving demand for more flexible manufacturing, which supports the shift towards adaptable shop-floor measurement technologies.
Electronics

With consumers expecting increasingly lightweight and compact products with more features, greater reliability, and longer battery life, regular updates and upgrades are required faster than ever before.
Our consumer electronics customers therefore demand flexible manufacturing systems that can adapt to shorter product life cycles, yet still deliver high-quality, highvolume components.
Consumer electronics is one of our largest sectors and includes products such as mobile phones and flat panel displays. The introduction of new generations of electronic devices will be key drivers for future growth.
Heavy industry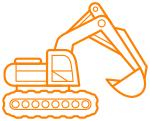 New machinery and 'smart' farming technologies are needed to increase agricultural yields and reduce environmental footprint. Many key components used in high-end agricultural equipment rely on our products for process control.
The construction industry is investing in sustainable infrastructure and there is increased automation to counteract skills shortages. We make products for the manufacture of high-value construction equipment, such as chassis for heavy earth moving equipment.
Precision manufacturing

Precision manufacturing covers a range of industries. Our customers within this sector (machine builders and end users) are faced with common challenges. These include increased demand for innovative new products with more complex parts, a shortage of skilled operators, tighter part tolerances for higher performing products, and the demand to be more efficient to meet sustainability targets.
Machine builders use our products to manufacture specialist equipment, such as machine tools and robots. For example, our encoders provide precision motion and our calibration products ensure machines are built to specification. They may also integrate our products to help end users operate their machinery efficiently.
Our end user customers use our precision technologies to help them manufacture precise and complex parts for different applications within multiple industries. Our manufacturing technologies are used throughout production for process control and component measurement.
Demand for our AM machines is rising as more customers are finding ways to use AM to revolutionise product design and efficiency.
We are also helping our customers use our solutions to implement smart manufacturing and automation in their operations.
Power generation and resource extraction

The manufacture of components for wind turbines requires our metrology products, including probes on machine tools. Our optical encoders are also being used to control solar panel manufacture.
Oil and gas equipment must be made to stringent safety standards, which requires accurate, cost-effective and traceable processes. The sector is also looking to improve the efficiency of large diesel engines, which requires greater component accuracy. Our products are well placed to assist with this.
Healthcare

Healthcare is a key sector for our AM business. Here, our machines are used to produce custom dental prosthetics and orthopaedic implants optimised for bone integration. Rising obesity rates and ageing populations are pushing up demand for orthopaedic procedures and we are well placed to meet this need.