TONiC™ incremental encoder system with RKLC20-S linear and partial arc scale
Features
Readhead size: 35 x 13.5 x 10 mm
Resolutions to 1 nm
Speed up to 10 m/s
Analogue or digital outputs
Ultra-low Sub-Divisional Error (SDE): typically < ±30 nm
Vacuum compatible version available
Optical IN-TRAC™ reference mark
Benefits
Narrow 6 mm wide scale suitable for space limited applications
Suitable for partial arc measurement
Substrate mastered scale giving improved metrological performance
Dynamic signal conditioning for improved motion control
Diagnostic kit

What is TONiC?
TONiC is Renishaw's super-compact, non-contact incremental encoder system that offers speeds up to 10 m/s and, when combined with the Ti interface, resolutions down to 1 nm for both linear and rotary applications. TONiC systems are quick and simple to install with wide set-up tolerances and calibration at the push of a button. TONiC's dynamic signal processing gives improved signal stability with ultra-low Sub-Divisional Error of typically < ±30 nm to help realise superior motion control performance.
What is RKLC20-S scale?
RKLC20-S is a narrow, low profile stainless steel tape scale featuring 20 µm pitch incremental graduations and IN-TRAC customer selectable reference marks. It is accurate to ±5 µm/m and available in lengths up to 20 metres (> 20 m on request). The RKLC20-S is mastered to the machine substrate giving improved metrological performance when the scale ends are rigidly fixed to the substrate.
The flexible RKLC20-S scale is also suitable for partial arc measurement where the small cross-sectional area allows it to be wrapped around a drum, shaft or arc with a minimum radius of 30 mm.
Why choose this encoder system?
Ultimate reliability and performance in a compact size
For ultimate reliability, consistent performance and high dirt immunity, TONiC readheads incorporate third-generation filtering optics, tuned for even lower noise (jitter) and now further enhanced by dynamic signal processing including Auto Gain Control and Auto Offset Control. This combination – all incorporated inside the readhead - provides signals of unrivalled purity and ultra-low Sub-Divisional Error of typically < ±30 nm. The result is smoother velocity control for improved scanning performance and increased positional stability; essential parameters for so many applications, all in a compact readhead.
Quicker and easier installation
A set-up LED on the readhead gives a visual indication of signal size and an optional diagnostic kit allows remote checking of the system performance when the readhead is concealed within the machine. Calibration of the reference mark and incremental signals is done at the push of a button with no mechanical adjustment or additional diagnostic tools. The IN-TRAC customer-selectable optical reference mark is embedded in the incremental scale for compact dimensions and simplified alignment. This yields a reference mark output that is bi-directionally repeatable to unit of resolution over the full operating temperature and speed range.
Narrow, robust and versatile scale
RKLC is a robust, 6 mm wide stainless steel encoder tape scale with a thickness of 0.15 mm. This allows the scale, when rigidly fixed to a machine axis, to become 'mastered' to the machine substrate, matching its thermal expansion coefficient and behaviour. Differential movement between the scale and the machine is thus minimised.
RKLC partial arc encoder scales
RKLC encoder scales can be conveniently cut to required length and mounted on a simple cylindrical substrate with no requirement for complex mounting features or tightly toleranced alignment surfaces.
TD (dual resolution) interface
Selectable dual-resolutions quadrature output.
Ideal for applications that require high speed movement combined with finer precision motion.
DOP (dual output) interface
Provides simultaneous digital quadrature and 1 Vpp signals.
Designed for applications requiring one or more operations to be synchronised with a motion axis.
Optional diagnostic kit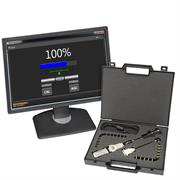 TONiC diagnostic software can be used to optimise the installation of TONiC encoders and provide a quick and comprehensive system calibration. The software must be used in conjunction with the TONiC diagnostic hardware which can be purchased from Renishaw using part number A-9411-0011. The hardware is connected to the PC via the USB cable (provided in the kit) or in-line with the customers' electronics.
Find out all about the TONiC diagnostic kit.
Measuring standard

Narrow stainless steel tape scale with self-adhesive backing tape, for mounting directly to a substrate

Suitable for partial arc applications (minimum radius for partial arc: 30 mm)

Readhead size (LxWxH)

35 mm x 13.5 mm x 10 mm

Scale pitch

20 μm

Coefficient of thermal expansion

Matched to substrate material when scale ends are fixed with end clamps

Accuracy grade at 20 °C

±5 μm/m

Reference mark

IN-TRAC reference marks directly embedded in the RKLC-S

Selector magnet used to identify chosen reference marks

Limit switches

Dual or single limits (select at time of order)

Scale length

Up to 20 m (> 20 m on request)

Scale form (H x W)
0.15 mm x 6 mm including adhesive

Maximum speed

Analogue

Digital

(See data sheet for details)

Up to 10 m/s at -3 dB

Up to 10 m/s

Sub-Divisional Error (SDE)

Typically < ±30 nm

Dynamic signal control

Real time signal conditioning including Auto Gain Control (AGC) and Auto Offset Control (AOC) for optimised performance during operation

Incremental signals

Analogue

Digital




1 Vpp (20 μm period)

Resolutions from 5 μm to 1 nm

Electrical connection

0.5 m, 1 m, 1.5 m, 3 m, 5 m and 10 m cable lengths with mini connector (connects direct to TONiC interface)

Power supply

5 V ±10%, < 100 mA (analogue system), < 200 mA (digital systems) (unterminated)

Vibration (operating)

100 m/ s2 max @ 55 Hz to 2 000 Hz

Shock (non-operating)

500 m/s2, 11 ms, ½ sine, 3 axes

Operating temperature (system)

0 °C to +70 °C

Sealing

Readhead: IP40

Interface: IP20
Refer to data sheets for full details.