Automotive components and assemblies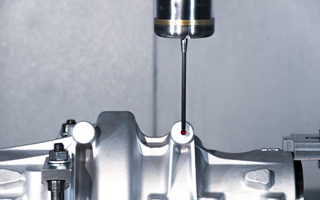 Accuracy is the main reason we use Renishaw technology. I don't think we could do half of what we do without their probes.
Tridan Engineering (UK)
NC4+ Blue non-contact tool setter for on-machine tool measurement
Featuring industry-first, blue laser technology (patent pending) and improved optics, Renishaw's NC4+ Blue non-contact tool setting systems deliver significant improvements in tool measurement accuracy, ensuring components can be machined more accurately and efficiently on CNC machine tools.
High precision tool setting arms
For tool measuring and broken tool detection on 2-axis and 3-axis CNC lathes and grinding machines, reduce setting times by up to 90% and improve your process control.
PH20 5-axis touch-trigger system
PH20's unique 'head touches' allow measurement points to be taken by moving only the head, rather than the CMM structure. Points can be taken faster, and with improved accuracy and repeatability.
RENGAGE™ technology
With unbeatable 3D measurement capability and submicron repeatability, Renishaw's family of machine tool probes with RENGAGE technology combines precise silicon strain gauge sensors with ultra-compact electronics to deliver superior performance. Excelling in the measurement of complex shapes and contours, these probes are ideally suited to mould and die and aerospace applications. An ultra-low trigger force helps to eliminate surface and form damage; ideal for inspecting delicate workpieces.
Shopfloor gauging for process control close to the point of manufacture
Process control can be achieved with closed-loop feedback using Equator™ gauging data to update offsets directly on machine tool controls. Data from the Equator gauge can be used to update offsets repeatably and reliably, compensating for common causes of process instability, for example tool wear and thermal drift.
Gauging a pump housing with the Equator gauging system
Ensure that components with precise fitments are made to tolerance, improve process control and reduce inspection costs with the Equator gauging system.