EVOLUTE™ absolute encoder system with RTLA50 linear scale
Features
Serial interfaces: BiSS® C, FANUC, Mitsubishi, Panasonic, Siemens DRIVE-CLiQ®, Yaskawa
Readhead size: 36 x 16.5 x 17.2 mm
Resolutions to 50 nm at 100 m/s
±10 µm/m accuracy at 20 °C
Scale coefficient of thermal expansion at 20 °C: 10.1 ±0.2 µm/m/°C
Side cable outlet version available
Benefits
Enhanced dirt immunity
Easy installation and robust operation
Versatile metrology performance
Less than 10 nm RMS jitter for improved positional stability
±150 nm Sub-Divisional Error for smooth velocity control
Side mounting option and reversible readhead for flexible mounting
Optional Advanced Diagnostic Tool

What is EVOLUTE?
Based on industry-leading technology from the RESOLUTE™ encoder series, EVOLUTE™ is a true-absolute 50 μm scale period optical encoder with generous installation tolerances, enhanced dirt immunity and versatile metrology performance. Position is acquired immediately on start-up, without requiring any motion, making it suitable for a wide range of motion control applications.
High operational integrity is maintained due to innovative image processing algorithms and optics optimised for contamination resistance, while the use of a single-track scale with a 50 µm period provides a generous installation tolerance of 500 μm (rideheight).
The EVOLUTE encoder measures absolute position with resolutions down to 50 nm at speeds up to 100 m/s, delivering versatile metrology with Sub-Divisional Error (SDE) of ±150 nm and ultra-low noise (jitter) of less than 10 nm RMS.
What is RTLA50 scale?
RTLA50 incorporates the same stainless steel tape scale as RTLA, but this time with a 50 µm pitch version of our absolute scale code. It is accurate to ±10 µm/m and available in lengths up to 10.02 metres. Two mounting options are available, both of which allow independent scale thermal expansion and the convenience of tape scale.
RTLA50 can be used with the revolutionary FASTRACK™ scale carrier system. This system allows a track to be laid quickly and easily with no need for fixing holes. A sacrificial spacer is removed and the tape scale is then fed into the track.
RTLA50-S is laid onto the substrate with self-adhesive backing tape. The self-adhesive is formulated in such a way that it allows the scale to expand independently of the substrate.

To complete the installation, both types of scale are clamped at one point to provide a datum position.
Why choose this encoder system?
Easy fault finding and servicing
The Advanced Diagnostic Tool ADTa‑100 acquires comprehensive real-time data from EVOLUTE™ encoder readheads.The information is displayed via the user-friendly ADT View software interface. Whilst in most cases the integral set-up LED on the encoder is sufficient for setting up the system, the ADT can be used to aid more challenging installations. The ADT can also report on encoder performance and assist system fault finding to avoid lengthy machine downtime.
Fast and easy installation
Machine build time is critical in OEM applications as time saved in component installation allows shorter manufacturing lead times and ultimately higher profitability. The large rideheight and tolerance offered by the EVOLUTE readhead (rideheight of 0.8 mm, tolerance ±0.25 mm) ensures fast and simple installation with instant validation from the integral set‑up LED, eliminating the need for time consuming fine adjustment. This superior set-up tolerance is enabled through advanced optics and by not following the conventional absolute measurement technique of using dual tracks side-by-side (one incremental, one absolute) which inherently suffer de-phasing problems when small amounts of angular misalignment are introduced.
Robust operation
Minimising down-time is a top priority for end-users of production machinery. The EVOLUTE encoder ensures up-time through multiple mechanisms that enable high dirt immunity for an optical system: a Digital Signal Processor (DSP) is used to analyse captured data from the custom image sensor and work with the optical imaging system to overcome light scattering effects of oily or greasy smears that may cause other encoders to fail; the custom point-source LED changes its flash duration to provide the best signal integrity for all traversing speeds; and finally, substantial redundancy is built into the absolute code pattern, allowing the EVOLUTE readhead to function over parts of the scale that are partially obscured by particulate contamination.
External interface option
Siemens DRIVE-CLiQ external interface
Required for Siemens DRIVE-CLiQ serial interface
Also available in dual head input for high accuracy rotary systems
Displays communication alarms
Duplicates readhead LED
No external interface is required for the other available serial interfaces.
Optional Advanced Diagnostic Tool ADTa-100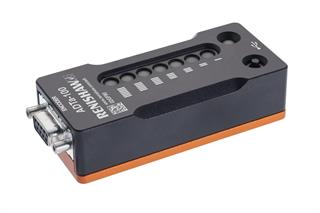 The EVOLUTE encoder system is compatible with the Advanced Diagnostic Tool ADTa-100 and ADT View software. They provide comprehensive real-time encoder data feedback to aid more challenging installations and diagnostics. The intuitive software interface can be used for:
Remote calibration

Signal optimisation over the entire axis length

Digital readout of encoder position (relative to the scale)

Exporting and saving data

Setting zero
Serial interfaces
Description
Data sheet
Compatible products
BiSS C

Renishaw supports BiSS C (unidirectional) open protocol for absolute encoders. BiSS C is a high-speed serial interface, perfect for dynamic axes that require high acceleration, silky-smooth velocity control, excellent repeatability and rock-solid positional stability.
EVOLUTE with BiSS C is available in linear encoder version and is compatible with a wide range of industry-standard controllers, drives, DROs and PC counter cards.

FANUC
EVOLUTE with FANUC (α and αi) serial interface is available for linear applications.
EVOLUTE brings many advantages to high-performance machine tools that use FANUC controllers. Higher speed, rugged and reliable pure serial communications, superior contouring performance and greater servo stiffness. Furthermore, the non-contact format eliminates backlash, shaft wind-up (torsion) and other hysteresis errors that plague traditional enclosed encoders.
EVOLUTE FANUC
N/A

Mitsubishi

EVOLUTE with Mitsubishi serial interface is available in linear form. EVOLUTE is compatible with the J4 and J5 series of servo drives, and the MDS-D2/DH2/DM2/DJ drives for machine tool applications.

N/A

Panasonic

EVOLUTE with Panasonic serial interface is available in linear form. Compatible with the A5 and A6 series of drivers, it provides high resolution repeatable feedback for better servo and speed control.

N/A
Siemens DRIVE-CLiQ

EVOLUTE with Siemens DRIVE-CLiQ serial interface is available (using external interface) for linear applications. Siemens DRIVE-CLiQ is the innovative, powerful communications interface to connect encoder and direct measurement systems with SINUMERIK and SINAMICS drive components.

EVOLUTE Siemens DRIVE-CLiQ
N/A
Yaskawa

EVOLUTE with Yaskawa serial interface is available in linear form and is compatible with Sigma-5 and Sigma-7 SERVOPACKs.

EVOLUTE Yaskawa
N/A
Measuring standard

FASTRACK RTLA50: stainless steel tape scale with carrier system

RTLA50-S: stainless steel absolute coded tape scale with self-adhesive backing tape, for mounting directly to a substrate without the FASTRACK guide rails

Readhead size (LxWxH)

36 mm x 16.5 mm x 17.2 mm

Scale pitch

Nominal 50 μm

Coefficient of thermal expansion at 20 °C

10.1 ±0.2 μm/m/°C

Accuracy grade at 20 °C

±10 μm/m

Scale length

Some BiSS C protocol variants have limited maximum length (See data sheet for details)

FASTRACK: 100 mm to 10.02 m

RTLA50/RTLA50-S: up to 10.02 m

Maximum speed

(See data sheet for details)

Up to 100 m/s

Serial interfaces*

BiSS C, FANUC, Mitsubishi, Panasonic, Siemens DRIVE-CLiQ, Yaskawa

Resolutions

500 nm, 100 nm and 50 nm for BiSS C, FANUC, Mitsubishi, Panasonic, Yaskawa

50 nm for Siemens DRIVE-CLiQ

Sub-Divisional Error (SDE)

±150 nm

Electrical connection

0.5, 1, 1.5 or 3 m cable lengths with 9-way D-type connector for BiSS C, FANUC, Mitsubishi, Panasonic, Yaskawa

M12 for Siemens DRIVE-CLiQ

Power supply

5 V ±10%, max 250 mA @ 5 V (terminated)

Vibration (operating)

300 m/s2 max @ 55 Hz to 2 000, 3 axes

Shock (non-operating)

1 000 m/s2, 6 ms, ½ sine, 3 axes

Operating temperature

0 °C to +80 °C

Sealing

IP64
Refer to data sheets for full details.
*Other serial interfaces are continually being added.