Internal combustion engine manufacturing
ICE and powertrain manufacturing
For decades, we've brought our expertise and technology to bear to help manufacturers build their engines, gearboxes and drive shafts.
The result is powertrains that are more economical to produce, more reliable and manufactured to higher quality standards – giving improved performance, greater fuel efficiency, reduced pollution and longer service lives.
The future of automotive manufacturing
From multi-sensor rapid scanning of machined casings to material analysis of fuel cells, we support our automotive manufacturing customers on the road from internal combustion engines (ICE) to electric vehicles (EV).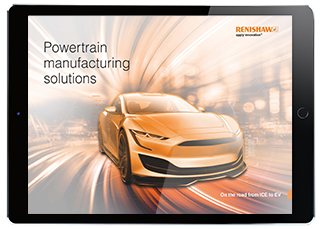 Gearbox and eMotor casings
5-axis inspection technologies for reduced cycle times
Minimal stylus setups typically halve gearbox casing inspection cycle time

To ensure reliability and quiet operation, gearbox casings are subject to close control of dimensional tolerances and surface finish. Quality assurance of machining operations is often achieved with periodic sample inspection on a co-ordinate measuring machine (CMM). With production using multiple parallel machine tools to simultaneously create several gearbox variants on the same line, this can lead to a significant load on a central inspection function and significant delays in reporting non-conformances. Speed of data capture is therefore key to providing rapid results and reducing the number of CMMs required.
Surface finish inspection
Automated surface finish inspection
Reduced manual processes
Renishaw's REVO® 5-axis CMM inspection technology with multi-sensor capabilities rapidly scans parts, measuring form and surface finish, on a single integrated platform. Surface finish and close control of dimensional tolerances are key quality requirements for all gearbox casings. Manual surface finish operations can be replaced with an automated SFP2 probe, removing the associated labour and repair/maintenance costs of manual equipment.
Automotive engineering on the road from ICE to EV
As new automotive technologies continue to be refined, production flexibility and adaptability will be fundamental to commercial success on the road from conventional ICE to full battery EV.
Renishaw's Automotive Business Development Manager, Gareth Tomkinson, explains how Renishaw's manufacturing solutions provide the speed, flexibility and ease of use to help you adapt your production for this electric future.
Quality
The greater complexity of modern engines imposes ever tougher form and dimensional requirements on parts. Efficiency and operating standards also demand precise control of the flatness, waviness and roughness of material surfaces. Our technologies are used to validate part conformance against these requirements.
Control
From correctly calibrating machine tools and ensuring accurate set-up to final inspection, we ensure out of tolerance parts never make it into final assembly of a vehicle.