neuromate® stereotactic robot options
Renishaw provides a wide range of options for the neuromate® stereotactic surgical robot.
Included in the neuromate® system

Planning software
The neuromate system is supplied with neurosurgical planning software. This software is also designed to control the neuromate robot during surgery.

Standard tool holder
This is a universal holder featuring a guide into which standard neurosurgical instruments such as drills, guide tubes, biopsy needles and catheters can be inserted.

Remote control
The remote control enhances the safety of the robot, by enabling the control of the robot to be placed in the hands of the user. With the endoscopy option, the remote control allows surgeons to navigate the robotic arm within a volume pre-defined during the planning process.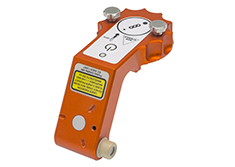 Laser tool holder
The laser tool is used to check the patient registration and to mark the entry points on the patient head before surgery. It is mounted on the neuromate arm in the same way as a standard tool holder.
Endoscopic option

Endoscopic module
A specific instrument holder has been designed to receive most types of endoscope. The robotic arm movements in endoscopic mode are piloted with the remote control. The arm speed is reduced to avoid damage to the cerebral tissues.
Note: neuro-endoscopy option is not available in all countries; please contact our sales team for further information.



Head holder and attachments
This is composed of a half-ring, six pins and a clip to fix the half-ring onto the attachment. The head holder must be fixed to the base of the neuromate.
Other stereotactic adaptations

We are aware that technical requirements in the neurosurgical operating room are changing fast. If you plan to acquire or are using new technologies, our engineering team is ready to work with you to integrate these into your neuromate surgical procedure.
Please contact your local sales team to find out how we can help you.
Consumables
Sterile drapes for the robotic arm and remote control
To ensure a sterile environment, surgical drapes are available for both the remote control and the robotic arm.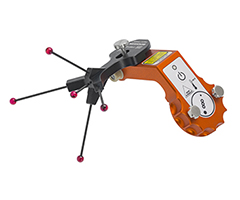 neurolocate™ registration
The neurolocate patient registration module connects to the neuromate laser tool and enables intra-operative X-ray/CT registration, without the need for bone or skin anchored fiducials.
Frame based options

Frame attachment
This part is designed to fix your usual stereotactic frame to the neuromate®. Models exist for different types of stereotactic frame.
Micro-manipulator

Electrode micro-manipulator kit
This includes the micro-manipulator and all the necessary elements for implanting electrodes.
Elements are made from high-tech materials, with consideration for operating room constraints. (sterilisation, storage etc)