RESOLUTE™ absolute encoder system with RESA30 rotary (angle) ring
Features
Protocols available: BiSS®, DRIVE-CLiQ, FANUC, Mitsubishi, Panasonic, Yaskawa
Readhead size: 36 x 16.5 x 17.2 mm
Resolutions to 32 bits/rev at 36 000 rev/min
±0.52 - 5.49 arc seconds system accuracy
Vacuum compatible, Extended Temperature Range and side cable outlet versions available
Benefits
Low profile ring with large internal diameter for easy installations
Excellent motion control performance
Exceptionally high dirt immunity
Wide set-up tolerances

Less than 10 nm RMS jitter for improved positional stability

±40 nm Sub-Divisional Error for smooth velocity control

Optional Advanced Diagnostic Tool

What is RESOLUTE?
RESOLUTE is a true absolute, fine pitch optical encoder system that has excellent dirt immunity, and an impressive specification that breaks new ground in position feedback. It is the world's first absolute encoder capable of 32-bit resolution at 36 000 rev/min. Ultra low SDE and jitter result in a rotary encoder system that outperforms any other encoder in its class.

Winner of a Queen's Award for Enterprise 2015 in the Innovation category
What is RESA30 ring?
RESA30 is a one-piece stainless steel ring with absolute scale code marked directly on the periphery. Two versions are available in a wide range of sizes (Ø52 mm to Ø550 mm).'A' section rings, which offer an impressive installed accuracy, feature a taper mount system which reduce the need for highly toleranced machined parts and eliminate eccentricity. 'B' section thin rings, which are low inertia and mass, are also available. Both 'A' and 'B' section rings have a large internal diameter for flexible integration. The non-contact format eliminates backlash, shaft wind-up (torsion) and other mechanical hysteresis errors that are inherent in traditional enclosed encoders.
Why choose this encoder system?
Easy fault finding and servicing
The Advanced Diagnostic Tool ADTa‑100 acquires comprehensive real-time data from RESOLUTE™ encoder readheads. The information is displayed via the user-friendly ADT View software interface. Whilst in most cases the integral set-up LED on the encoder is sufficient for setting up the system, the ADT can be used to aid more challenging installations. The ADT can also report on encoder performance and assist system fault finding to avoid lengthy machine downtime.
Excellent motion control performance
RESOLUTE's industry-leading performance is the result of a sophisticated, reliable and innovative method of operation. Crucially, the system uses a single track non-repeating "bar code" scale format with a nominal pitch of 30 µm. With its sophisticated optical design the RESOLUTE readhead captures a near-instantaneous image of this scale which, when analysed, allows a unique position to be identified at speeds of up to 100 m/s. The system allows position to be determined with resolution as small as 1 nanometre (1 billionth of a metre) and with low noise (jitter below 10 nm RMS) and SDE (Sub-Divisional Error, the error within a scale period) of just ±40 nm. This provides encoder feedback of superior fidelity, to ensure smoother velocity control and rock-solid positional stability.
Wide set-up tolerances
RESOLUTE does not follow the conventional technique of using dual tracks side-by-side (one incremental, one absolute) which inherently suffers de-phasing problems when small amounts of angular misalignment are introduced. Instead, this absolute encoder features a single track, optical absolute scale, combining both the absolute position and embedded phase information into one single code. This technology provides RESOLUTE with far wider set-up tolerances (yaw tolerance ±0.5°) for quick and easy installation and superior long-term reliability, even if the motion axes settle or move over time. To further aid installation and diagnostics, there is an integral set-up LED on the readhead.
Interface option
DRIVE-CLiQ interface
Required for DRIVE-CLiQ protocol
Also available in dual head input for high accuracy rotary systems
Displays communication alarms
Duplicates readhead LED
No interface is required for the other available protocols.
Optional Advanced Diagnostic Tool ADTa-100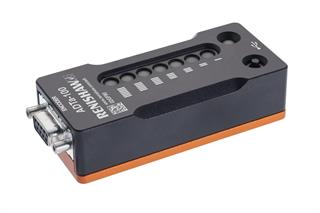 The RESOLUTE encoder system is compatible with the Advanced Diagnostic Tool ADTa-100 and ADT View software. They provide comprehensive real-time encoder data feedback to aid more challenging installations and diagnostics. The intuitive software interface can be used for:
Remote calibration

Signal optimisation over the entire axis length

Digital readout of encoder position (relative to the scale)

Exporting and saving data

Setting zero
Protocol
Description
Data sheet
Compatible products
BiSS®

Renishaw supports BiSS C (unidirectional) open protocol for absolute encoders. BiSS is a high-speed serial protocol, perfect for dynamic axes that require high acceleration, smooth velocity control, excellent bi-directional repeatability and rock-solid positional stability.
RESOLUTE with BiSS is available in both linear and rotary (angle) encoder versions, compatible with a wide range of industry-standard controllers, drives, DROs and PC counter cards.

DRIVE-CLiQ

RESOLUTE with Siemens DRIVE-CLiQ interface is available for linear and rotary applications. DRIVE-CLiQ is the innovative, powerful communications interface to connect encoder and direct measurement systems with SINUMERIK and SINAMICS drive components.

N/A

FANUC

RESOLUTE with FANUC serial interface is available for rotary and linear applications. RESOLUTE brings many advantages to high-performance machine tools that use FANUC controllers. Higher speed, rugged and reliable pure serial communications, superior contouring performance and greater servo stiffness. Furthermore, the non-contact format eliminates backlash, shaft wind-up (torsion) and other hysteresis errors that plague traditional enclosed encoders.

N/A

Mitsubishi

RESOLUTE with Mitsubishi serial communications interface is available in rotary and linear forms. RESOLUTE is compatible with the J4 series of servo drives, and the MDS-D2/DH2/DM2/DJ drives for machine tool applications.

N/A
Panasonic
RESOLUTE with Panasonic serial communications interface is available in linear and rotary forms. Compatible with the A5 and A6 series of drivers, it provides high resolution repeatable feedback for better servo and speed control.
RESOLUTE Panasonic
N/A

Yaskawa

RESOLUTE with Yaskawa serial communications interface is available in rotary and linear forms, and is compatible with Sigma-5 and Sigma-7 SERVOPACKs.

N/A
Measuring standard

One-piece low profile absolute coded 303 / 304 stainless steel ring, standard 'A' section with tapered internal diameter or low inertia 'B' section rings available

Readhead size (LxWxH)

36 mm x 16.5 mm x 17.2 mm

Scale pitch

Nominal 30 μm

Ring outer diameter

52 mm to 550 mm

Coefficient of thermal expansion at 20 °C
15.5 ±0.5 μm/m/°C

System accuracy*

±5.49 to ±0.52 arc seconds (depending on ring diameter)

Maximum speed

(See data sheet for details)

36 000 rpm (on 52 mm ring)

Protocols†

BiSS C, DRIVE-CLiQ**, FANUC, Mitsubishi, Panasonic and Yaskawa

Resolutions

BiSS C: 18-bit, 26-bit and 32-bit

FANUC: 23-bit and 27-bit

Mitsubishi 2-wire: 23-bit

Mitsubishi 4-wire: 23-bit and 27-bit

DRIVE-CLiQ**: 26-bit and 29-bit

Yaskawa (rotary servomotors): 24-bit

Yaskawa (fully closed loop control): 23-bit, 26-bit and 30-bit

Sub-Divisional Error (SDE)

±40 nm

Electrical connection

Up to 10 m cable lengths with D-type connectors (9 pin or 15 pin), flying lead, FANUC compatible connector, LEMO, and M12

Power supply

5 V ±10%, 250 mA @ 5 V (terminated)

Vibration (operating)

300 m/s2 max @ 55 Hz to 2 000 Hz

Shock (non-operating)

1 000 m/s2, 6 ms, ½ sine

Operating temperature

0 °C to +80 °C

Sealing

IP64
Refer to data sheets for full details.
* System accuracy is graduation error plus SDE. Graduation accuracy is the maximum difference between the angle measured by a single readhead and the true rotation of the encoder as graduated. Application disturbances such as eccentricity are not included.
†Other protocols are continually being added.
**For DRIVE-CLiQ specifications, refer to RESOLUTE DRIVE-CLiQ data sheet.