TONiC™ UHV incremental encoder system with RESM20 rotary (angle) ring
Features
Readhead size: 35 x 13.5 x 10 mm
Resolutions to 1 nm
Speed up to 3 673 rev/min
Ultra low Sub-Divisional Error (SDE): typically <±30 nm
Optical IN-TRAC™ reference mark
Benefits
Ultra-High Vacuum (UHV)
Low profile ring with large internal diameter for easy integration
Super-compact encoder readhead with dynamic signal conditioning for improved motion control
Diagnostic kit to assist challenging installations and aid system optimisation

What is TONiC UHV?
TONiC UHV brings Renishaw's super-compact, non-contact encoder system to Ultra-High Vacuum applications offering customers improved motion control.
TONiC offers speeds up to 10 m/s and, combined with the Ti interface, resolutions down to 1 nm for both linear and rotary applications. TONiC systems are quick and simple to install with wide set-up tolerances and calibration at the push of a button. TONiC's dynamic signal processing gives improved signal stability with ultra-low Sub-Divisional Error of typically < ±30 nm to help realise superior motion control performance.
What is RESM20 ring?
RESM20 is a one-piece stainless steel ring with 20 µm pitch graduations marked directly on the periphery, featuring the IN-TRAC™ optical reference mark. Two versions are available in a wide range of sizes (Ø52 mm to Ø550 mm). 'A' section rings, which offer an impressive installed accuracy and feature a taper mount system which reduces the need for highly toleranced machined parts and eliminates eccentricity. 'B' section thin rings, which are low inertia and mass, are also available. Both 'A' and 'B' section rings have a large internal diameter for flexible integration into UHV applications. The non-contact format eliminates backlash, shaft wind-up (torsion) and other mechanical hysteresis errors that are inherent in traditional enclosed encoders.
Why choose this encoder system?
Ultra-High Vacuum (UHV)
TONiC UHV readheads take standard TONiC outstanding performance and deliver it in a readhead that has been designed and constructed using UHV compatible materials and processes making it suitable for UHV conditions down to 10 -10 Torr.
The range of TONiC UHV encoders and accessories are constructed from vacuum-compatible materials and adhesives to give low outgassing rates and proven clean residual gas analysis (RGA) making them suitable for many applications including wafer handling / testing, scientific instruments, spectroscopy, vacuum inspection equipment and many more.
Ultimate reliability and performance in a compact size
For ultimate reliability and consistent performance TONiC readheads incorporate third-generation filtering optics, tuned for even lower noise (jitter) and now further enhanced by dynamic signal processing including Auto Gain Control and Auto Offset Control. This combination – all incorporated inside the readhead - provides signals of unrivalled purity and ultra-low Sub-Divisional Error of just ±30 nm. The result is smoother velocity control for improved scanning performance, increased positional stability which in turn helps minimise the heat build-up in motors inside the vacuum; essential parameters for vacuum applications all in a compact readhead.
Quicker and easier installation
A set-up LED on the readhead gives a visual indication of signal size and an optional diagnostic kit allows remote checking of the system performance when the readhead is concealed within the machine. Calibration of the reference mark and incremental signals is done at the push of a button with no mechanical adjustment or additional diagnostic tools. The IN-TRAC customer-selectable optical reference mark is embedded in the incremental scale for compact dimensions and simplified alignment. This yields a reference mark output that is bi-directionally repeatable to unit of resolution over the full operating temperature and speed range.
TD (dual resolution) interface
Selectable dual-resolutions quadrature output.
Ideal for applications that require high speed movement combined with finer precision motion.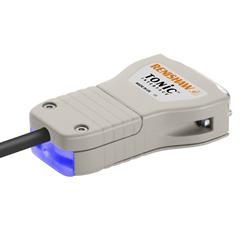 DOP (dual output) interface
Provides simultaneous digital quadrature and 1 Vpp signals.
Designed for applications requiring one or more operations to be synchronised with a motion axis.
DSi (Dual Signal interface)
Renishaw's DSi combines the incremental signals from two TONiC readheads on a RESM20 ring (REST20 ring for partial rotation applications) to compensate for the effect of bearing wander and eliminates odd error harmonics, including eccentricity to give total l installed accuracy of typically ±2.0 arc second.
Optional diagnostic kit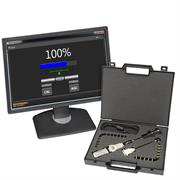 TONiC diagnostic software can be used to optimise the installation of TONiC encoders and provide a quick and comprehensive system calibration. The software must be used in conjunction with the TONiC diagnostic hardware which can be purchased from Renishaw using part number A-9411-0011. The hardware is connected to the PC via the USB cable (provided in the kit) or in-line with the customers' electronics.
Find out all about the TONiC diagnostic kit.
Measuring standard

RESM20: one-piece low profile stainless steel ring. Standard 'A' section with tapered internal diameter or low inertia 'B' section

Also available for partial rotation applications as REST20

Readhead size (LxHxW)

35 mm x 13.5 mm x 10 mm

Scale pitch

20 μm

Coefficient of thermal expansion at 20 °C
15.5 ±0.5 μm/m/°C

Ring outer diameter

52 mm to 550 mm. For larger custom sizes, contact Renishaw

Line count

8 192 to 86 400 (depending on ring size)

Reference mark

RESM20: single IN-TRAC reference mark ring

REST20: two reference mark ring for partial rotation applications

Accuracy*

Graduation accuracy

System accuracy




±3.97 to ±0.38 arc seconds (depending on ring diameter)

±4.20 to ±0.40 arc seconds (depending on ring diameter)

Maximum speed

Analogue

Digital

(See data sheet for details)

3 673 rpm at -3 dB (on 52 mm RESM20)

3 673 rpm (5 μm resolution TONiC on 52 mm RESM20)

Sub-Divisional Error (SDE)

Typically <±30 nm

Dynamic signal control

Real time signal conditioning including Auto Gain Control (AGC) and Auto Offset Control (AOC) for optimised performance during operation

Incremental signals

Analogue

Digital

(See data sheet for details of angular resolutions)

1 Vpp (20 μm period)

Resolution from 5 μm to 1 nm

Electrical connection

0.5 m, 1 m, 1.5 m, 3 m, 5 m and 10 m cable lengths with mini connector (connects direct to TONiC interface)

Power supply

5 V ±10%, <100 mA (analogue system), <200 mA (digital systems) (unterminated)

Readhead power consumption
<100 mA

Vibration (operating)

100 m/s2 max @ 55 Hz to 2 000 Hz

Shock (non-operating)

1 000 m/s2, 6 ms, ½ sine

Operating temperature (system)

0 °C to +70 °C

Bake-out temperature (non-operating)

120 °C (Readhead and scale only)

Sealing

Readhead: IP20

Interface: IP20

Cable construction

Tinned copper braided single screen, FEP core insulation
* System accuracy is graduation error plus SDE. Graduation accuracy is the maximum difference between the angle measured by a single readhead and the true rotation of the encoder as graduated. Application disturbances such as eccentricity are not included.
Refer to data sheets for full details.