Workshops for Gloucestershire and Bristol region schools
Renishaw's workshops provide students with an exciting hands-on experience of engineering, and offer teachers an ideal opportunity to engage classes in science, technology, engineering and maths subjects.
Meeting the needs of STEM curricula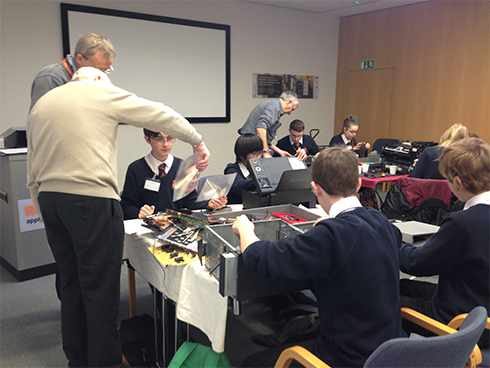 For students at schools throughout Gloucestershire, South Gloucestershire and Bristol, Renishaw's education outreach workshops provide an exciting hands-on experience of real-world engineering.  For teachers, they offer an ideal opportunity to pro-actively engage classes in science, technology, engineering and maths (STEM) subjects.
Held at our state-of-the-art Innovation Centre near Wotton-under-Edge, Gloucestershire, our workshops are completely free to schools and can even be tailored to meet the needs of individual school curricula.
With strong core curriculum links, the workshops offer a range of different engineering oriented activities including:
Technology teardown
Students will take apart a range of modern electronic devices, including cameras, phones, laptops and hard-drives.  With the support of Renishaw engineers, students discover what's really inside them and how they work.
Design and build
Students will be provided with all the materials, tools and guidance to experience a hands-on engineering related activity.
Find out more and book
To find out a lot more about the engineering workshops we offer at our Innovation Centre in Gloucestershire click on the workshop thumbnails below to view and download a PDF.  To check availability and book a workshop use the link below.
Teachers and students, we want to hear from you. The UK and Renishaw needs more engineers.
To book a workshop - click 'Book a workshop' to email the education team.
For any queries regarding the workshops at Renishaw's Innovation Centre near Wotton-under-Edge, Gloucestershire
contact us