Mounting the SP80 / SP80H body to the quill adaptor plate
The SP80 and SP80H probe bodies have the female half of the kinematic joint incorporated in its top plate. The male half of the kinematic joint is incorporated in the KM80, the KM6080 and the SM80. To attach the probe to the quill adaptor plate proceed as follows:
Align the probe such that the 15-way connector on the top face is aligned with either the KM80 / KM6080 aperture or the mating connector in SM80, whichever is applicable.
If using the KM80 / KM6080, make the necessary connection with the probe cable within the quill. If using the SM80, ensure that the connector halves mate correctly during the next step.
Carefully locate the two halves of the kinematic joint together. Insert the S10 key into the autojoint key slot (at rear of probe) and turn the key clockwise until it locks tight.
Reverse the above procedure to remove the probe from the CMM taking care to prevent the probe from falling.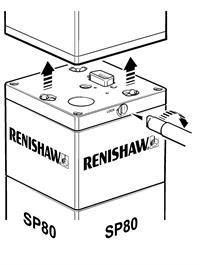 Attaching the SP80 to the quill adaptor plate (KM80 shown)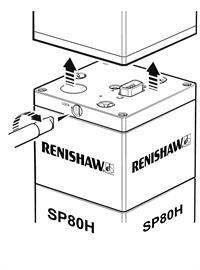 Attaching the SP80H to the quill adaptor plate (KM80 shown)