Mounting / removing the SH80 / SH80K on the SP80 / SP80H body
The SH80 incorporates the male half of a magnetic kinematic joint that connects to the female half of the joint on the bottom of both the SP80 and SP80H probe body. The SH80 carries M5 styli, and has a 5-way centre design that can be rotationally adjusted for infinite angle position of the stylus.
Fitting SH80 / SH80K
Fit the SH80 / SH80K into the SH80 removal tool and slowly offer up to the SP80 / SP80H, whilst aligning the triangular alignment marks indicating the front of the probe, and allow the magnetic attraction to make the kinematic joint – the damping mechanism located in the SH80 will ensure a gentle connection. The SH80 tool should also be used to remove the SH80 and SH80K.
Ultimately we recommend that where possible stylus changing is performed automatically to give the best system performance.
Removing the SH80 / SH80K
When removing the SH80 / SH80K manually it is recommended to use the SP80 removal tool, which is supplied as standard with every probe kit.
Slide the removal tool into the grooves on the SH80 / SH80K. Then use the SH80 removal tool to act as a lever.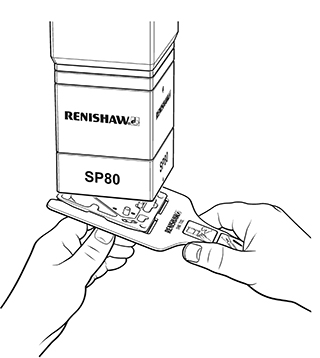 NOTE: When removing the SH80 manually take care not to twist the unit as this can damage the alignment and damper pins.