RVP REVO vision probe
The REVO vision probe (RVP) provides non-contact vision measurement on an infinitely positioning, 5-axis platform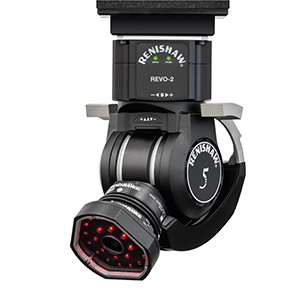 The RVP vision probe system is automatically interchangeable with all other probe options available for REVO. It features two vision modules that provide inspection capability for different applications.
The same I++ DME compliant interface as REVO-2 manages the RVP system and full user functionality is provided by Renishaw's MODUS metrology software.
MODUS vision software capability includes RVP configuration, image processing with application specific options and automatic image storage for review and further analysis.
The RVP system uses an industry standard CMOS image sensor to capture and then detect the position of features using the contrast between light and dark areas of the image.
Data points are projected on to the location where the image contrast changes from light to dark. A detailed calibration model of the lens system transforms the co-ordinates of the projected point on the image to real-world, three dimensional coordinates on the part.
RVP REVO vision probe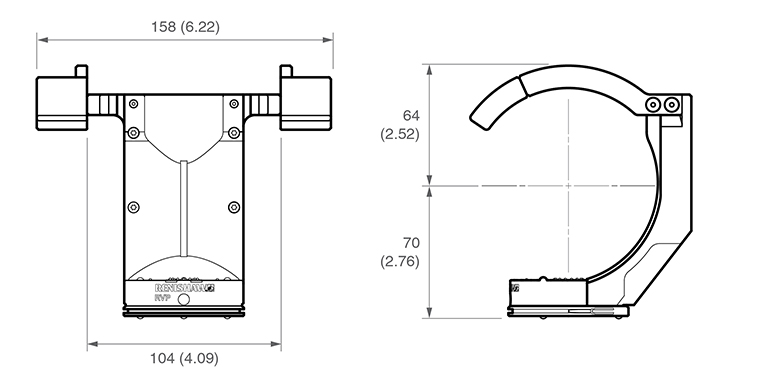 Vision modules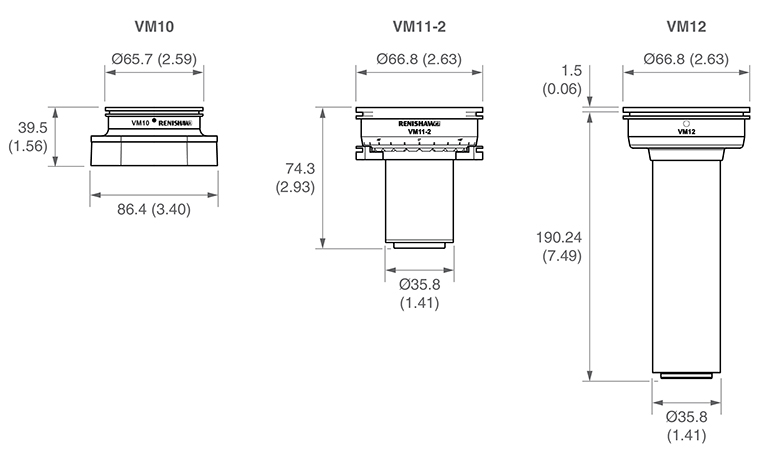 Angle change mirror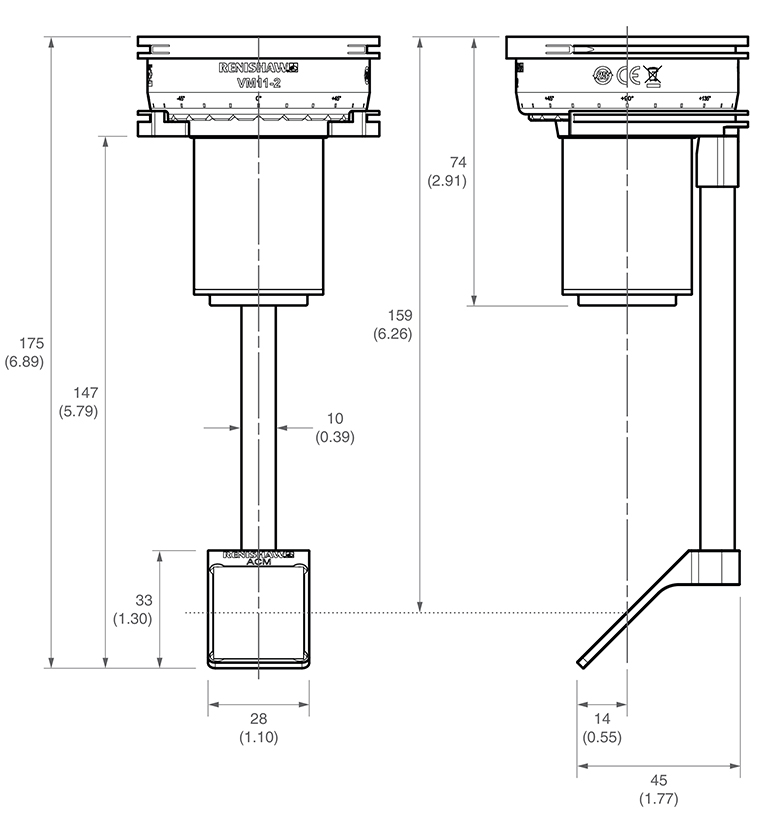 Change ports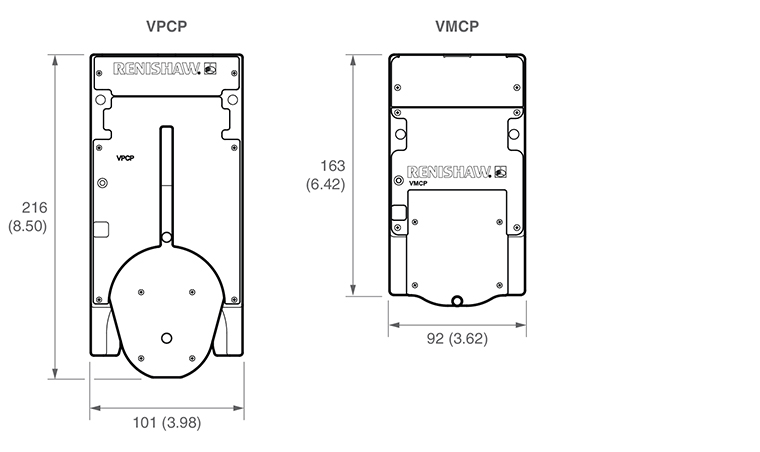 VA11 calibration artefact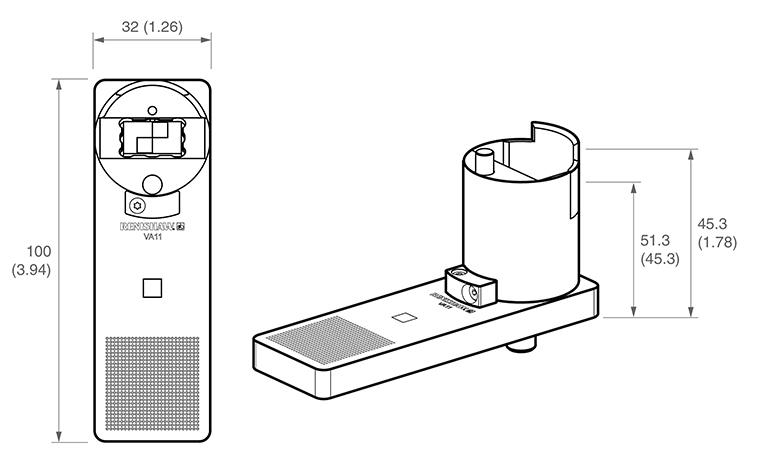 VA90 calibration adaptor fitted to VA11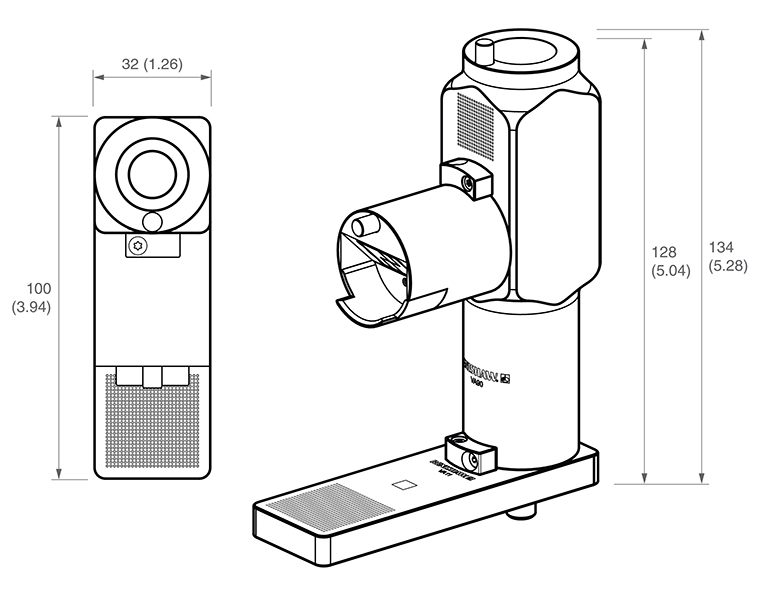 NOTE: Dimensions in mm (in).
RVP probe and module change system
The RVP system has two dedicated rack ports. Both rack ports are heated to ensure that the RVP system components are always at optimum metrology temperature.
VPCP is the port for changing and storing the RVP probe: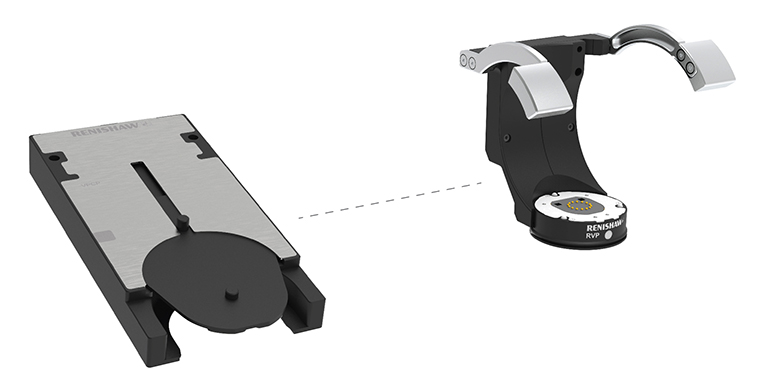 VMCP is the port for changing and storing either of the vision modules: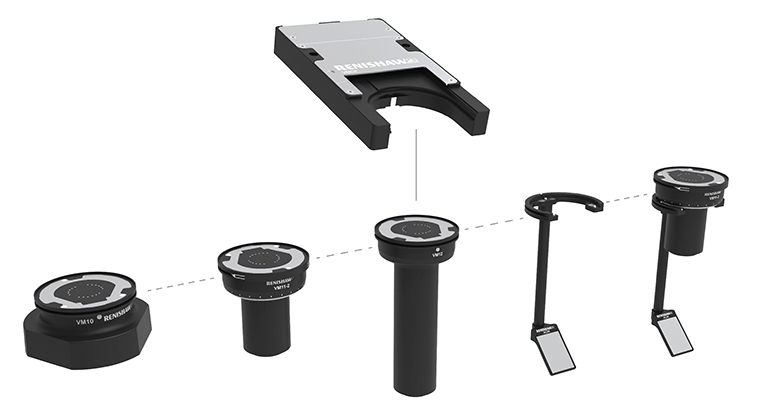 CAUTION: The RCP TC-2 and RCP2 ports are not compatible with RVP, VM10, VM11-2 and VM12. Any attempt to use these may cause damage to the RVP system.
RVP calibration
VA11 calibration artefact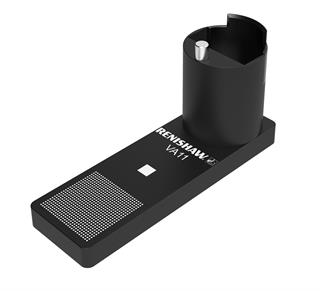 System calibration is fully automated through UCCserver and takes approximately fifteen minutes. The VA11 artefact is used to calibrate both the VM10, VM11-2 and VM12 vision modules.
Various parameters are determined during the calibration routine including probe stand-off, automated focal positioning and target feature size.
Correlation between tactile and non-contact inspection is achieved because all probe components use the same co-ordinate frame.
VA90 calibration adaptor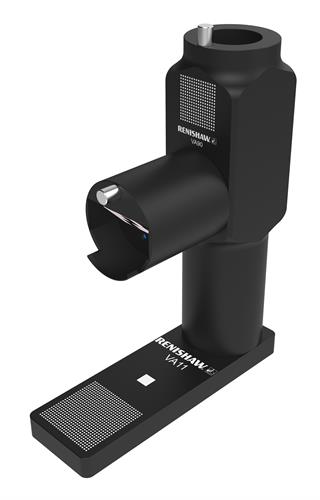 The VA90 calibration adaptor converts the VA11 into a calibration artefact compatible with ACM.
---
| | |
| --- | --- |
| Part number | REVO-2 RVP kits |
| RVP REVO-2 vision probe kit | A-5378-0080 |
| VM10 vision module kit | A-5378-0082 |
| VM11-2 vision module kit | A-5378-0093 |
| VM12 vision module kit | A-5378-0088 |
| ACM kit | A-5378-0094 |
| VPCP vision probe change port kit | A-5378-0081 |
| VMCP vision module change port kit | A-5378-0083 |
| VA11 vision artefact kit | A-5378-0089 |
| VA90 calibration adaptor | A-5378-0091 |
---
NOTE: Please visit the REVO system for a full list of REVO-2 system and associated product part numbers.