RVP
RVP - non-contact vision probe for REVO-2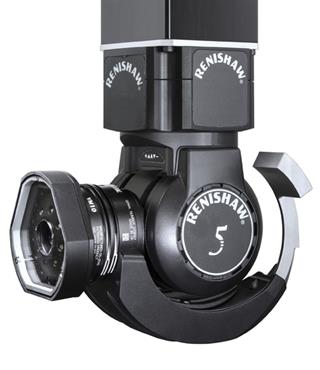 RVP is the latest addition to the REVO-2 multi-sensor range of products enabling non-contact vision measurement on a 5-axis, infinitely positioning platform.
RVP brings added capability to the REVO-2 system by allowing full inspection of parts unsuitable for tactile measurement.
Thousands of part features can be measured using RVP with REVO-2 in a fraction of the time that tactile and manual inspection methods would allow.
The RVP system comprises a probe and a range of modules that are automatically interchangable with all other probe options available for REVO-2. This flexibility means that the optimum tool can be selected to inspect a wide range of features, all on one CMM platform.
RVP probe
RVP is the probe component of the system that houses a 1.3 megapixel global shutter CMOS sensor and digital signal processor
The CMOS sensor inside the probe captures large amounts of light even with short exposure times; leading to quicker image capture and faster measurement times
RVP modules
The RVP system features two vision modules which provide inspection capability for different applications
The vision modules have different specifications so that the most suitable tool can be selected for the features being measured
RVP rack ports
The RVP system has two dedicated rack ports. Both rack ports are heated to ensure that the RVP system components are always at optimum metrology temperature.
VPCP is the port for changing and storing the RVP probe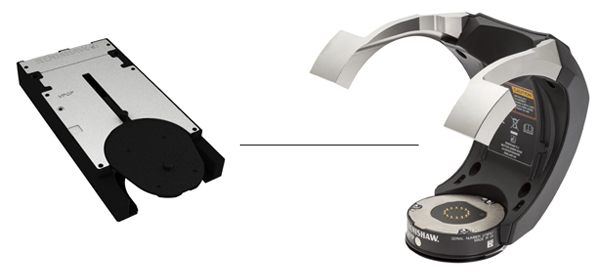 VMCP is the port for changing and storing either of the vision modules
CAUTION:
The RCP TC-2 and RCP2 ports are not compatible with RVP, VM10 and VM11. Any attempt to use these may cause damage to the RVP system.
RVP calibration
VA10 calibration artefact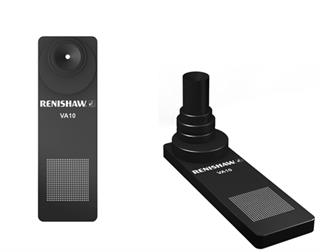 System calibration is fully automated through UCCserver and takes approximately fifteen minutes. The VA10 artefact is used to calibrate both the VM10 and VM11 vision modules.
Various parameters are determined during the calibration routine including probe stand-off, automated focal positioning and target feature size.
Correlation between tactile and non-contact inspection is achieved because all probe components use the same co-ordinate frame.
Dimensions
Dimensions in mm
RVP probe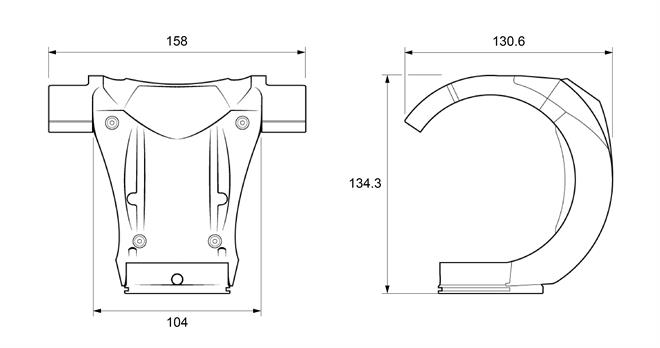 RVP rack ports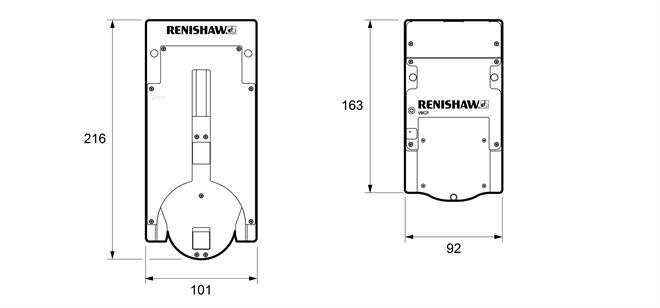 VM10 and VM11-2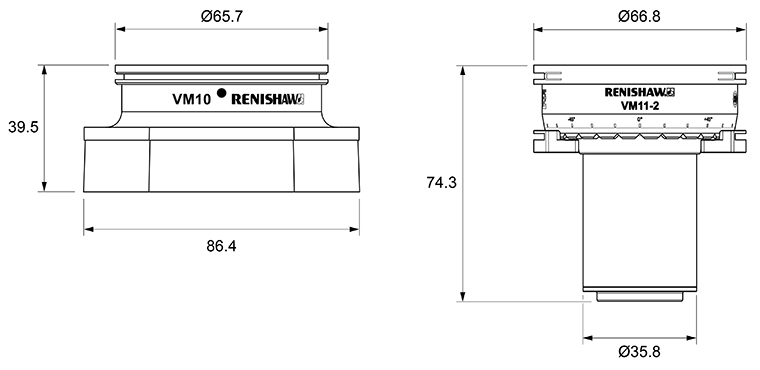 Brochures and flyers
Flyer: RVP vision probe for REVO-2

REVO-2 is the only scanning system for CMMs that simultaneously controls the motion of three machine and two head axes whilst collecting work piece data using its range of 2D and 3D tactile probes, surface roughness measurement probe and now non-contact vision probe too.
Installation and user's guides
| | Part number |
| --- | --- |
| REVO-2 5-axis scanning system kits | |
| REVO-2 entry kit (includes 1 × REVO-2 head kit, 1 × RSP2 V2 probe, 1 × RSH250 kit, 1 × datum ball kit) | A-5518-1095 |
| REVO-2 S5 controller kit (including 1 × UCC S5, 1 × SPA3 amp, 1 × REVO air filer assembly, 1 × REVO 6 mm air pipe, 1 × UCC T3 connector kit, 1 × MCU5-2 joystick, 1 × PSU) | A-5518-0096 |
| REVO-2 S5 controller kit (including 1 × UCC S5, 1 × SPA3 amp, 1 × REVO air filer assembly, 1 × REVO 6 mm air pipe, 1 × UCC T3 connector kit, 1 × MCU W-2 joystick, MCU W battery pack (2 batteries), 1 × PSU) | A-5518-0098 |
| REVO RSP2 probe | |
| RSP2 V2 probe (probe only) | A-3060-0028 |
| RSP2 stylus holder kits | |
| RSH175 stylus holder kit (including 1 × RSH175, 2 × Ø6 by 10 M2 styli, 1 × stylus tools) | A-3060-0024 |
| RSH250 stylus holder kit (including 1 × RSH250, 2 × Ø6 by 10 M2 styli, 1 × stylus tools) | A-3060-0021 |
| RSH350 stylus holder kit (including 1 × RSH350, 2 × Ø6 by 10 M2 styli, 1 × stylus tools) | A-3060-0022 |
| RSH450 stylus holder kit (including 1 × RSH450, 2 × Ø6 by 10 M2 styli, 1 × stylus tools) | A-3060-0026 |
| RSH500 stylus holder kit (including 1 × RSH500, 2 × Ø6 by 10 M2 styli, 1 × stylus tools) | A-3060-0023 |
| REVO RSP3 probe kits | |
| REVO RSP3-1 probe kit (including 1 × RSP3-1 probe, 1 × RSH3-1 stylus holder, 1 × 20 mm extension and styli) | A-3060-0331 |
| REVO RSP3-2 probe kit (including 1 × RSP3-2 probe, 1 × RSH3-2 stylus holder, 1 × 20 mm extension and styli) | A-3060-0332 |
| REVO RSP3-3 probe kit (including 1 × RSP3-3 probe, 1 × RSH3-3 stylus holder, 1 × 20 mm extension and styli) | A-3060-0333 |
| REVO RSP3-4 probe kit (including 1 × RSP3-4 probe, 1 × RSH3-4 stylus holder, 1 × 20 mm extension and styli) | A-3060-0334 |
| RSP3 stylus holder kits | |
| RSH3-1 stylus holder kit (includes 1 × stylus holder, 1 × PA25-RSH3 port adapter, 1 × stylus tools) | A-3061-2521 |
| RSH3-2 stylus holder kit (includes 1 × stylus holder, 1 × PA25-RSH3 port adapter, 1 × stylus tools) | A-3061-2522 |
| RSH3-3 stylus holder kit (includes 1 × stylus holder, 1 × PA25-RSH3 port adapter, 1 × stylus tools) | A-3061-2523 |
| RSH3-4 stylus holder kit (includes 1 × stylus holder, 1 × PA25-RSH3 port adapter, 1 × stylus tools) | A-3061-2524 |
| RSP3-6 probe | |
| RSP3-6 probe (probe only) | A-6084-0001 |
| RSP3-6 stylus holder kits | |
| RSH3-6c-500 kit for cranked styli (includes 1 × stylus holder, 2 × Ø6 by 10 M2 styli, 1 × stylus tools) | A-6084-0015 |
| RSH3-6c-600 kit for cranked styli (includes 1 × stylus holder, 2 × Ø6 by 10 M2 styli, 1 × stylus tools) | A-6084-0016 |
| RSH3-6-600 kit (includes 1 × stylus holder, 2 × Ø6 by 10 M2 styli, 1 × stylus tools) | A-6084-0006 |
| RSH3-6-700 kit (includes 1 × stylus holder, 2 × Ø6 by 10 M2 styli, 1 × stylus tools) | A-6084-0007 |
| RSH3-6-800 kit (includes 1 × stylus holder, 2 × Ø6 by 10 M2 styli, 1 × stylus tools) | A-6084-0008 |
| REVO SFP2 kits | |
| SFP2 combi kit #1 (A1 and A2 modules, single artefact) | A-5764-0001 |
| SFP2 combi kit #2 (single artefact, no modules) | A-5764-0002 |
| SFP2 combi kit #3 (A1 and A2 modules, triple artefact) | A-5764-0003 |
| SFP2 combi kit #4 (triple artefact, no modules) | A-5764-0004 |
| Single artefact kit (SFA1 and single artefact holding kit) | A-5764-0072 |
| Triple artefact kit (SFA1, 2, 3 and triple artefact holding kit) | A-5764-0073 |
| Probe and modules | |
| SFP2 surface finish probe with integral rotary C-axis | |
| SFM-A1 2 µm general purpose straight module (type A skid) | A-5764-0020 |
| SFM-A1 5 µm general purpose straight module (type A skid) | A-5764-0022 |
| SFM-A2 2 µm general purpose cranked module (type A skid) | A-5764-0021 |
| SFM-A2 5 µm general purpose cranked module (type A skid) | A-5764-0023 |
| SFM-B1 2 µm straight module with smaller skid for short lands (type B skid) | A-5764-0025 |
| SFM-B1 5 µm straight module with smaller skid for short lands (type B skid) | A-5764-0050 |
| SFM-B2 2 µm cranked module with smaller skid for short lands (type B skid) | A-5764-0026 |
| SFM-B2 5 µm cranked module with smaller skid for short lands (type B skid) | A-5764-0024 |
| SFM-B3 5 µm 90° module with smaller skid for pockets and grooves (type B skid) | A-5764-0027 |
| SFM-B4 5 µm cranked module with smaller skid for reach into confined areas (type B skid) | A-5764-0034 |
| SFM-B5 5 µm cranked module with smaller skid for reach into undercuts and grooves (type B skid) | A-5764-0029 |
| SFM-C2 2 µm straight module for small bores (type C skid) | A-5764-0031 |
| SFM-C2 5 µm straight module for small bores (type C skid) | A-5764-0032 |
| SFM-D1 2 µm 90° module for extra reach (type D skid) | A-5764-0035 |
| SFM-D1 5 µm 90° module for extra reach (type D skid) | A-5764-0036 |
| SFM-E1 2 µm long straight module with 2-part skid (type E skid) | A-5764-0040 |
| SFM-E1 5 µm long straight module with 2-part skid (type E skid) | A-5764-0038 |
| SFM-E2 5 µm long straight module with 2-part skid (type E skid) | A-5764-0041 |
| Accessories | |
| SFH-1 surface finish module holder | A-5764-0080 |
| SFH-2 surface finish module holder | A-5764-0081 |
| SFA1 3.0 SIN artefact (SFA1 plate with UKAS certificate) | A-5764-0060 |
| SFA2 0.5 SIN artefact (SFA2 plate with UKAS certificate) | A-5764-0061 |
| SFA3 0.4 ST artefact (SFA3 plate with UKAS certificate) | A-5764-0062 |
| OFA optical flat artefact (* Special product) | A-5764-3142 |
| Single artefact holder mounting kit. Contains: SFAH-1 single plate holder, rack adaptor, leg adaptor, fixings for all options, tools | A-5764-0070 |
| Triple artefact holder mounting kit. Contains: SFAH-2 triple plate holder, rack adaptor, leg adaptor, fixings for all options, tools | A-5764-0071 |
| TFP tip find probe kit (incl TP20 LF mod, stylus, PL24 cable) | A-5764-0063 |
| MST module setting tool | A-5764-0091 |
| System storage box | A-5764-0090 |
| Software | |
| MODUS surface texture - standard | M-5639-0228 |
| MODUS surface texture - advanced | M-5639-0227 |
| REVO-2 RVP kits | |
| RVP REVO-2 vision probe kit | A-5378-0080 |
| VM10 vision module kit | A-5378-0082 |
| VM11 vision module kit | A-5378-0087 |
| VPCP vision probe change port kit | A-5378-0081 |
| VMCP vision module change port kit | A-5378-0083 |
| VA10 vision artefact kit | A-5378-0085 |
| REVO rack kits | |
| REVO MRS2 rack kit #1 (includes 1 × MRS2 400 mm leg kit, 1 × MRS2 400 mm rail kit, 2 × RCP2, 1 × TDA) - 400 mm of rail space | A-3060-2631 |
| REVO MRS2 rack kit #2 (includes 1 × MRS2 400 mm leg kit, 1 × MRS2 600 mm rail kit, 2 × RCP TC-2, 2 × RCP2, 1 × RCP TC PSU unit, 1 × TDA) - 600 mm of rail space | A-3060-2632 |
| REVO MRS2 rack kit #3 (includes 1 × MRS2 600 mm leg kit, 1 × MRS2 600 mm rail kit, 1 × MRS2 front spaced 600 mm rail kit, 2 × RCP TC-2, 2 × RCP2, 1 × RCP TC PSU unit, 1 × TDA) - 1200 mm of rail space | A-3060-2633 |
| REVO MRS2 rack kit #4 (includes 1 × MRS2 800 mm leg kit, 1 × MRS2 600 mm rail kit, 1 × MRS2 front spaced 600 mm rail kit, 1 × MRS2 back spaced 600 mm rail kit, 2 × RCP TC-2, 2 × RCP2, 1 × RCP TC PSU unit, 1 × TDA) - 1800 mm of rail space | A-3060-2634 |
| REVO MRS2 rack kit #5 (includes 1 × MRS2 600 mm leg kit, 1 × MRS2 1000 mm rail kit, 1 × MRS2 front spaced 1000 mm rail kit, 2 × RCP TC-2, 2 × RCP2, 1 × RCP TC PSU unit, 1 × TDA) - 2000 mm of rail space | A-3060-2635 |
| REVO MRS2 rack kit #6 (includes 1 × MRS2 800 mm leg kit, 1 × MRS2 1000 mm rail kit, 1 × MRS2 front spaced 1000 mm rail kit, 1 × MRS2 back spaced 1000 mm rail kit, 2 × RCP TC-2, 2 × RCP2, 1 × RCP TC PSU unit, 1 × TDA) - 3000 mm of rail space | A-3060-2636 |
| REVO rack ports and rack accessories | |
| REVO RCP2 change port for RSP2, SFP1 and RSP3-6 stylus holders | A-3060-0090 |
| REVO RCP TC-2 thermally controlled change port for REVO probes | A-3061-0310 |
| REVO RCP TC PSU unit | A-3061-0302 |
| RCP TC-3 high force storage port | A-3061-0320 |
| REVO FCR25 flexible change rack kit for changing RSH3 stylus holders: three port unit for MRS system (includes 1 × FCR25, 3 × PA25-RSH3, 1 × REVO FCR25 adaptor kit) | A-3061-0105 |
| TDA (tip datum artefact) | A-3060-0085 |
| DC link cable | A-3060-0015 |
| 1.5 m dc extension cable | A-3060-0016 |
| 5 m dc extension cable | A-3060-0017 |
| 10 m dc extension cable | A-3060-0018 |
| REVO FCR25 adaptor | A-3061-0101 |
| REVO accessories | |
| REVO datum ball kit (including 45 mm datum ball in wooden box with M6, M8, M10, 5/16, 3/8 mounting studs and spanner set) | A-3060-0310 |
| REVO mechanical fuse mount (crash protection) | A-3060-0300 |
| REVO RCP door replacement kit | A-3061-1962 |
| PA25-RSH3 kit (includes 3 × PA25-RSH3 port inserts) | A-3061-2530 |
| REVO air pipe 6 mm O/D × 20 m | A-3060-0082 |
| REVO air filter set | A-3060-0070 |
| 15 m cable for use with PH20 and REVO | A-5669-0015 |
| 25 m cable for use with PH20 and REVO | A-5759-0025 |
| 30 m cable for use with REVO | A-5669-0030 |
| REVO Y cable adaptor kit | A-3060-0045 |