REVO-2 RVP vision probe
Increased throughput, high performance 5-axis measurement for non-contact inspection applications.
Non-contact measurement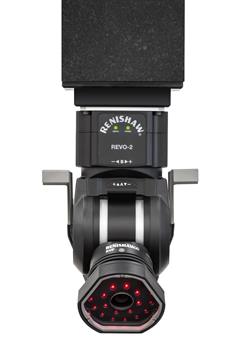 For certain applications, non-contact inspection provides clear advantages over traditional tactile probing techniques. Thin sheet metal parts or components with large numbers of holes – sometimes as small as 0.5 mm– are parts which are not suited to tactile measurement.
The REVO-2 RVP probe adds non-contact inspection to the existing touch-trigger, high-speed tactile scanning and surface finish measurement capability of the REVO system and provide exceptional improvements in throughput and CMM capability by utilising the 5-axis motion and infinite positioning of the REVO-2 head.
RVP – non contact vision probe for REVO-2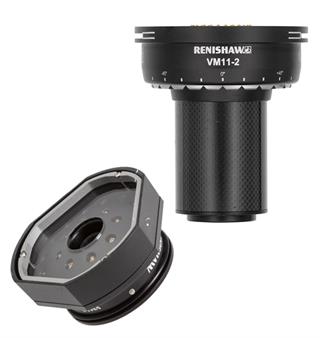 RVP is the probe component of the system that houses a 1.3 megapixel global shutter CMOS sensor and digital signal processor. The CMOS sensor inside the probe captures large amounts of light even with short exposure times; leading to quicker image capture and faster measurement times.

The RVP system features two vision modules that provide unique capability. Typical applications for the VM10 module include the inspection of thin sheet metal parts like combustor casings for aerospace engines, whereas the VM11-2 module will allow the inspection of laser-drilled cooling holes in aerospace engine blades and components.
RVP in action
Product information
Extended warranty
For peace of mind a 3-year warranty is available for your new CMM products during the first 3 months from purchase. Contact your vendor.
You are currently looking at the RVP probe. You may also be interested in learning about the other REVO probes; the SFP2 surface finish probe, RUP1 ultrasonic probe, RSP2 or RSP3 probe range.