5/01 PLC vacuum casting machine
Create high quality parts in a wide range of resins as well as high quality wax investment casting masters.
Features and benefits
Moulds up to 520 mm × 445 mm × 425 mm.
Small footprint bench-top machine - ideal for small workshops.
Vario Vac differential chamber pressure - suitable for soft-feel materials.
PLC control and automation - ensures consistent casting.
Heated cup - suitable for casting high quality wax masters.
About
The 5/01 PLC is capable of casting the full range of Renishaw polyurethane resins. The system also benefits from Renishaw Vario Vac technology that allows highly viscous materials, such as silicone rubber, to be cast efficiently by applying differential pressure to rapidly force material into the mould.
The 5/01 is smallest PLC* controlled Renishaw vacuum casting system in the range, and benefits from all the process control and user interface features available on the larger 5/04 machine.
*Programmable Logic Controller
VC module
The standard module for production of plastic prototypes and low volume production in vacuum casting polyurethane resins.
Vario Vac module option
Choose between our standard PLC system or the vario vac model, for production of prototypes in silicone rubber and highly filled viscous materials.
Heated cup option
Enables production of wax master models for the investment casting, and low melting point alloys.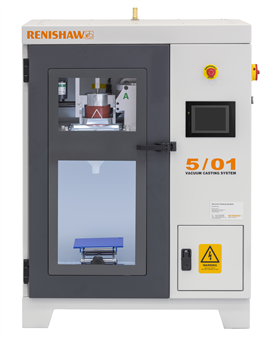 Find out how our vacuum casting systems work
Vacuum casting products and process

Renishaw provides a full solution for vacuum casting with a range of machines, from manual to high capacity computer automated, for the economic production of short run, end use parts and prototypes - up to 50 parts from a single mould.
Specifications
| | |
| --- | --- |
| Dimension housing (H x W x D) | 1175 mm x 900 mm x 594 mm |
| Max. mould size (H x W x D) | 520 mm x 445 mm x 425 mm |
| Casting capacity | 0.8 L |
| Power supply* | 230 V/50 Hz |
| Pump capacity | 25 m³/h |
| Ultimate vacuum | 0.5 mbar |
| Gross machine weight | 267 kg |
* Other power supply configurations are available
Brochure
Brochure: Vacuum casting systems

Renishaw vacuum casting systems are ideal for small batch production. A single silicone mould can be used up to 50 times before retooling is required.