Blade measurement
The Blade Toolkit, comprising APEXBlade, SurfitBlade and MODUS metrology software, breaks through the limitations of standard measurement techniques.
Traditional methods have determined that blades have been inspected in a limited number of cross sections. REVO's sweep scanning technology however, enables you to, accurately and quickly, measure and evaluate the whole blade.
Now, an unlimited number of sections or full surface analysis from high precision tactile probing data is possible.
The Blade Toolkit process starts with the use of APEXBlade to automatically generate a collision free sweep scan program for REVO, which is then run on the CMM through MODUS.
The sweep scan operation produces an accurate 'point cloud' that covers the complete airfoil surface. Using MODUS point cloud sectioning functionality it is possible to generate sections wherever they are required.
As the complete data set is stored, additional sections can be created, should the need arise, without having to re-measure.
The data can then be processed in two ways: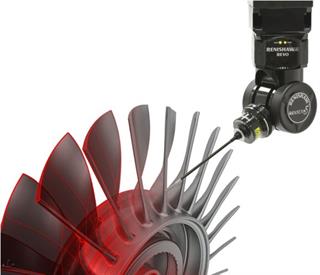 Inspection
The data is sectioned by MODUS and compared to the nominal CAD model requirements. The analysis results are presented through MODUS reporter, which also produces a defined PDF document for archiving.
Engineering
The data is processed by SurfitBlade to produce a full NURBS surface for use in aerodynamic and stress analysis, etc.