Organiser operator software
User-friendly software for shop floor operators to execute programs and easily control processes.
Organiser shop floor software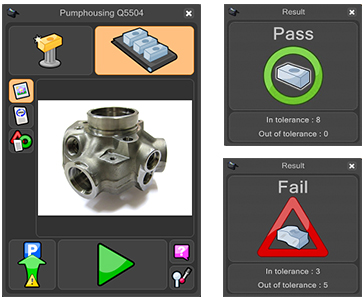 Organiser is an intuitive software interface for shop floor operators, featuring image-driven program selection, program execution and data reporting which requires little or no training. A customised screen is created for each part, allowing the operator to start gauging with one operation.
Clear icons show whether the system is in master or measure mode, and highlight the start button alongside other functions. When the program is running, estimated time remaining is displayed along with a on-screen stop button. After gauging has finished a Pass or Fail window can be displayed, along with numbers of features within tolerance.
Process Monitor provides a chart showing the history of feature measurements, and an easy graphical view of proportion of tolerance for each feature. It also enables management of the mastering process according to temperature, time or number of parts measured. Being able to view the inspection data history of a part is an invaluable function for controlling manufacturing processes.
Program selection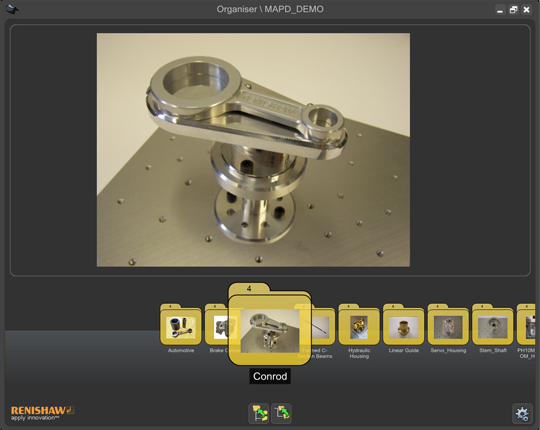 Organiser can provide access to multiple different gauging programs and group them into 'part families' using a folder structure. In the program selection screen, the programs and folders are easily browsed using a left to right scroll function, and selected using a single mouse click.
Part programs can be identified using part numbers, images of the part or selected using a bar code scanner, ensuring operators choose the correct program for the part to be gauged.
Running a program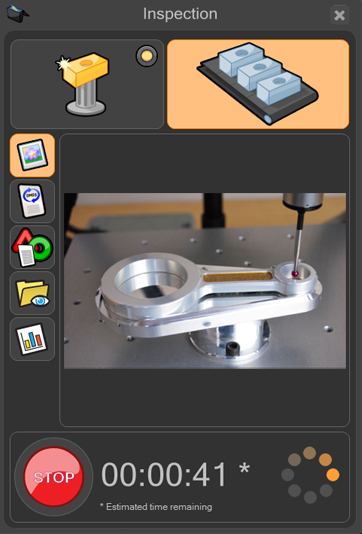 The first time a program is run, the Equator system needs to be 'zeroed' by measuring the master part. The operator places the appropriate fixture and fixture plate onto the base of the gauge and loads the master part (which is stored close to the Equator system to ensure it is subject to shop floor ambient temperatures) onto the fixture.
Organiser will start in master mode and once the mastering routine has run will automatically switch into measure mode. Production parts will now be measured continuously until re-mastering is required, which can be performed at any time or managed by the Process Monitor function.