RenAM 500S
Advanced single laser AM system with the ability to upgrade to a four laser AM system
RenAM 500S is part of Renishaw's RenAM 500 series additive manufacturing machines. It is specifically designed for building metal components in a production environment. RenAM 500S can easily be upgraded to become a four-laser system to further benefit from higher build rates, whilst maintaining finished part quality, increased productivity and lowering cost per part.
RenAM 500S features automated powder and waste handling systems that enable consistent process quality, reduce operator intervention time and ensure high standards of system safety.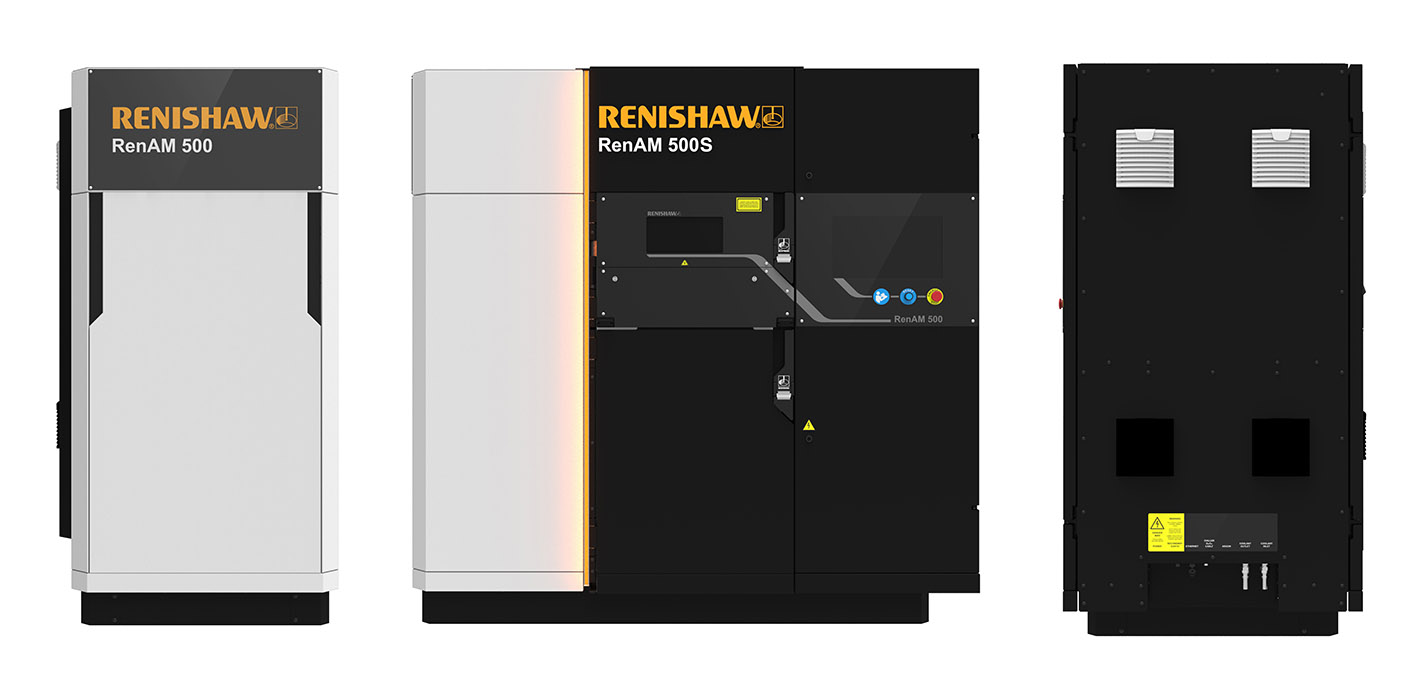 Key benefits
Intelligent gas flow ensures the efficient removal of process emissions and extends filter life
Single additively manufactured galvo mounting built in AlSi10Mg with internal conformal cooling fluid channels enables excellent thermal stability of the optical system
Key features
Build volume 250 mm x 250 mm x 350 mm
Class leading vacuum preparation and low argon consumption
Intelligent dual SafeChange™ filter system automatically changes to a clean filter when required
Integrated sieving and powder recirculation
Class 1 laser safety
Safety integrity level (SIL) rated oxygen sensors
Find out more
To find out more about the Renishaw AM systems, contact your local Renishaw office.
Software
Offline file and data preparation, plus process tools for high level users.
Metal powders
Renishaw offers a wide range of high quality metal powders for our AM systems.
Brochure: RenAM 500Q/S additive manufacturing system

Metal additive manufacturing (AM) is already transforming the way many products are designed and manufactured, leading to improved in-service performance and new innovations. The RenAM 500Q/S AM systems can be configured with a choice of one or four lasers.

[6.5MB]

Data sheet: RenAM 500Q/S additive manufacturing systems

RenAM 500Q/S are Renishaw's multi-laser AM systems. The RenAM 500 series can be configured with one (S) or four (Q) high power 500 W lasers, each able to access the whole powder bed surface simultaneously. With its four lasers, RenAM 500Q achieves build rates up to four times faster than single laser systems. Its compact galvanometer assembly has been designed and additively manufactured in-house, using aluminium for high thermal conductivity, and includes conformal cooling fluid channels resulting in excellent thermal stability of the optical system.

[411kB]
Brochure: Safety in additive manufacturing

Just as with any other manufacturing technology, metal AM carries a number of identifiable risks that must be understood and managed. This guide offers insight into the areas company owners and managers must consider to ensure that AM is implemented in a safe way.

[2.4MB]