RENGAGE™ technology
High-accuracy machine tool probes for workpiece set-up, in-process control and post-process inspection.
With unbeatable 3D measurement capability and submicron repeatability, Renishaw's family of machine tool probes with RENGAGE™ technology combines precise silicon strain gauge sensors with ultra-compact electronics to deliver superior performance.
Excelling in the measurement of complex shapes and contours, machine tool probes with RENGAGE technology are ideally suited to mould and die and aerospace applications. An ultra-low trigger force helps to eliminate surface and form damage; ideal for inspecting delicate workpieces.
Choose the perfect high-accuracy probe for your application
Renishaw has produced multiple high-precision probes that use RENGAGE™ technology. Each probe is tailored to suit different machine tool sizes and machining applications.
The RMP600 strain gauge probe is helping Tridan Engineering accurately machine workpieces for its customers in the automotive industry.
Engineered for performance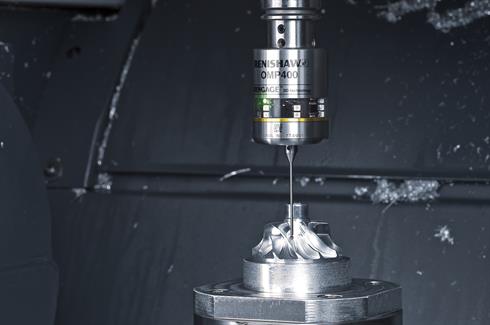 Superior 3D accuracy
Delivers unrivalled submicron performance when measuring complex 3D shapes and contours.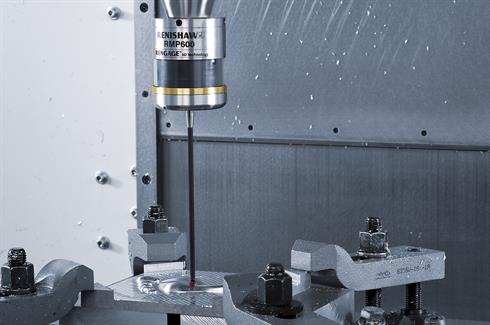 Ultra-low trigger force
Unmatched low trigger force for delicate work helps eliminate surface and form damage.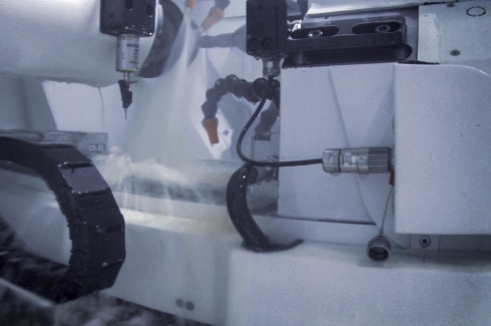 Robustly engineered
Robust, even in the harshest environments, providing reliable measurement and long service life.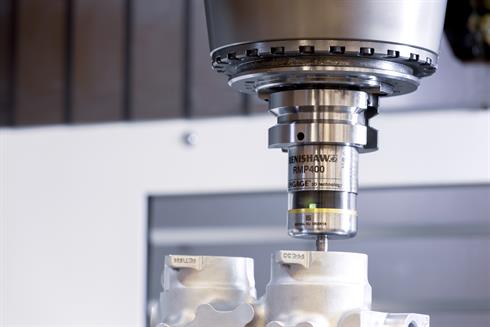 Inspect complex parts
Improved accuracy when using long and custom styli means difficult-to-reach features can be measured with ease.
We are happy with the accuracy of the RMP600 and, in particular, the consequent reduction in scrap parts further down the production line. These are large, expensive components and we can use the probe to identify and avoid errors.
Tods Composite Solutions Ltd (UK)
Innovative thinking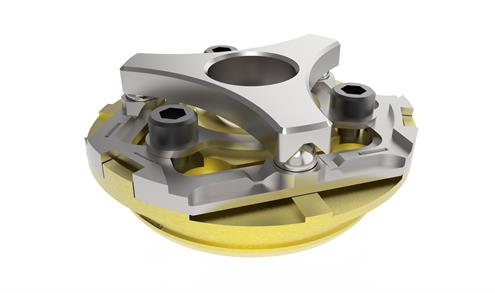 Probes with RENGAGE™ technology use strain gauge sensors and precision mechanical design to achieve unparalleled performance.
Conventional probes continue to fulfil a valuable role, which is why Renishaw maintains its position as market leader in the design, manufacture and support of these products.
However, for numerous applications, the significant performance benefits offered by RENGAGE technology provide users with a competitive advantage, for both now and the future.
Competitive advantage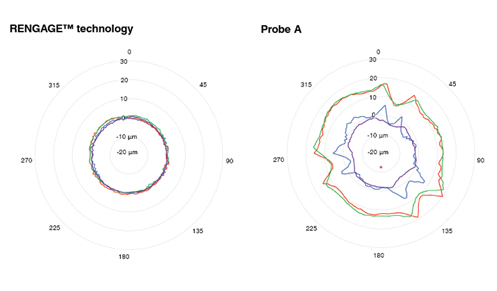 Thanks to innovative strain gauge sensors, probes with RENGAGE™ technology are less susceptible to lobing errors – errors caused by stylus bending and the probe mechanism moving before the probe registers contact with a surface.
We tested the performance of our OMP400 probe with RENGAGE technology against high-accuracy machine tool probes from other manufacturers and found that it was the best overall performer. Want to see the results?
Software that makes probing simple
Renishaw is committed to ensuring its probes are easy-to-use. A comprehensive range of macro cycles and machine tool apps allow you to quickly and intuitively program measurement cycles.
Check machine performance with AxiSet™ technology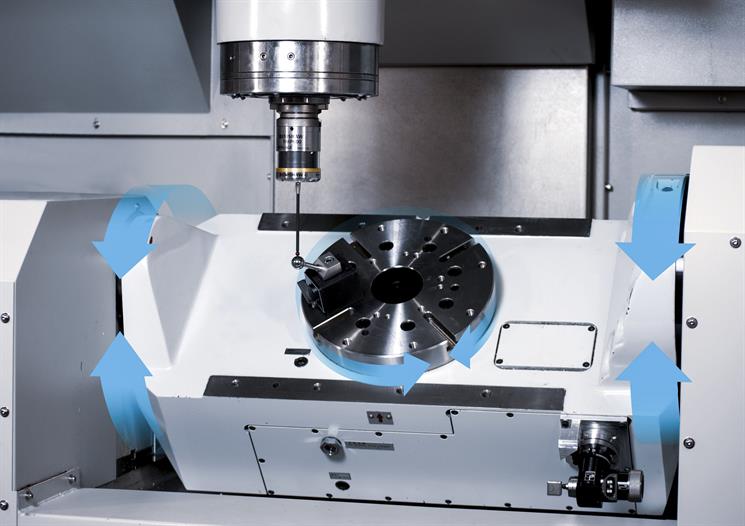 Use high-precision probes with AxiSet™ Check-Up to measure machine performance in a matter of minutes.
AxiSet Check-Up offers an easy and reliable process for analysing the performance of rotary axes and for identifying problems caused by incorrect machine set-up, collisions or wear.
As we had planned, we were able to achieve ± 1 µm accuracy for all characteristics. This high-precision machining has a significant impact on whether or not scientists may need to rethink the accepted laws of physics. The accuracy and reliability of the Renishaw OMP400 probe was a key factor in our success.
National Metrology Institute of Germany (Germany)
Measured with RENGAGE™ technology
Find out how our customers are using the OMP400, OMP600, RMP400, RMP600 and MP250 strain gauge probes to enhance their manufacturing processes.
Meeting current and future performance requirements for our products demands manufacture of ever smaller and more intricate parts that are consistently accurate to within 1 μm. Reliable set up and measurements are therefore critical to this process and form the basis of our decision to use RENGAGE™ technology.
Flann Microwave (UK)
The Renishaw advantage
Renishaw has an excellent reputation for providing excellent customer support. We have over 70 service and support offices located all over the world.
Get technical support, training and advice or purchase spares and accessories from our well-stocked Online store.
Accessories
Explore a range of accessories for machine tool probes, including calibration artefacts and shanks. Sourcing accessories from Renishaw ensures probing longevity and optimal performance.