RESOLUTE™ absolute encoder system with RKLA30 linear and partial arc scale
Features
Serial interfaces: BiSS® C, FANUC, Mitsubishi, Panasonic, Siemens DRIVE-CLiQ®, Yaskawa
Readhead size: 36 x 16.5 x 17.2 mm
Resolutions to 1 nm at 100 m/s
±5 µm/m accuracy at 20 °C
Side cable outlet version available
Optional Advanced Diagnostic Tool
Benefits
Narrow 6 mm wide scale suitable for space limited applications
Suitable for partial arc measurement
Excellent motion control performance
High dirt immunity
Less than 10 nm RMS jitter for improved positional stability
±40 nm Sub-Divisional Error for smooth velocity control

What is RESOLUTE?
RESOLUTE is a true-absolute fine-pitch optical encoder system with excellent metrology performance. Its patented technology is capable of 1 nm resolution at speeds up to 100 m/s.
Ultra low Sub-Divisional Error (SDE) and jitter result in a linear encoder system with better velocity control performance and high positional stability.
What is RKLA30-S scale?
RKLA30-S is a narrow, low profile stainless steel tape scale featuring 30 µm pitch absolute scale code. It is accurate to ±5 µm/m and available in lengths up to 21 metres. The RKLA30-S is mastered to the machine substrate giving improved metrological performance when the scale ends are rigidly fixed to the substrate.
The flexible RKLA30-S scale is also suitable for partial arc measurement where the small cross-sectional area allows it to be wrapped around a drum, shaft or arc.
Why choose this encoder system?
Easy fault finding and servicing
The Advanced Diagnostic Tool ADTa‑100 acquires comprehensive real-time data from RESOLUTE™ encoder readheads (marked with the ADT symbol). The information is displayed via the user-friendly ADT View software interface. Whilst in most cases the integral set-up LED on the encoder is sufficient for setting up the system, the ADT can be used to aid more challenging installations. The ADT can also report on encoder performance and assist system fault finding to avoid lengthy machine downtime.
Excellent motion control performance
RESOLUTE's industry-leading performance is the result of a sophisticated, reliable and innovative method of operation. Crucially, the system uses a single track non-repeating "bar code" scale format with a nominal pitch of 30 µm. With its sophisticated optical design the RESOLUTE readhead captures a near-instantaneous image of this scale which, when analysed, allows a unique position to be identified at speeds of up to 100 m/s. The system allows position to be determined with resolution as small as 1 nanometre (1 billionth of a metre) and with low noise (jitter below 10 nm RMS) and SDE (Sub-Divisional Error, the error within a scale period) of just ±40 nm. This provides encoder feedback of superior fidelity, to ensure smoother velocity control and rock-solid positional stability.
Narrow, robust and versatile scale
RKLA is a robust, 6 mm wide stainless steel encoder tape scale with a thickness of 0.15 mm. This allows the scale, when rigidly fixed to a machine axis, to become 'mastered' to the machine substrate, matching its thermal expansion coefficient and behaviour. Differential movement between the scale and the machine is thus minimised.
RKLA partial arc encoder scales
RKLA encoder scales can be conveniently cut to required length and mounted on a simple cylindrical substrate with no requirement for complex mounting features or tightly toleranced alignment surfaces.
External interface option
Siemens DRIVE-CLiQ external interface
Required for Siemens DRIVE-CLiQ serial interface
Also available in dual head input for high accuracy rotary systems
Displays communication alarms
Duplicates readhead LED
No external interface is required for the other available serial interfaces.
Optional Advanced Diagnostic Tool ADTa-100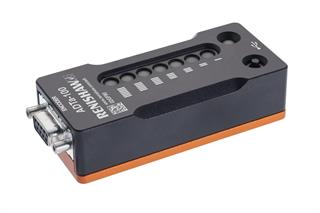 RESOLUTE encoder readheads (marked with the ADT symbol) are compatible with the Advanced Diagnostic Tool ADTa-100 and ADT View software. They provide comprehensive real-time encoder data feedback to aid more challenging installations and diagnostics. The intuitive software interface can be used for:
Remote calibration

Signal optimisation over the entire axis length

Digital readout of encoder position (relative to the scale)

Exporting and saving data

Setting zero
Serial interfaces
Description
Compatible products
BiSS C

Renishaw supports BiSS C (unidirectional) open protocol for absolute encoders. BiSS C is a high-speed serial interface, perfect for dynamic axes that require high acceleration, silky-smooth velocity control, excellent repeatability and rock-solid positional stability.
RESOLUTE with BiSS C is available in both linear and rotary (angle) encoder versions, compatible with a wide range of industry-standard controllers, drives, DROs and PC counter cards.

FANUC

RESOLUTE with FANUC (α and αi) serial interface is available for rotary and linear applications.
RESOLUTE brings many advantages to high-performance machine tools that use FANUC controllers. Higher speed, rugged and reliable pure serial communications, superior contouring performance and greater servo stiffness. Furthermore, the non-contact format eliminates backlash, shaft wind-up (torsion) and other hysteresis errors that plague traditional enclosed encoders.

N/A




Mitsubishi

RESOLUTE with Mitsubishi serial interface is available in rotary and linear forms. RESOLUTE is compatible with the J4 and J5 series of servo drives, and the MDS-D2/DH2/DM2/DJ drives for machine tool applications.

N/A

Panasonic




RESOLUTE with Panasonic serial interface is available in linear and rotary forms. Compatible with the A5 and A6 series of drivers, it provides high resolution repeatable feedback for better servo and speed control.

N/A

Siemens DRIVE-CLiQ

RESOLUTE with Siemens DRIVE-CLiQ serial interface is available (using external interface) for linear and rotary applications. Siemens DRIVE-CLiQ is the innovative, powerful communications interface to connect encoder and direct measurement systems with SINUMERIK and SINAMICS drive components.

N/A

Yaskawa

RESOLUTE with Yaskawa serial interface is available in rotary and linear forms, and is compatible with Sigma-5 and Sigma-7 SERVOPACKs.

N/A
Refer to data sheet for full details.
Measuring standard

Narrow stainless steel tape scale with self-adhesive backing tape, for mounting directly to a substrate

Suitable for partial arc applications (minimum radius for partial arc: 50 mm*)


Readhead size (LxWxH)

36 mm x 16.5 mm x 17.2 mm

Scale pitch

Nominal 30 μm

Coefficient of thermal expansion at 20 °C

Linear: matched to substrate material when scale ends are fitted with end clamps
Partial arc: 10.1 ±0.2 μm/m/°C

Accuracy grade at 20 °C

±5 μm/m

Scale length

Up to 21 m

Maximum speed

(See data sheet for details)

Up to 100 m/s

Serial interfaces

BiSS C, FANUC, Mitsubishi, Panasonic, Siemens DRIVE-CLiQ, Yaskawa

Resolutions

BiSS C: 50 nm, 5 nm and 1 nm

FANUC, Mitsubishi, Siemens DRIVE-CLiQ and Yaskawa: 50 nm and 1 nm

Panasonic: 100 nm, 50 nm and 1 nm

Sub-Divisional Error (SDE)

±40 nm

Electrical connection

Up to 10 m cable lengths with D-type connectors (9 pin or 15 pin), flying lead, FANUC compatible connector, LEMO, and M12

Power supply

5 V ±10%, max 250 mA @ 5 V (terminated)

Vibration (operating)

300 m/s2 max @ 55 Hz to 2 000

Shock (non-operating)

1 000 m/s2, 6 ms, ½ sine

Operating temperature

0 °C to +80 °C

Sealing

IP64
Refer to data sheet for full details.
* For smaller diameters, contact your Renishaw representative.