Sensor options
Renishaw offers an unparalleled range of sensors, from touch-trigger to the revolutionary REVO® 5-axis measurement technology. Whatever your measurement needs, there's a probe to suit you.
A measurement revolution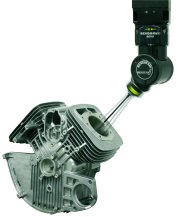 The award-winning REVO 5-axis measurement system offers unprecedented measurement speeds, reduced calibration time, and flexible access to features unmatched by indexing or fixed probing systems.
Packed with innovative technology, REVO allows CMM users to measure feature form whilst also increasing measurement throughput and reducing operator intervention. With programmable stylus and sensor changing, REVO users can automate even the most complex measurement task.
Furthermore future REVO sensors, the first of which will enable surface finish measurement on a CMM, will allow quality assurance tasks that are currently manually intensive to be integrated into a CNC inspection process for the first time.
Flexible scanning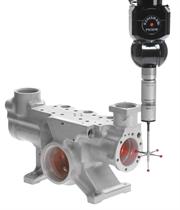 Renishaw's unparalleled range of sensors includes contact scanning systems, such as the SP25M scanning probe. Mounted to the industry-standard PH10 indexing head and with automation features such as stylus and sensor changing, these provide powerful capabilities suitable for many measurement applications.
Use your head! It's infinitely better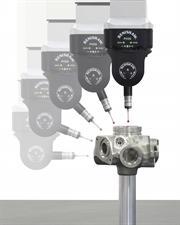 PH20 is another innovative measurement product from Renishaw that transforms co-ordinate measuring machine (CMM) performance. For the first time, 5-axis technology is available for touch-trigger applications on all sizes of CMM.
PH20's unique 'head touches' allow measurement points to be taken by moving only the head rather than the CMM structure. Using only the rapid rotary motion of the head, points can be taken faster, and with improved accuracy and repeatability. Furthermore, 5-axis motion eliminates time spent indexing the head. Together these speed increases typically result in a 3-fold improvement in throughput over conventional systems.
Touch-trigger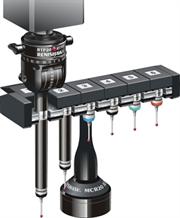 Renishaw's industry-standard range of touch-trigger sensors is also available for applications where discrete point measurement is all that is required.
The TP20 probe is available with a range of stylus modules which can be interchanged automatically. Flexible access to components is provided by mounting the probe to an indexing head such as the PH10T or the RTP20 (shown right).
The TP200 probe provides similar capability but with improved precision and longevity derived from its solid-state strain-gauge sensing technology.
Unlock the hidden potential of your CMMs
Read a white paper outlining the opportunities to enhance the measurement capability and performance of existing CMMs through retrofitting of state-of-the-art software, controller and sensor technologies.
Learn more
White paper: Unlock the hidden potential of your CMMs

Advances in sensors, metrology software and controller technology now offer the opportunity to transform existing CMMs, providing greater accuracy, faster measurement, more automation and new capabilities, whilst taking full advantage of CAD-driven programming.