High-accuracy touch probes for CNC machines
With unbeatable 3D measurement capability, our family of high-accuracy touch probes for CNC machines offer an exceptional performance. With ultra-low trigger forces and high repeatability, high-accuracy probes are ideal for setting and inspecting complex workpieces.
Ultimate 5-axis machine tool measurement
Engineered for over a decade, our high-accuracy touch probes provide unparalleled performance and capabilities. Thanks to the innovative strain gauge sensors, probes with patented RENGAGE™ technology provide a competitive advantage.
Suitable for a wide range of applications, they address the 3D performance limitations of many alternative probe designs. Use to set workpieces, control machining processes, or to inspect a workpiece after machining has completed.
Superior 3D accuracy - Unrivalled submicron performance when measuring complex 3D shapes and contours.
Ultra-low trigger force - Helps eliminate surface and form damage when inspecting delicate workpieces.
Robustly engineered - Providing reliable measurement and long service life, even in the harshest environments.
High-accuracy measurement - Inspect complex parts and difficult-to-reach features, even with very small, long, or custom styli.
Reduce scrap, enhance productivity, and increase profits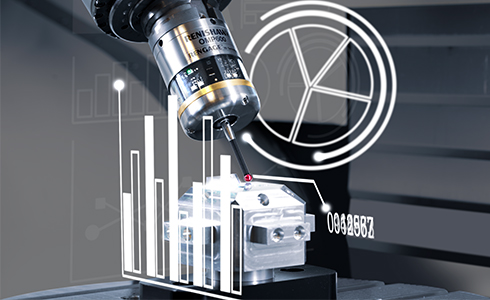 Designed to suit different machine tool sizes and machining applications, our high-accuracy probes feature RENGAGE technology, combining strain gauge sensors with ultra-compact electronics.
As the strain gauges are independent from the kinematic mechanism, it enables an ultra-low trigger force. This provides exceptional measurement accuracy and eliminates the possibility of surface and form damage on the parts inspected.
Constructed from high-grade materials, Renishaw high-accuracy machine tool probes are robust and reliable. Capable of withstanding even the harshest environments, including shock, vibration, temperature extremes, and even continual liquid immersion.
We are happy with the accuracy of the RMP600 and the consequent reduction in scrap parts further down the production line. These are large, expensive components and we can use the probe to identify and avoid errors.
Flann Microwave (UK)
Find the perfect high-accuracy touch probe for your manufacturing operations
| | | | | | |
| --- | --- | --- | --- | --- | --- |
| | Recommended machine type | Unidirectional repeatability | Transmission type | Compatible interfaces* | Recommended stylus length |
| OMP400 | Small to medium machining centres and small multi-tasking machines | 0.25 µm 2σ | Optical | OMI-2, OMI-2T, OMI-2H, OMI-2C or OSI with OMM-2 | Up to 200 mm |
| OMP600 | All sizes of machining centres and small to medium multi-tasking machines | 0.25 µm 2σ | Optical | OMI-2, OMI-2T, OMI-2H, OMI-2C or OSI with OMM-2 | Up to 200 mm |
| RMP400/RMP600 | All sizes of multi-tasking machines, machining centres and gantry machines | 0.25 µm 2σ | Radio | | Up to 200 mm |
| MP250 | CNC grinders | 0.25 µm 2σ | Hard-wired | | Up to 100 mm |
*all Renishaw machine tool probes require the purchase of a compatible interface.

Optical transmission probes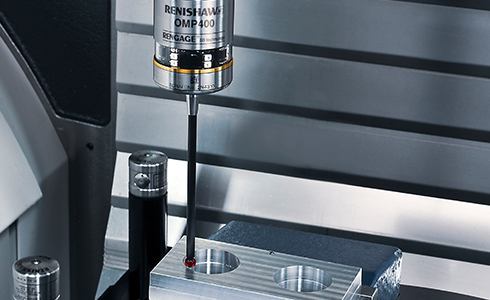 OMP400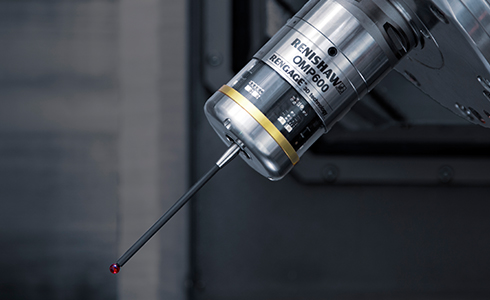 OMP600
Measuring just 40 mm in diameter, the ultra-compact OMP400 probe is ideal for users of small to medium machining centres. Whilst the compact OMP600, 63 mm in diameter, is suitable for all sizes of machining centres. These probes are an effective solution when there is line-of-sight between the probe and receiver or interface.
Provden and patented with RENGAGE technology.
Secure and robust infrared transmission with operating range up to 5 m (OMP400) and 6 m (OMP600).
Unidirectional repeatability of 0.25 µm 2σ.
Radio transmission probes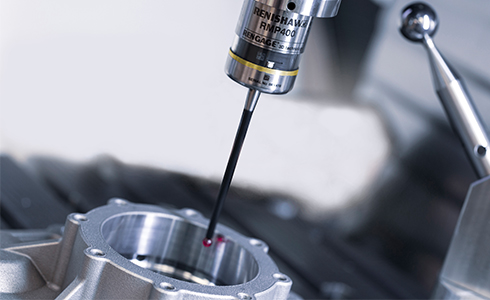 RMP400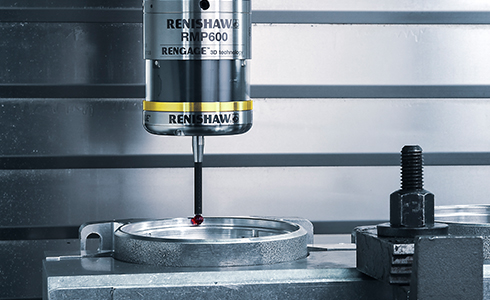 RMP600
The ultra-compact RMP400 measures just 40 mm in diameter, whilst the compact RMP600 measures 63 mm. Both probes offer an exceptionally reliable probing solution – designed for larger machines or installations where the spindle is not within line-of-sight of the receiver.
RENGAGE™ technology combined with radio transmission for hassle free probing.
Avoids interference and dead spots with frequency-hopping spread spectrum (FHSS) technology.
Operating range of up to 15 m.
Trusted choice for many customers.
Unidirectional repeatability of 0.25 µm 2σ.

MP250
Designed for a minimal footprint and maximum impact, the miniature and versatile MP250 is just 25 mm in diameter and 36 mm in length – providing process control even in the smallest and most harsh machining environments.
RENGAGE technology for exceptionally reliable measurement over a long service life.
Battery and interference free with hard-wired connection as standard.
Enhanced protection against abrasive particle-laden environments with a double diaphragm sealing and vibration-resistant configurations, such as grinding applications.
Custom styli capable for probing on different surfaces and features whilst maintaining outstanding accuracy.
Unidirectional repeatability of 0.25 µm 2σ.
Increase probing flexibility by pairing the MP250 with the HPGA tool setting arm - a highly repeatable, automated rotary platform, configured to move the probe in and out of the working environment in between cycles.
Software that makes probing simple
Explore our range of probing software and machine tool apps that allows you to quickly and intuitively program measurement cycles.
Looking for support?
Contact us or visit our technical support library for installation manuals, user guides and compliance information.
Next steps
To request more information or buy, submit a contact form to speak with your local office.
Contact us