MP250 high-accuracy machine probe
High accuracy touch-trigger probe, designed for grinding applications
Unrivalled 3D performance
Superior accuracy with ultra-low pre-travel variation.
Robust design for harsh environments.

The Renishaw MP250 probe is designed to keep grinding processes under control – ensuring parts are machined right first time, allowing more parts to be produced reliably and accurately, thereby increasing productivity and profits.
Equipped with RENGAGE™ technology, the system offers unbeatable 3D accuracy and repeatability – enabling reliable on-machine measurement.

Reduce scrap, enhance productivity and increase profits – the MP250 can keep your grinding process under control.
Designed for grinding applications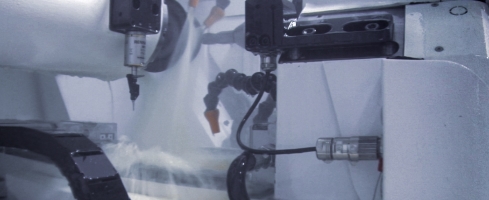 Performance in harsh environments
A double diaphragm sealing allows the MP250 probe to function in abrasive particle-laden environments often found in grinding machines – even in these conditions, the probe maintains exceptionally reliable measurement over a long service life.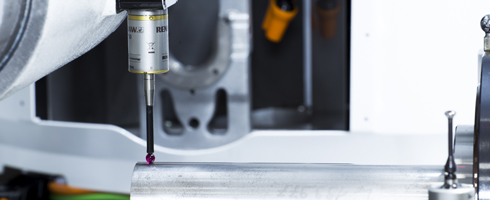 Compact design
The MP250 is only 25 mm in diameter – being so small in size allows for better access in machines where space is at a premium.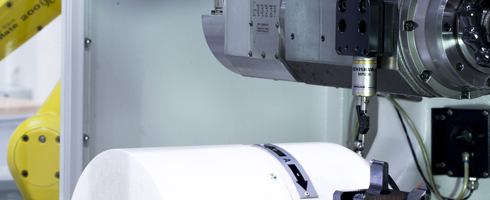 Withstand machine vibration
Superior performance is sustained even when the probe is subjected to high levels of vibration – often experienced during turning and grinding operations. If machine vibration is a problem, the probe can be switched to a more vibration-resistant configuration.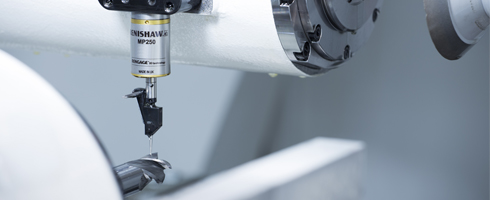 Use with custom styli
Long and heavy custom styli – often required for tool and cutter measurement on grinding machines – can be used with the MP250. RENGAGE™ technology allows the probe to maintain outstanding accuracy – ensuring low pre-travel variation, even when used with large styli.
0.25 µm 2σ
Unidirectional repeatability
±1.00 µm
3D lobing in X, Y and Z
0.08 N
Ultra-low stylus trigger force in XY
3D measurement with RENGAGE™ technology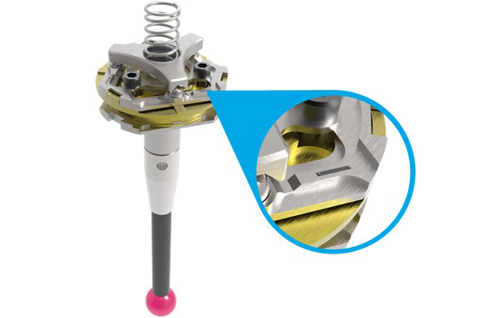 RENGAGE™ technology, combines proven silicon strain gauge technology with ultra-compact electronics – allowing on-machine probing systems to achieve outstanding 3D measurement capability and submicron repeatability.
As the strain gauges are independent from the kinematic mechanism, probes with RENGAGE technology have an ultra-low trigger force – providing exceptional measurement accuracy as well eliminating the possibility of surface and form damage.
Meeting current and future performance requirements for our products demands manufacture of ever smaller and more intricate parts that are consistently accurate to within 1 μm. Reliable set up and measurements are therefore critical to this process and form the basis of our decision to use RENGAGE™ technology.
Flann Microwave (UK)

A hard-wired transmission interface that conveys and processes signals between the inspection probe and the CNC machine controller. Different probe operating configurations can be selected by a switch on the interface.
FS10 / FS20 socket
A socket that provides a robust mounting position for the inspection probe and a fully screened, hard-wired connection between the inspection probe and the interface.
MP250 inspection probe
A 25 mm diameter touch-trigger inspection probe, equipped with RENGAGE technology for high-accuracy measurement.
Styli
A range of solid high modulus carbon fibre styli has been developed for use specifically with strain gauge probes. These styli are designed to minimise pre-travel variation and improve the accuracy of the probe. Specialised application-specific styli can also be used.
Next steps
Contact your local sales representative if you think the MP250 is right for you.
The Renishaw advantage
At Renishaw, we enjoy an excellent reputation for offering strong support to our customers through a network of over 70 service and support offices worldwide.
Get technical support, training and advice or purchase spares and accessories from our well-stocked Online store.