Renishaw's encoder products at DSEI 2013
14 June 2013
Renishaw, the global precision metrology company, will be showcasing a range of its position feedback systems at DSEI 2013 at ExCel, London from 10 – 13 September 2013.
Renishaw is a world leader in position encoders and will highlight its latest products at DSEI, including variants of the world's first true single track absolute encoder, RESOLUTE™, which is capable of 32-bit resolution at 36,000 rpm and resolution of just 1 nanometer at up to 100 m/s, for both linear and angle encoding applications.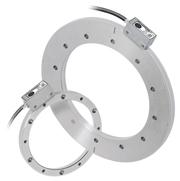 One model on show will be RESOLUTE™ ETR, a variant of this market leading absolute optical encoder with extended temperature range that allows it to operate in very cold environments such as aerospace and astronomical observatories. RESOLUTE is available with a variety of protocols, of both 'open' and 'proprietary' types, to enable connection to a wide range of industry-standard controllers. These include DRIVE-CLiQ®, the innovative, powerful communications interface to connect encoder and direct measurement systems with SINUMERIK and SINAMICS drive components.
Also on stand N2-361, Renishaw will be showing magnetic encoders from its associate company RLS d.o.o., including AksIM™, a non-contact high performance off-axis magnetic absolute rotary encoder designed for applications with limited installation space. The compact low profile readhead scans the circumference of a thin, axially magnetised, ring.
The 49 mm diameter ring provides 17-bit resolution giving 131,072 steps per revolution, while the larger 80 mm ring, at 18-bit resolution, achieves 262,144 steps. The accuracy of the AksIM encoder is better than 0.1° with a maximum speed exceeding 10,000 rpm.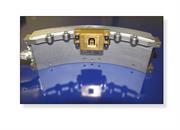 Renishaw, in collaboration with Tesat-Spacecom GmbH, will also be showing a new space-qualified optical encoder, with high radiation hardness, very high accuracy and qualification for 15 years lifetime in a GEO space environment. The encoder has been developed using Renishaw's advanced encoder technology, combined with Tesat-Spacecom's knowledge and widespread experience of developing ruggedised electronic systems for use in space applications. The readhead is designed to survive harsh environments, with 150 g vibration resistance and wide operating temperature range, combined with the extremely robust optical detection principle featured in Renishaw's range of high-specification commercial encoders.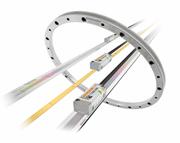 Renishaw's range of TONiC™ compact, incremental optical encoders will also be on show at DSEI 2013. TONiC encoders provide the same standards of accuracy as fragile fine-pitch encoders, but in a rugged, simple-to-install package. Featured in the TONiC range of linear and rotary encoders are 1 nm and 2 nm resolutions, a dual output encoder interface, and compatibility with Renishaw's Dual Signal interface (DSi) for high accuracy angle encoding.
DRIVE-CLiQ is a registered trademark of Siemens.
Downloads
All images and text copyright Renishaw
Register for news updates
Register for regular news updates from Renishaw