System peripherals
The tripod and stage provide flexible mounting options for your XL-80 laser system. Cases are available for secure and convenient storage and transport.
Tripod and stage
Unless you are using a dedicated measurement rig, then you are likely to need a mounting stage (and in most cases a tripod) to adjust the laser's position relative to the desired measurement axis.
The XL mounting stage allows for precise angular rotation and translation of the XL-80. It is designed to be left attached to the laser unit for easy storage and quick set-up.
A "quick fit/release" mechanism enables rapid and secure fixing to a tripod. For those applications where tripod mounting is not convenient, e.g. for mounting directly on a machine tool table, the stage and laser can also be mounted on to most standard magnetic bases, using an optional adapter with M8 thread.
The new Universal tripod has been extensively tested to provide a stable, adjustable base in a compact, lightweight unit.
Together with the tripod stage and laser unit foot adjustment, it provides full alignment control over the laser beam from the XL-80.
Universal tripod base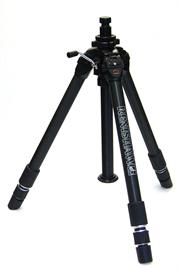 Enables the laser beam to be positioned anywhere from 0.54 m - 1.56 m in height. It is 64 cm long when collapsed and less than 4 kg in weight.
Requires separate XL-80 tripod stage kit (includes stage and tripod adaptor).
Part number: A-9908-0295
Fabric tripod case
Close fitting woven nylon case with plastic armour inserts. Comes complete with carry handle, shoulder strap and link strap for mounting to XL system case for easy transport.
Part number: M-9908-0527
XL laser mounting stage kit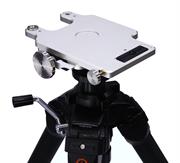 Features 72 mm of translation and yaw adjust for laser unit. Can be mounted to the laser with 3 thumbscrews for easy storage. A fail-safe, quick release mechansism allows mounting to a tripod or magnetic base.
Part number: A-9908-0700
Cases
Renishaw's laser system has been designed with portability in mind. Renishaw offers a range of carrying cases to complement the size of individual user's systems.
The cases allow you to protect your valuable system in storage and transport.
The system cases are military specification, injection moulded plastic, with built-in wheels and handles.
XL full system case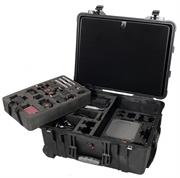 XL full system case: allows transportation of the XL laser system including all measurement and accessory optics.
An injection moulded, watertight and dustproof case with integral trolley handle and built in wheels for easy transportation. Large case features removable tray for extra storage space.
560 mm x 455 mm x 265 mm. 16-25 kg when loaded.
Part number: M-9908-0314
XL base system case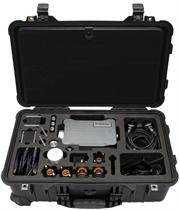 XL base system case: allows transportation of the XL laser system, linear and angular measurement and optical accessories.
560 mm x 351 mm x 229 mm. 12-17 kg when loaded.
Part number: M-9908-0313
Cables and power supply
Both the XL-80 laser and XC-80 compensator use a USB connection direct to your PC. A range of spare and extension cables is also available.

| | |
| --- | --- |
| Part number | Product |
| A-9908-0299 | Universal power supply kit |
| A-9908-0286 | USB cable kit (5 m) |
| A-9908-0932 | XC sensor cable (5 m) |
| A-9908-0329 | Aux I/O connector kit |