Measurement accessories
Accessories for easy set-up, alignment and operation of your Renishaw laser measurement system.
Long range linear optics kit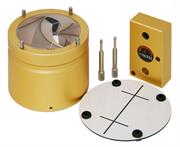 These optics enable linear measurements to be taken for axis lengths beyond 40 m.
The kit includes a large retroreflector and target (to enable easier alignment at long range) and a periscope assembly which 'captures' the return beam and redirects it into the laser shutter.
Part number: A-8003-4270
Small linear optics kit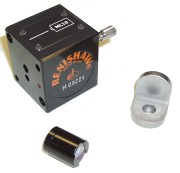 The small linear optics kit allows your Renishaw laser system to be used in applications where a small and light measurement retroreflector is desirable, minimising its effect on a machine's dynamic performance and providing greater flexibility in mounting options.
The kit includes a small, lightweight retroreflector (10% of standard unit) and a separate beam reducer optic which reduces the diameter of, and the separation between, the outward and return laser beams. Maximum range 4 m.
Part number: A-8003-3244
Swivel mirror
Allows adjustment to be made along machine diagonals, or on inclined axes. The swivel mirror can be used as an alignment aid for ANSI B5.54 diagonal measurement and is also useful when measuring slant-bed lathes.
Part number: A-8003-1304
Optics mounting kit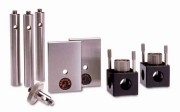 The optics mounting kit is for use with all Renishaw measurement optics. The kit is used to mount the measurement optics to the machine under test. Additional items can be supplied on request.
Part number: A-8003-0447
Universal straightness shutter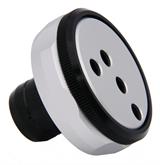 A special shutter assembly to rotate the return port in the shutter by 90°. When used with straightness optics this allows for straightness measurement in the vertical axis.
Part number: A-8003-4209
Large retroreflector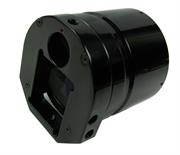 Used as a retroreflector for straightness and squareness measurements involving the vertical axis of the machine.
Part number: A-8003-0604
Straightness base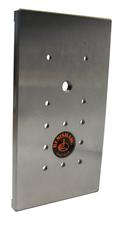 A base designed to mount the straitghtness reflector and adjustable turning mirror (or laser beam steerer with fixed turning mirror) for some vertical axis measurements. This base can also be used for the mounting of linear and angular optics.
Part number: A-8003-0576
Fixed turning mirror (90°)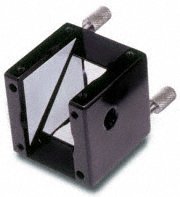 This mirror is used primarily when there is restricted access to the required axis of measurement, allowing the laser beam to be re-directed.
Part number: A-8003-1325
LS350 laser beam steering optic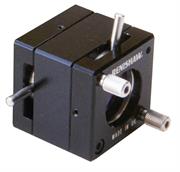 Provides easy angular adjustment of the laser beam in both horizontal and vertical planes. This patented accessory eliminates the need for fine laser translation and rotation. Aligning your laser system is now a single one-step process. The LS350 laser beam steerer speeds up linear, angular and straightness measurements in any configuration.
Part number: A-8003-3072
Adjustable turning mirror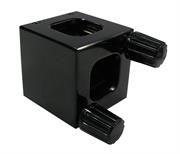 Can be used as an alternative to the laser beam steeer and fixed turning mirror, with the large retroreflector, during straightness and squareness measurements involving the vertical axis of the machine.
Part number: A-8003-0560
Alignment target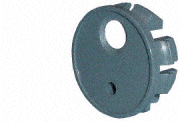 This 22 mm diameter alignment aid can be used with the linear, angular and straightness optics kits. It can be clipped on to the optic to align both the interferometer and retroreflectors.
Part number: A-8003-0478
Quarter wave plate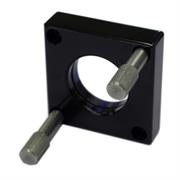 The quarter wave plate converts laser light from linear to circularly polarised light. It allows the retroreflector optic to be replaced with a plane mirror for linear measurements.
The application requires a highly reflective surface. Mirrored surfaces are available on request.
Part number: A-8003-1998
Magnetic base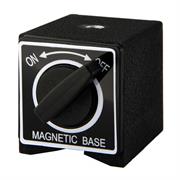 Used for mounting the optics or the XL laser head (when used in conjunction with the XL magnetic adaptor). The base features an on/off switch for quick mounting and a female M8 fixing thread. The supplied kit contains 2 bases.
Part number: A-9908-0780
XL magnetic base adaptor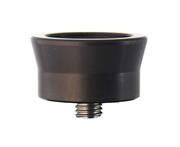 Allows the tripod stage to be mounted to a magnetic base, or any other fixturing which accepts on M8 thread.
Part number: A-9908-0760
The pan and tilt adaptor kit is designed to allow flexible mounting of laser calibration equipment at angles between 0°- 90° with an infinite pan rotation.
The pan and tilt adaptor can be used to:
mount the XL-80 laser on a tripod or magnetic base for applications such as slant bed lathes.

mount a retroreflector at an angle for convenient linear diagonal measurement.
Part number: A-9908-1170
Linear diagonal measurement kit
The linear diagonal measurement kit provides a convenient way to perform laser diagonal tests with an XL-80 laser interferometer system. The kit is designed for quick and easy set-up, with purpose-built fixturing that's magnetically mounted to the machine bed to hold the XL-80 and optical accessories. A beam steerer and swivel mirror enable flexible laser alignment to machine diagonals.
XCal-View analysis software offers convenient data analysis for laser diagonal tests, in accordance with ISO 230-6 and B5.54 standards. The application can take the data from laser diagonal tests and provide a report that shows the key errors and gives a graphical display of the results.

Part number: S-8LMS-2124