Tesat-Spacecom and Renishaw release angle encoder for GEO space applications
14 May 2013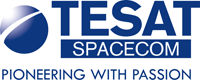 Renishaw, in collaboration with Tesat-Spacecom GmbH, is pleased to announce a new space-qualified encoder, with high radiation hardness, very high accuracy and qualification for 15 years lifetime in a GEO space environment.
The encoder has been developed using Renishaw's advanced encoder technology, combined with Tesat-Spacecom's knowledge and widespread experience of developing ruggedised electronic systems for use in space applications.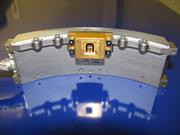 The readhead is designed to survive harsh environments, with 150 g vibration resistance and wide operating temperature range, combined with an extremely robust optical detection principle. Particular attention has been paid to radiation hardness, resulting in the encoder achieving qualification for 15 years use in GEO space conditions. The readhead has a mass of only 300 g and power consumption is typically less than 1 W.
The scale comprises a stainless steel ring with graduations marked directly onto the periphery, thus eliminating shock / vibration-induced breakages associated with traditional glass discs. The graduations include IN-TRAC™ reference marks that are directly embedded into the incremental channel, arranged in a distance-coded pattern so that the distance between any two adjacent reference marks is unique. This means that only a small rotation is required before absolute position is determined by the on-board FPGA (Field-Programmable Gate Array). The ring format enables easy integration into rotary axes, with a large through-hole to allow easy routing of supplies.
The ring is mounted directly to the rotor, with the head mounted to the stator. There is no contact between the two parts, so there is no need for separate bearings or flexible couplings. This arrangement improves reliability and eliminates backlash, shaft wind-up (torsion) and other irregular metrology effects that plague traditional enclosed encoders.
High accuracy has been achieved, with short-range error less than 0.5 µrad RMS and long-range error less than 5 µrad (without mechanical errors). Combined with resolution of less than 0.5 µrad, the system is well-suited to applications demanding precision metrology.
Enquiries for this encoder should be directed to Dr. Stefan Seel, Tesat-Spacecom GmbH, at Stefan.Seel@tesat.de.
About Renishaw:
Renishaw is an established world leader in engineering technologies, with a strong history of innovation in product development and manufacturing. The company has over 3000 people employed globally, of which 2000 are in the UK. A key strength of the business is its worldwide network of subsidiary operations, with over 60 offices in 32 countries, including 11 offices in China. Complemented by strong teams of designers and technical experts, the worldwide network provides exceptional service and support for customers. For the year ended June 2012 Renishaw achieved total revenues of £332 million of which 94% were due to exports.
As part of a wide range of metrology and healthcare products, Renishaw offers a wide range of compact magnetic and optical encoders to meet the diverse requirements of industrial automation. The optical linear and rotary encoder systems are based on an innovative non-contact arrangement, which provides zero mechanical hysteresis and excellent metrology. The unique filtering optics withstand a variety of contaminants such as dust, light oils and scratches without compromising signal integrity. This ensures customers' machines run reliably with little or no maintenance.
About Tesat-Spacecom: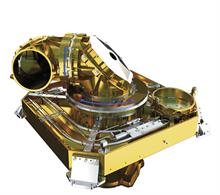 At Tesat-Spacecom (Tesat) in Backnang, Germany, almost 1300 employees develop, assemble, integrate, and test systems and equipment for telecommunication via satellite. The product offerings encompass highly reliable equipment as for example the travelling wave tube amplifiers, multiplexers, waveguide switches, and modulators, which along with complete systems are delivered globally to all leading satellite manufacturers. Therefore, Tesat offer the complete communication technology necessary, to for example emit television signals over the antenna of a satellite to each household. More than half of all communication satellites in orbit have Tesat equipment on board.
With focus on commercial space programs and the cooperation of military and institutional programs Tesat achieved total sales of 303 million Euro in 2012.
To date the company has participated in more than 600 space projects.
Applications
Lidar mapping

from space

In-space laser

communication

Communication

with ground

Scientific

investigation using

radar or optics
All images and text copyright Renishaw
News updates
Register for regular news updates from Renishaw