XM-60 and XM-600 multi-axis calibrator
Measure six degrees of freedom in any orientation from a single set-up.
Unique technology, optical roll measurement and fibre optic launch.
XM-60 is a laser measurement system capable of measuring errors in six degrees of freedom along a linear axis, simultaneously from a single set-up. It provides a powerful diagnostic tool to measure all geometric errors in the axis from a single capture.
For users of volumetric compensation XM-60 provides a quick and accurate method of data population. All measurements are made optically allowing use in any orientation.
XM-600 laser measurement system offers enhanced capability to connect directly with Renishaw's range of UCC CMM controllers.
Find out more about six degree of freedom (6DoF)
Overview
The compact launch unit is remote from the laser unit, reducing heat effects at the point of measurement. It can be mounted directly to the machine on its side, upside down and even on its back, which is particularly beneficial in areas with difficult machine access.
The receiver is fully wireless and powered by rechargeable batteries, avoiding trailing cables during machine moves which could cause inaccuracies or a break in the laser beam during measurement.
To accompany XM-60, the CARTO software suite is made up of three applications; Capture, Explore and Compensate.
Key features and benefits:
Quick - linear, pitch, yaw, roll, horizontal and vertical straightness measurement in the same time as a single measurement with conventional laser techniques.
Simple - easy set-up, familiar to users of other interferometric systems. Automatic sign detection and graphical alignment minimise human errors.
Reassuring - measuring all errors directly allows the user to see results as the test is in progress.
Capable - unique optical roll measurement system provides roll measurement in any orientation.
Rotary axis measurement
CARTO now handles data captured from rotary axis testing with the XR20 rotary axis calibrator.
Calibration of rotary axes can now be achieved with XR20 rotary axis calibrator and XM-60 multi-axis calibrator for the first time. This reduces the calibration time of a 5-axis machine tool to within half a day, rather than several days.
Precision alignment
Our single-axis horizontal stage is an additional accessory which enables precise alignment in applications without an axis perpendicular to the travel. Precision translation of the XM-60 launch unit is easily achieved with the horizontal stage, without disturbing yaw alignment.
This feature is particularly useful for applications such as stages and printers.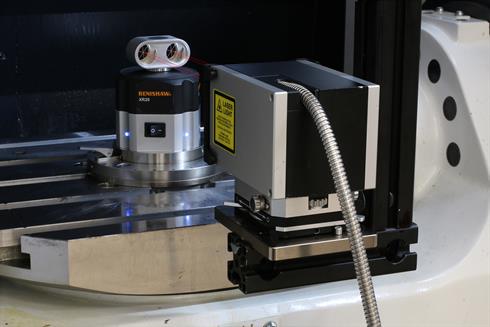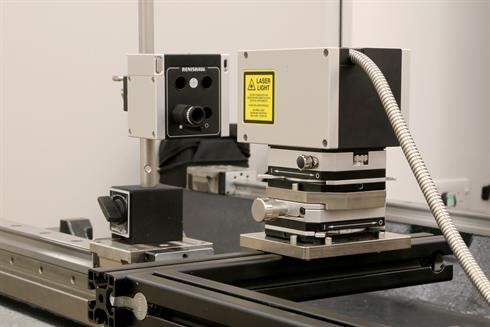 Fixturing kit
The fixturing kit simplifies and extends the options for mounting the XM-60 into the working volume of a machine tool; supporting users in:
measuring the full axis of travel for linear extension from the bed of the machine or vertically mounting beside the machine bed
mounting the XM-60 onto a chuck for lathe or machining centre applications
mounting the receiver extended from the spindle
90 degree bracket
The 90 degree bracket enables users to switch the orientation of the XM-60 with ease. Guide pins assist the location of the XM-60 until the magnetic base is activated, making accurate positioning simple.
The 90 degree bracket can also be used to mount the unit off the edge of the machine bed.
Clamp block mount
The XM-60 receiver uses a clamp block and pillar method for simple attachment to the machine. The standard kit contains four pillars and two clamp blocks which gives even more flexibility in mounting options.
For specialist fixture applications the clamp block can be easily removed for the user to attach custom fixturing to the back of the receiver, using the tapped holes directly.
CARTO supports XM-60
The XM-60 system has been designed to provide ultimate flexibility for a range of applications. CARTO Capture 'target-based mode' is tailor made for compensating machine errors and producing performance reports to international standards.
Dynamic data fit functionality allows XM-60 users to capture straightness measurements dynamically. The test data is recalculated in CARTO Capture to reduce outlying data-points. This improved method offers greater resilience in noisy environments.
CARTO 'free-run mode' allows users to capture data immediately, without having to define the positions, or even the number of targets. The software displays straightness (horizontal and vertical), pitch, yaw and roll errors against linear position.
Triggering can be:
manual (with a keypress)
automatic (based on stability of position)
continuous (captured during motion at a user-defined interval)
Compensate in the CARTO software suite allows users to easily minimise all geometric errors in the machine. Volumetric compensation optimises machine performance, improving accuracy and reducing scrap.
XM-600 enables faster and easier CMM error mapping
The XM-600 multi-axis calibrator has been designed with additional functionality allowing it to communicate directly with Renishaw's UCC controllers. Using technology developed for the XM-60 multi-axis calibrator, XM-600 simultaneously measures all six degrees of freedom within a single measurement. This provides the ability to easily create an accurate error map for each linear axis of your CMM.
XM-600 maintains the same compatibility with CARTO as XM-60, making it the ideal calibration solution for any manufacturing facility that utilises both machine tools and CMMs.
Customer testimonials
Find out how our customers are using XM-600 multi-axis calibrator to improve their measurement process.
Using XM-600 we have noticed a considerable increase in efficiency for error mapping. The measurement and error mapping procedure has become very convenient, reducing the total working time by half for UCC CMMs, where it would typically take one day.
DUKIN, South Korea
Traceable accuracy
The performance of each XM-60 and XM-600 multi-axis calibrator is traceable to international standards and every unit is also certified before shipment. This provides users with the confidence that their system will deliver the specified accuracy day-after-day where it counts - in the workplace.
Engineered by Renishaw
Renishaw laser measurement systems are manufactured to provide high performance and operation. The aluminium substructure provides lightweight yet strong construction, designed to give the smallest package to fit onto the machine. The laser uses technology developed and used in the RLE laser encoder system which has been produced for over 10 years, and can be found in the most demanding applications in the semiconductor industry.