Dame Caroline Haslett
An electrical engineer and an early champion of women's rights, Dame Caroline Haslett was instrumental in opening up the world of engineering to women. She advocated the use of electrical power and appliances in the home to free women from the drudgery of household chores and enable them to pursue their own careers.
Opened up the world of engineering to women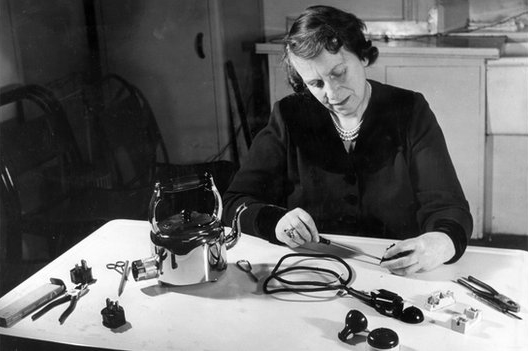 Caroline Haslett was born in Worth, Sussex in 1895. Her father was a signal engineer on the railway, fuelling Caroline's early interest in tools and machinery. At the same time she grew to realise that her mother, like most women in the early 20th century, spent all day washing, cleaning, cooking and lighting fires. There were no machines to help.
After learning office skills at college, she joined the Cochran Company in 1914, at the outbreak of the First World War. The company was an engineering firm that made steam engine boilers, they were in great demand and of strategic importance to the war effort.
Realising how good Caroline was, the Cochran Company put her in charge of its London office and also sent her to their boiler works in Scotland to learn more about engineering. Shortly afterwards in 1919, she joined the new Women's Engineering Society, became its secretary and edited its magazine, 'The Woman Engineer'.
Electricity was becoming the new power source, and she used the magazine to ask women what electrical appliances would be of most use in the home. Suggestions included a vacuum cleaner and a dish washer and the responses she had made it clear to her that women wanted to spend less time on chores.
In 1924, Caroline co-founded and became first Director of the Electrical Association for Women. It gave lectures and published books and magazines that taught women about electricity, about safety, wiring a plug, installing lighting. In 1935 it pioneered the 'All-Electric House' in Bristol.
During the Second World War she was the only woman to sit on an Institution of Electrical Engineering committee considering the requirements for post-war electrical installations in the home. It recommended a new electrical plug and socket standard that would ensure the safety of children.
In 1947 she became a member of the British Electrical Authority, operating the first national power grid, and was created a Dame Commander of the Order of the British Empire.