Isambard Kingdom Brunel
A mechanical and civil engineer, Isambard Kingdom Brunel is regarded as one of the greatest engineers of the industrial revolution. His ground-breaking solutions to age-old engineering problems changed the face of transport and engineering.
19th century engineering giant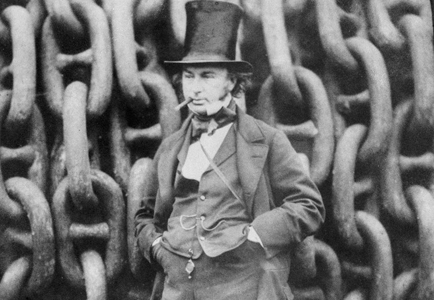 Isambard Kingdom Brunel was born in Portsmouth in 1806, the son of a French civil engineer. Through his father's teachings, Brunel had a solid grasp of architectural drawing, geometry and the basic principles of engineering by the age of just 8. He was also fluent in French.
He was sent to school in France and following an apprenticeship with the distinguished watchmaker Breguet, he returned to England in 1822 and began working with his father.
In 1831, Brunel won a competition to design a bridge to span the Avon Gorge high above the river in Bristol. His beautiful Clifton Suspension Bridge still operates today. In 1843 he completed the underwater Thames Tunnel, regarded at the time as the Eighth Wonder of the World.
Of all Brunel's most famous achievements it is his work on the Great Western Railway between London and Bristol that he is best remembered. Appointed the GWR's Chief Engineer in 1833, aged just 27, he designed a broad gauge railway line, tunnels, bridge and viaducts.
His long list of engineering firsts also included ship building. Launched in 1837, 'The Great Western' was the first transatlantic steamship; 'The Great Britain', 1843 was the first iron-hulled, propeller-driven passenger liner; 'The Great Eastern', 1859 was at the time the biggest ship ever built.