Mounting hardware
Accessories are available to ease set-up, alignment and operation of your HS20 laser encoder system.
Beam protection ducting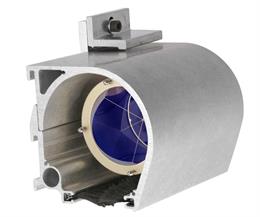 The beam protection ducting system can be used with either the long or short range linear optics, to protect the beam path from debris and coolant, whilst also providing a stable thermal environment for the laser measurement beam.
Fundamental to the reliability of position feedback is that a stable, accurate, laser alignment needs to be maintained along the full axis length. In long range applications, alignment stability can be affected by temperature gradients formed through the beam; these are usually caused by rapidly changing environmental conditions.
The ducting system protects against the formation of thermal gradients by including an "air feed" system that stirs the air over the entire axis length.
Features and benefits
Beam path protection - the beam protection ducting provides the final line of defence in protecting the laser beam from debris and coolant.
Thermal stability - the air feed system within the ducting stirs the air to create a consistent environment along the length of the axis.
Modular construction - standard 3 m length provides a modular based ducting system when added together for long axis applications.
Alignment plate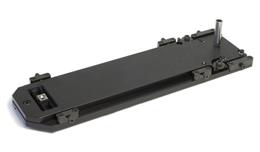 The alignment plate has been specifically designed to ease the HS20 laser alignment process on larger machines.
This plate, in combination with the three adjustment feet fitted to the HS20 laser head, provide the user with both horizontal and vertical plane translation and rotation adjustments.
Features and benefits
Easy alignment - by offering the alignment flexibility of translation and rotational adjustments to simplify the alignment process.
Stable laser mounting - providing a stable mount which can be easily fitted to the side of the machine.
Adjustable optical mount - the adjustment plate provides an optical mount which offer independent adjustment for the interferometer assembly.
Buy online