REVO RSP3-6 extended reach scanning probe
Long extensions combined with 5-axis movements for better part access, and multi-sensor changing for increased flexibility.
The RSP3-6 probe provides enhanced capability for accessing and inspecting features deep within bores by combining long extensions with REVO's 5-axis movements. This makes it ideal for inspecting large parts, such as engine blocks, for heavy machinery in the construction, mining, automotive and defence industries.
RSP3-6 is available with a range of stylus holders for applications requiring straight and cranked extensions, and it can be used for both 3D touch-trigger and 2D scanning applications. It is automatically interchangeable with all other probe options available for REVO. This flexibility means that the optimum tool can be selected to inspect a wide range of features, all on one CMM platform.
Reach
Available with straight extensions up to 800 mm, and cranked extensions up to 600 mm from REVO's A-axis centre of rotation.
Accuracy
Typically less than 10 µm form error (filtered) and 5 µm diameter error when scanning a 50 mm ring gauge at speeds between 5 mm/s - 10 mm/s. Touch-trigger measurements typically produce 3 µm form and diameter errors when inspecting the same ring gauge.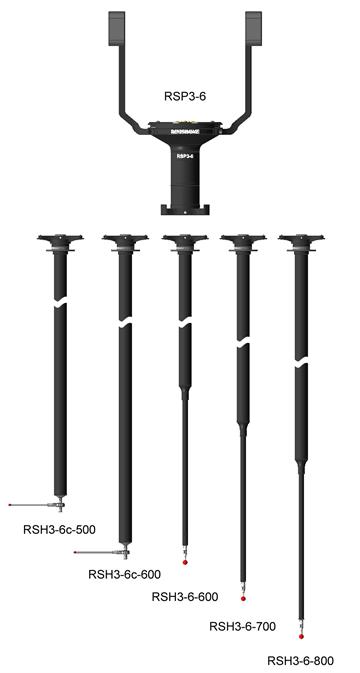 Extended warranty
For peace of mind a 3-year warranty is available for your new CMM products during the first 3 months from purchase. Contact your vendor.