SCR600 installation
Mechanical alignment
This section describes the mounting and physical alignment of the SCR600 stylus rack to a CMM axis.
Step 1 - Mounting to the CMM
Secure the location plate to the CMM table using a suitable mounting screw.
Tighten securely.
Locate the SCR600 onto the location plate and turn the grub screw clockwise using a 1.5 mm hexagonal key.
Do not tighten fully.
 
Step 2 - Physical alignment
Align the SCR600 to the CMM's X or Y-axis by probing on points one and two (P1 and P2 shown on page 'Datuming SCR600').
Adjust the position so that the suggested maximum runout of 0.10 mm (0.0019 in) is achieved between P1 and P2.
Carefully tighten the grub screw.
The SCR600 is now ready for datuming (see page 'Datuming SCR600').

SCP600 installation onto MRS / MRS2
It is recommended that the stylus changing port units (SCP600) are attached to the rail using the following procedure where it is assumed that the MRS / MRS2 system is correctly installed.  For full details, please refer to the MRS / MRS2 installation and user's guide (Renishaw part number H-1000-5088 / 5255):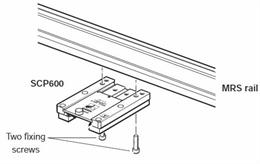 Insert one of the fixing screws through the SCP600.
Offer up the SCP600 to the rail, positioning the fixing screw to the respective 'T' nut within the rail.  Finger-tighten the screw.
Insert the other fixing screw through the SCP600 port.
Position the SCP600 so that the second screw locates into the respective 'T' nut in the rail.  Finger-tighten the screw.
Using the hexagonal key supplied, hand-tighten the two fixing screws into the 'T' nut.