GoProbe
Probing made simple by combining user-friendly probing software with easy-to-use training materials.
Quick and easy to use.
No probing experience necessary.
Easy to learn, using the comprehensive GoProbe training kit and GoProbe app.
Introduce automated workpiece setting and tool setting to your machine shop and reap the benefits
GoProbe is a unique combination of software, training materials and user reference tools that supports part setting, tool setting and probe set-up cycles.
Quick and easy to use
Requiring only simple single-line commands, GoProbe eliminates the need for extensive knowledge of G-codes. The user-friendly commands are easy to understand and use, even for those new to probing. For existing users, this means that they don't need highly skilled people programming the parts and so can assign them to higher value tasks.
Intuitive GoProbe app
Your own personal reference tool for part setting and tool setting, the GoProbe app allows users to create this single-line command with just a few quick taps ready for input to the CNC machine tool control. Where required, further assistance is available in the form of animations, help images and associated text.
Probe with confidence
In addition to a wide range of part and tool setting cycles, GoProbe includes a spindle probe check and a tool setter check. These cycles ensure that the probe or tool setter is ready to use, providing added reassurance and confidence before running any part or tool setting cycles.
GoProbe makes probing simple
GoProbe has been developed in such a way that it is very easy to understand. The use of single-line commands enabled us to get up and running with our new probing system quickly and easily.

Unimac (India)

Easy to learn
GoProbe is supported by a unique self-study training kit comprising a training part, pocket guide, quick-reference tool and e-learning course.
GoProbe training kit
The GoProbe training kit helps to build knowledge and confidence rapidly so that part setting and tool setting processes can be optimised as soon as possible.
This flexible kit can be used for self-study or classroom-based teaching, and allows you to choose the training and reference tools that are best suited to your knowledge and experience.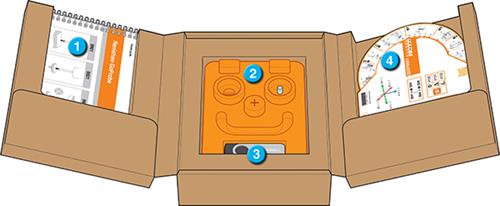 1. GoProbe pocket guide: guides you through the GoProbe cycles and five steps of probing. Perfect for initial training and everyday reference.
2. GoProbe training part: contains many features common to part setting, allowing you to practice on-machine with confidence.
3. USB flash drive: contains a self-study, PC-based e-learning course, the programming manual and other reference material.
4. GoProbe quick-reference tool: a simple on-machine reference tool for the single-line commands. Ideal for when you are more familiar with the GoProbe cycles.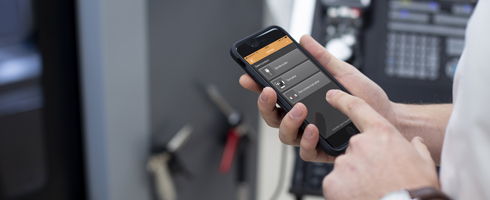 GoProbe app
The GoProbe app conveniently produces the single-line command on your smartphone. Simply select the probing cycle you need from the menu, complete the input data fields and the app will generate the single-line command for that cycle, ready for you to key into the machine. The GoProbe app also includes animations of each probing cycle for visual reference.

The app can be downloaded free of charge from the App Store or the Play Store and will only work with machines which have GoProbe compatible macro software installed.


GoProbe e-learning
GoProbe offers a revolutionary new training method for probe users.
The GoProbe e-learning course is a consistent and comprehensive self-study package designed to offer a detailed explanation of the GoProbe cycles.
Everything, from part setting and tool setting to probe set-up, is covered in this fully interactive PC-based course and the on-machine practical exercises.
GoProbe iHMI is an on-machine probing application that provides users with a simple and intuitive method of using a Renishaw machine tool probe on a Fanuc Plus CNC (including Fanuc ROBODRILL machines) equipped with the new Fanuc iHMI interface and the Picture Executor option.
GoProbe iHMI utilises the embedded Windows O/S, Fanuc Picture technology and touch screen interface to deliver a simple-to-use probing interface that is perfect for users with no or limited probing experience.
The Fanuc iHMI has been designed to be extremely easy-to-use and provides a simpler, more efficient and intuitive way to interact with the machine tool controller whilst providing a familiar Fanuc user experience. The iHMI features a flat-panel touchscreen display and highly graphical navigation.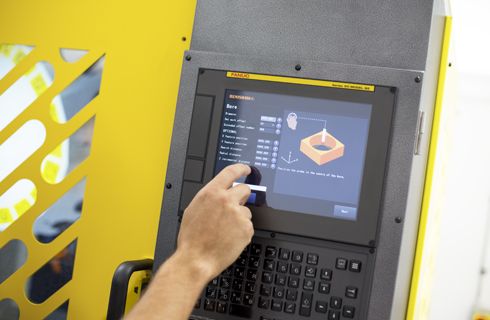 GoProbe for Mitsubishi M80 and M800S controls
GoProbe GUI (for Mitsubishi M80/M800S), is a simple, intuitive on-machine probing app providing users with an easy-to-use probing solution.

Users with no previous experience can take advantage of the benefits offered by Renishaw probing systems with this seamlessly integrated app. Help text and images explain user input fields and provide clear user instructions, simple navigation makes creating a probing cycle easy.
Functionality is very similar to the GoProbe Smartphone app, but the application runs directly on the CNC and can therefore execute programs directly.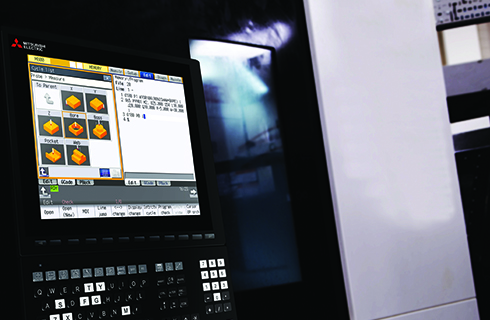 Our engineers had never used a machine tool probing system before, but they were quickly able to start using our new Renishaw probing system thanks to the GoProbe cycles and self-study training materials.
R&R (United States)