Compatible
Compatible with a wide range of Renishaw touch‑trigger probes.
Supported by a variety of Renishaw macro software packages.
Support for a wide range of machine tool controllers.
Beneficial for both new and existing probe users.
GoProbe – flexible and accessible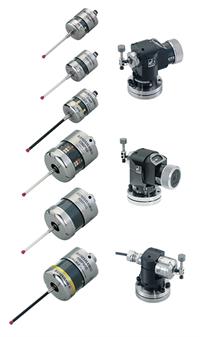 GoProbe provides a user-friendly front-end and simple, single-line commands for ease of use.
GoProbe is perfect for new users with no previous probing experience or for existing probe users that want to revitalise their current probing system.
You can combine GoProbe with Renishaw's state-of-the-art technology, improving process reliability and capability.
GoProbe cycles are included within the latest versions of Inspection Plus and contact tool setting software as standard1. Inspection Plus supports all of the GoProbe part setting and probe set-up cycles, and contact tool setting software supports all of the GoProbe tool setting and tool setter set-up cycles.
1See the software compatibility list for details
GoProbe also offers a range of easy-to-use calibration cycles for Renishaw spindle probes and contact tool setters. These cycles simplify the calibration process and reduce the time taken to calibrate the probes, whilst maintaining Renishaw's proven accuracy.
The GoProbe training part includes a calibration artefact (pin) suitable for calibrating a Renishaw spindle probe. This removes the need to source an external calibration artefact such as a ring gauge or sphere.
Available for Primo system hardware only is a 'probe-on-probe' calibration cycle, this cycle calibrates both the spindle probe and contact tool setter in one cycle.
GoProbe for Primo and the GoProbe training kit are available with all Primo™ systems.