Easy to learn
Introduce automated workpiece setting and tool setting to your machine shop and reap the benefits.
Learn at your own pace.
Wide range of training material and user reference tools.
Intuitive GoProbe app.
GoProbe training kit
GoProbe is supported by a unique self-study training kit comprising a training part, pocket guide, quick-reference tool and e-learning course.
The GoProbe training kit helps to build knowledge and confidence rapidly so that part setting and tool setting processes can be optimised as soon as possible.
This flexible kit can be used for self-study or classroom-based teaching, and allows you to choose the training and reference tools that are best suited to your knowledge and experience.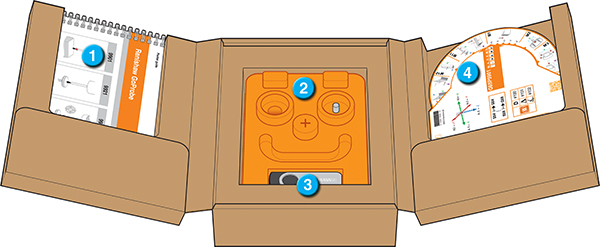 GoProbe pocket guide: guides you through the GoProbe cycles and five steps of probing. Perfect for initial training and everyday reference.
GoProbe training part: contains many features common to part setting, allowing you to practice on-machine with confidence.
USB flash drive: contains a self-study, PC-based e-learning course, the programming manual and other reference material.
GoProbe quick-reference tool: a simple on-machine reference tool for the single-line commands. Ideal for when you are more familiar with the GoProbe cycles.
GoProbe app
The GoProbe app is available for iPhone and Android™ smartphones.
The GoProbe app conveniently produces the single-line command on your smartphone. Simply select the probing cycle you need from the menu, complete the input data fields and the app will generate the single-line command for that cycle, ready for you to key into the machine.
The GoProbe app also includes animations of each probing cycle for visual reference.
The app can be downloaded free of charge from the Play Store or the App Store.


The GoProbe app will only work with machines which have GoProbe compatible macro software installed.
GoProbe e-learning
GoProbe offers a revolutionary new training method for probe users.
The GoProbe e-learning course is a consistent and comprehensive self-study package designed to offer a detailed explanation of all the GoProbe cycles.
Everything, from part setting and tool setting to probe set-up, is covered in this fully interactive PC-based course and the on-machine practical exercises.
GoProbe downloads
Already a GoProbe user? Keep up-to-date with the latest updates to the GoProbe training kit.
GoProbe videos